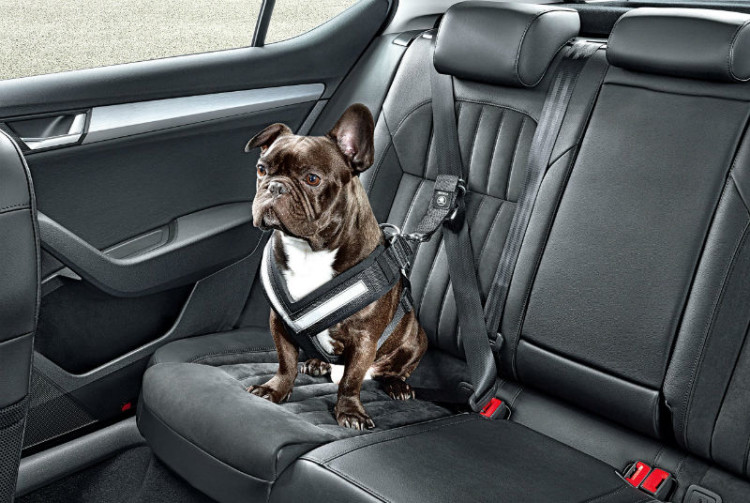 If you have a dog, there will be some point when you have to transport it in a vehicle – whether it is for the annual visit to the veterinarian or a weekend beach jaunt.
It is second nature for you to belt up and to ensure every person in the car does so too. But what about your dog?
In Singapore, it is not uncommon to see owners holding their canine companions in their arms while in the car or merely leaving them in the rear seats unrestrained.
"Dog carriers and crates are one of the least popular items in our inventory," says Mr Kieran Kua, who oversees the operations of Pet Guru, an online pet store owned by SOSD, a humane organisation which rescues, rehabilitates and rehomes rescued strays. "If a customer purchases one, it is usually because it's needed to fly a dog back home and not to use it to ferry the dog around in a car."
For some drivers here, other concerns seem to be a higher priority than safety.
Medical doctor Robert Woon, 40, says: "A car seat cover is most important to me when I am taking Max, my Labrador Retriever, to the park or the beach. He is so docile and low energy, he just lies at the rear for the entire journey."
When told that Max would be thrown about in an accident, Dr Woon says: "There is little chance of that happening as I drive extra carefully when he is in the car with me."
According to Mr Eugene Chua, co-owner of Pets City, which specialises in grooming and sells accessories for dogs and cats, this is the general sentiment.
"Sales of dog carriers have slowed considerably in the last few years as most people are content to ferry their dogs around in the rear seats or in the boot area," he says.
The only carriers which still sell well are those for puppies – because owners do not want them to dirty the car, he adds.
However, transporting a dog unsafely is as bad as transporting a child who is not buckled up.
Toyota Motor says that an unrestrained child in an accident at 50km/h would suffer the same injuries as one dropped from a three-storey building. In the accident, a 5kg infant will hurtle forward with the force of 100kg, it adds.
In comparison, a golden retriever can weigh up to 34kg while an adult male border collie tips the scales at 20kg.
Dr Eugene Lin of the Animal Ark Veterinary Group relates the case of an unrestrained dog which flew forward and hit the windscreen when the driver slammed on the brakes.
"I recall it was a retriever of some sort, in the front seat of his car… it hit its head against the front windscreen, causing the glass to crack," Dr Lin says. "Thankfully, the dog was uninjured. Coincidentally, the dog was on its way to my clinic for a consultation."
The potential harm is not confined to just the animal – human occupants could be hurt too if they are seated in the path of a dog that is thrown forward in a collision. That is why some places have strict rules on how pets are transported.
In the United States, the police in New Jersey can stop and fine anyone they determine to be incorrectly transporting a pet in a car. Penalties start at US$250 (S$342) and go as high as US$1,000.
Hawaii rules that it is illegal to drive with a dog on your lap.
In Australia, the law in the state of Victoria says that all dogs carried in utility vehicles such as pick-ups and lorries have to be in a cage or restrained using a tether.
Because of these strict laws overseas, many foreigners who live here tend to exercise more caution when transporting their pets.
Mr Yap Seng Teck, founder and CEO of pet supplies distributor Eagle Territorial Agency, says expatriates take the safety of their dogs during transportation "very seriously".
"These people spare no expense when it comes to purchasing the best carriers for their dogs."
There are no laws here governing the transport of dogs in vehicles.
But Mr Efran Koh, head of service quality at the Traffic Police, says: "Although driving with a pet animal onboard a vehicle may not be an offence, the Traffic Police can still take action against motorists who are distracted by the animals for failing to maintain proper control of the vehicle.
"Anyone found guilty of driving without due care or reasonable consideration shall be liable upon conviction to a fine not exceeding $1000 or imprisonment for a term not exceeding six months or both. In the case of a second or subsequent conviction, it is a fine not exceeding $2000 or imprisonment for a term not exceeding 12 months or both."
So, what are some of the safer ways to transport Rover or Lassie in the car?
Experts say it is safer for the dog, and less distracting for the driver, if the animal is ferried at the back of the car instead of the front.
Using a dog crate or carrier is one of the safest ways to keep your pet safe. These come in all sizes and are made either of durable plastic or painted metal with a metal mesh door at one end and a carrying handle on top.
The crate must be big enough to house the dog comfortably and allow it to sit up and stretch, but not so large that it would be thrown around in an accident or by any sudden movement.
Mr Yap says that once the carrier is properly secured – either by tethers or by moving the front passenger's seat all the way back so that the carrier is sandwiched between the back of the front seat and the backrest of the rear seats – it will not move around and "the dog is safe and sound at all times".
For hatchbacks, SUVs, MPVs and station wagons, dog guards can be fitted between the back of the seats and the boot area to provide a restricted area for the dog. This works in the same way as using a crate, although it provides slightly less protection as the dog will not be safe from impact with the side windows and rear windscreen.
Dog harnesses – fastened to the seatbelt with an adjustable strap – should also be worn around the neck and chest of the dog. Available in myriad shapes and sizes, dog harnesses should be sufficiently padded, for obvious reasons.
Ensuring a snug but comfortable fit is vital for the harness to do its job. It is excellent for keeping the pet safe.
But Mr Yap says harnesses are unpopular here.
"It is an excellent tool, but the dog has to be used to being restrained in such a way or it will struggle and might get itself tangled up," he says.
---