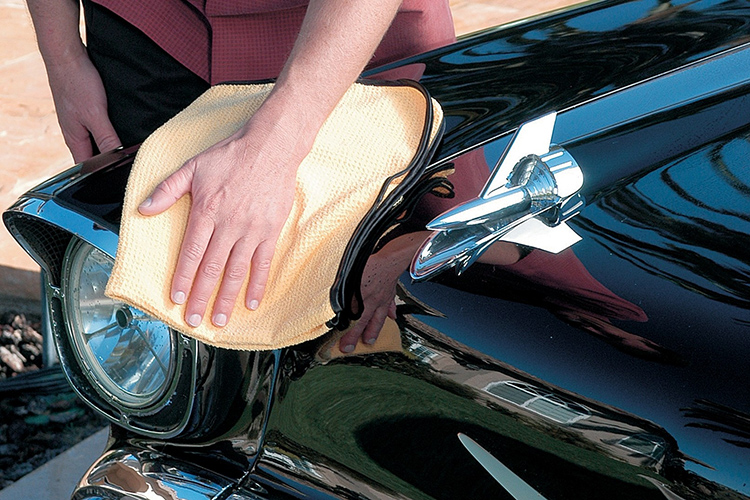 You may have seen 2-in-1 polish and wax products online or at your favourite car accessories shop.
A 2-in-1 product, much like a combination shampoo and conditioner, sounds like a time-saver.
But should you use it? Here are the pros and cons.
THE PROS

1) You'll save time.
Instead of having to perform two separate grooming steps, a polish and wax formula lets you tackle both tasks simultaneously.
You'll be removing oxidation, adding gloss and protecting your paint – all in one step.
2) You'll ensure that your paint always gets those "essential oils" it needs.
The glow on your car's paintwork doesn't come from wax alone.
Polishing is the step that "feeds" the paint and enhances its lustre.
It's also what gives it that clarity that detailers are after.
Wax protects the paint and adds a bit more shine.
Polish is what does the heavy lifting.
3) You'll eliminate fine scratches as you detail your car.
As long as you've washed your car properly, a 2-in-1 polish and wax product also helps rid your paintwork of unsightly scratches.
A car can be shiny and still have unsightly marring and swirl marks.
That's why detailers don't rely on wax alone.
THE CONS
1) You may end up over-polishing your paint.
If you tend to overdo things, such as car detailing, a 2-in-1 polish and wax product is not for you.
Polishes contain abrasives, although in a 2-in-1 product, these are quite mild.
However, if you're the type who insists on waxing his car weekly with an orbital buffer or polisher, this could be bad news.
We don't encourage over-waxing, but if you must, then it is better to use a wax instead, as this will not contain abrasives.
2) A polish and wax formula may be the best of both worlds, but the master of none.
Dedicated polishes contain more abrasives that detailers sometimes need to perform paint corrections.
A polish and wax formula's abrasives may be too mild for cases where the swirls or marring are more serious.
Also, if you want to maximise the protective layer on your paintwork, it's best to use a dedicated wax.
This will last much longer than the wax contained in a polish and wax formula.
3) You'll spend less time detailing your car.
Admittedly, this is not really a "con" per se.
However, detailing fans and car lovers, do enjoy spending hours working on their car.
If this "takes away" precious time, then use it sparingly.
---