This writer battled sub-zero winter temperatures on a frozen Finnish lake to see how well Bentleys perform on ice.
MENTION "Bentley" and images of towkays being chauff eured around in ultra-luxurious saloons like the Flying Spur and the Mulsanne will come to mind. However, the British luxury carmaker is looking to win over younger fans with its upcoming Bentayga SUV and hot coupes like the Continental GT3-R. And what better way to inject some oomph into the marque's image than to hold an ice-driving event on a frozen Finnish lake conducted by a former world rally champion?
My city-driving skills and experience were irrelevant when driving in subzero temperatures on slippery ice, with the car's traction control electronics turned off.
Said frozen lake is located in Kuusamo, northern Finland. It is just 60km from the Arctic Circle, and about the size of Ang Mo Kio and Toa Payoh combined. It is one of the nearly 188,000 lakes that dot a country with about the same population as Singapore, but with a land area over 470 times larger. The event was conducted by the Juha Kankkunen driving school, set up by the Flying Finn who won the World Rally Championship four times between 1986 and 1993. Present on Lake Kuusamo was nearly every Bentley on sale today, from the sporty Continental GT to its stately brother, the Flying Spur.
Just as cosmopolitan were the participants – my driving buddy was Pang Cheong Yan, the managing director of Singapore's Bentley dealer, Wearnes Automotive, and my driving instructor was Goncalo Gomes, a Portuguese. "A Portuguese and two Singaporeans driving on a frozen Finnish lake in winter. What are the odds of that?" said Goncalo. I started the first day in a Flying Spur, beginning with some simple practice drills (on a figure of eight, a circular and an oval track) before moving on to three diff erent circuits carved out on the frozen lake. It turns out my city-cruising skills and experience were irrelevant when driving in subzero temperatures on slippery ice, with the car's traction control electronics turned off .
Bentley's Continental GT3-R, a strippedout trackday special, was the sportiest car on offer at the ice driving event.
"Power gives you grip," Goncalo said, adding, "Brakes do not work on ice. Power gets you out of trouble. You have to trust me when I say more power, even when you are spinning." He must know what he is doing – the 39-year-old won the Portuguese national championships five times. Driving on ice is more gliding than actually driving. To go around a corner, I had to induce oversteer and power out before the car spins out of control. However, the combination of driving a 5299mm long, 2475kg behemoth boasting a monstrous 800Nm of torque, plus the treacherous conditions underfoot, proved too overwhelming, as I crashed the big limo six times that day. Thankfully, there were no unyielding walls to contend with. Rather, the soft snowbanks that I ploughed into absorbed the impact, with no injuries sustained to man or car, though there was some bruising to my ego.
Even stately Bentley limos could perform balletic drifts, as this Flying Spur proved.
Still, one particularly bad crash saw the left side of my car dangling in mid-air. A tractor (the equivalent of a tow truck on ice) came to my rescue. "You are okay with the diffi cult corners, but you have diffi culties with the easy straights," muttered Goncalo. "It is usually the other way for most people. This is unusual." I thought I saw Mr Pang frowning at my bad driving, and was mentally prepared to say goodbye to ever driving a Bentley in Singapore. Things got better on day two, after I switched to driving a Continental GT V8 S. The car is less powerful than the Flying Spur, but also shorter and lighter (4806mm and 2295kg respectively), which makes it more agile.
With more practice, I got the hang of things and my confidence improved. I pushed the car harder around corners, and started to enjoy the sensation of sliding and catching the car. I came close to crashing several times, but only ploughed into the snowbanks once. And I fully regained my mojo after I took the steering wheel of the GT3-R, the star of the Bentley stable.
The writer got to ride shotgun with Juha Kankkunen, a four-time world rally
I also got to ride shotgun with Juha in said car. The softspoken man may be 55 years old, but he had the reflexes of a man half his age. He powerslid around corners and hairpins with eff ortless grace. I even received a certificate for completing the ice-driving programme. There were no footnotes on how many times I crashed, so the mishaps did not blemish my record. The driving experience made me appreciate the direction Bentley is heading. While the luxury marque will continue to appeal to older drivers with the Flying Spur and the Mulsanne, it is firmly on the path of winning over younger and more adventurous fans.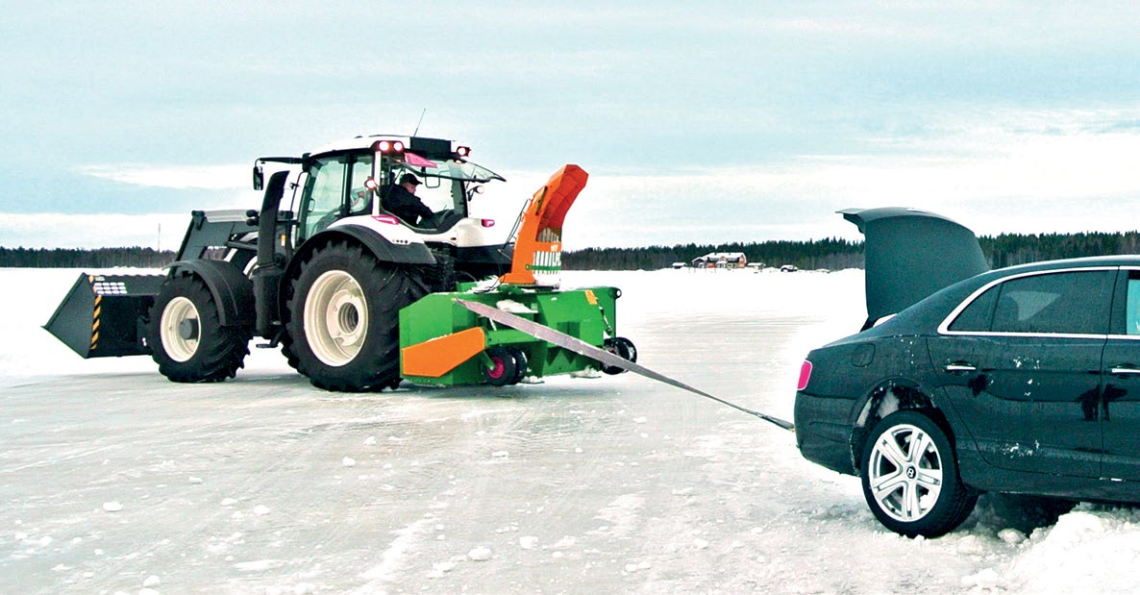 The price of a shortage of skill was having to be towed out of a snowbank.
Lake kuusamo in northern finland was the site of bentley's ice-driving event.