This pair of Nipponese station wagons have just hit town, and while they may have identical bodystyles, they could not be more different to drive.
IT'S always baffl ed me as to why station wagons never found much popularity over here. To most "car people", a wagon is the best choice if they are looking for the perfect all-round ride – practical, relatively rare (this is important because most petrolheads are insuff erably snobbish), less obnoxious than a monster sports utility vehicle and, crucially, with car-like handling. But at the same time, I can also see why station wagons aren't popular here. Perhaps it's because most such vehicles of yore tend to resemble hearses, and such practical cars (that isn't an SUV) project a terribly dreary image. However, the modern station wagon is a diff erent prospect altogether, and in some cases can even look sleeker than their saloon counterparts. This is particularly true in the case of the Mazda 6 Wagon on test here.
As for not looking dreary, there's a crossover vibe to Subaru's latest Outback (essentially a jacked-up Legacy), what with its matte black cladding and raised ride height. As for what both cars are like to drive, well, it's exactly how you would imagine them to, based on the way they look. I've always been a big fan of the way the Mazda 6 looks, and in Wagon form, I'm even more smitten, especially the gentle wave at the shoulder line that tapers moderately towards the rear and wraps around the tailgate, giving it an air of supercar-esque swoopiness. I think this Mazda 6 version looks best when viewed from the side, the extended glasshouse lending more coherence to the overall design. I almost get the feeling the Japanese carmaker's designers styled the Wagon first, with the saloon done as an afterthought.
Both cars come with touchscreen infotainment systems, but the one in the Outback has the bigger screen, while the 6 Wagon's has sat-nav.
That may be subjective, but the way this estate conducts itself isn't. It handles in an identical fashion to the saloon, with tautly controlled body movements, a well-damped ride, keen steering and the ability to "shrink" the harder I push it. But then, the Mazda 6 Wagon's handling prowess isn't too surprising, because against the saloon, the former is 65mm shorter from bumper to bumper and a paltry 11kg heavier (the latter is 4800mm long and weighs 1524kg). The only chink in this Mazda's handling armour is how its 2.5-litre engine doesn't really match up to the chassis. The motor is certainly powerful enough (boasting 187bhp and 250Nm), and it's frugal as well (it will return a claimed 15.2km per litre), but I think its reedy engine note and flat power delivery leave much to be desired.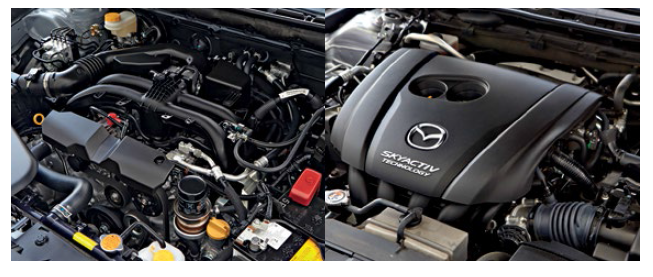 Both vehicles are powered by 2.5-itre engines with quite similar outputs – 187bhp in the Mazda and 175bhp in the Subaru.
As an added bonus, the Wagon gets 84 litres more boot space than the saloon (522 versus 438), which is a significant amount on paper. But, in reality, it's even better: The Mazda is blessed with a far larger loading aperture, with the ability to fit awkwardly shaped items such as bicycles and furniture with ease. Practical though the Wagon may be, if it's outright space you're after, then Subaru's latest Outback would be a better choice, as it packs a 560-litre boot. And with its more upright stance and elevated driving position, this automobile has better all-round visibility. While it has a marginally shorter wheelbase against the Wagon (2745mm versus 2750mm), the taller glasshouse of the Subaru gives its cabin a more airy feel compared to the Mazda, which can be a little claustrophobic, no thanks to its sloping roofline.
Thanks to its taller glasshouse, the Subaru (right and extreme right top) has the more airy cabin, though the Mazda's more cocooned interior (far right and extreme right bottom) lends it a greater sense of sportiness.
Unfortunately, the price to pay for the Outback's increased practicality is how it doesn't ENGINE 2498cc, 16-valves, flat-4 MAX POWER 175bhp at 5800rpm MAX TORQUE 235Nm at 4000rpm POWER TO WEIGHT 110.8bhp per tonne GEARBOX CVT with 8-speed override 0-100KM/H 10.2 seconds TOP SPEED 210km/h CONSUMPTION 12.9km/L (combined) CO2 EMISSION 177g/km PRICE INCL. COE $160,600 (no CEVS rebate/surcharge) stack up too well against the Wagon in the handling department. Its tall stance certainly has a negative impact on agility, but I have a bigger beef with its vague helm and equally nebulous CVT. Not helping the Subaru's cause is how it weighs 1580kg. And while its all-wheel-drive system provides plenty of grip, it's more ponderous than the Mazda on turn-in, to say nothing of its numbingly average 10.2 seconds zero-to-100km/h time.
Regardless of whether you're of a sporty or practical bent, you'll be glad to know that both cars have a healthy amount of kit. Both estates come with a touchscreen infotainment system (though the Subaru has the prettier, larger screen), Bluetooth telephony and cruise control. On the equipment front, the Mazda 6 Wagon has an edge over the Subaru Outback due to its Bose audio and satellite navigation system.
On the other hand, you are paying more for the Mazda – it's priced at $172,888, which represents a hefty $12,288 premium over the Subaru. So, perhaps choosing between the pair might come down to which one is less detrimental to your bank account. But the bigger question is: Will their myriad charms tempt buyers away from SUVs? Well, that question might be more diffi cult to answer. But as great do-it-all cars, these station wagons have managed to win me over, at least.
Keen drivers will find plenty to like about the 6 wagon, while the outback will impress the more practicalminded driver.