WITH over a million units sold since its introduction in 2011, the Q3 compact crossover has been one of Audi's most successful models to date.
Over the past seven-plus years, Audi has offered some changes, above and below the bonnet. It even introduced a high-performance RS version for drivers who like their SUV with more on-road potency.
However, the first generation Q3 was starting to look stale and it prompted Audi to reveal an all-new model with a fresh design and a slathering of new tech.
From a distance, the second-generation Q3 doesn't seem very different from its predecessor, but walk closer and you will notice that it is a more aggressive-looking machine.
Sharp, angular lines and flared wheel arches convey a sportier look while the single-frame grille, with its octagonal shape and slimmer LED headlights, tie-in with the latest Audi design language.
Look at recently launched Audi models, such as the A6, A8 and Q8, and you will realise where this sharper and more dynamic design comes from.
However, the Q3 also has a few distinctive touches of its own. One such touch is the neat pair of lines that run up the bonnet which create a stylish 3D effect.
Neat can also be used to describe the road manners of the latest Q3. The front-wheel-drive 1.5-litre variant I tested has a turbocharged 4-cylinder engine mated to a 7-speed dual-clutch gearbox.
It corners reasonably well, with the 18-inch Michelin Primacy 4 tyres offering a decent compromise of comfort and grip. Ride comfort is generally good too, even when "Dynamic" mode is chosen via Drive Select.
Drive Select also offers other modes – from comfort to efficient and through to dynamic – with each offering changes to engine response, steering weight and damper settings.
Interestingly, the variant that will be sold in Singapore is the 1.4-litre (with a 6-speed dual-clutch gearbox) and not the 1.5-litre.
Two adults can easily fit here, but three's a crowd.
THE Q3'S SHARPER-LOOKING EXTERIOR IS REFLECTED IN THE INTERIOR DESIGN, TOO.
Both variants, however, offer the same 150hp and 250Nm outputs. As the 1.4-litre model has not been launched yet, Audi Singapore couldn't provide the zero to 100km/h and top speed figures. But as an indication, the 1.5-litre variant recorded 9.2 seconds and 207km/h respectively.
Like the exterior, Audi has given the new Q3's cabin a comprehensive makeover, making it look significantly more modern than the previous model. The new switchgear sports sharper, more compact designs while the metal-effect trim looks more refined.
One thing that stays the same is the solid build. Pretty much everything shouts "quality" including the beefy steering wheel and rotary knobs of the climate control system.
The one exception is the block of black plastic below the above-mentioned dials where a "lonely" volume knob is located. It almost seems like the designers forgot about it and left it there.
The new Q3 is more spacious than the previous one, thanks to it being a little larger – 97mm longer and 18mm wider – and more importantly, an almost 80mm longer wheelbase.
Two tall adults will find plenty of shoulder and elbowroom at the rear. However, fitting a third person would be a squeeze and is recommended for shorter journeys only. 
As for the boot, it will accommodate 530 litres of luggage. Push the rear seats forward and that increases to 675 litres. Need more space? Lay the rear seatbacks flat and you'll have 1525 litres at your disposal!
Like every new Audi launched over the past two years, the latest Q3 is fitted with Virtual Cockpit. In standard guise, it comes with a 10.25-inch digital instrument cluster for the driver.
My test car was equipped with the larger 12.3-inch display, which showed more graphics and a 3D map. It proved most useful while I was navigating around Munich.
With the map directly in your field of view, being able to see where you are going while receiving directions, and monitoring speed and other pertinent information made driving much easier and safer.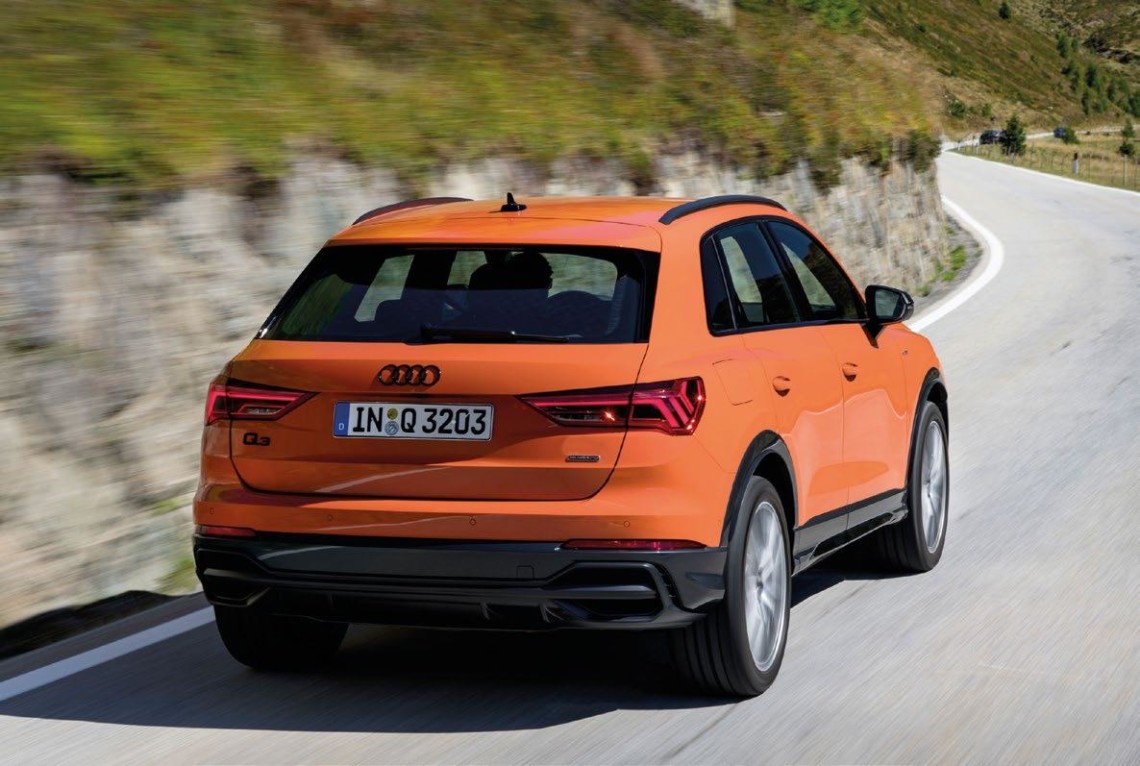 This 12.3-inch screen also incorporates the MMI functions and can display information such as music tracks and Audi connect services.
Another feature I liked was the optional Bang & Olufsen 3D sound system. With 15 speakers (including one in each D-pillar) and a powerful 16-channel amplifier that pumps out 680 watts of audio power, the system delivers the great sound that B&O is known for.
The new Q3 1.4 TFSI will reach Singapore in the fourth quarter of this year, and word has it that it will probably be priced similar to its predecessor. That should be music to the ears of interested buyers. 
ENGINE 1498cc, 16-valves, inline-4, turbocharged
MAX POWER 150hp at 5000rpm
MAX TORQUE 250Nm at 1500-3500rpm
GEARBOX 7-speed dual-clutch with manual select 0-100KM/H 9.2 seconds
TOP SPEED 207km/h
CONSUMPTION 16.9km/L (combined)
CO2 EMISSION 134g/km
PRICE INCL. COE From $168,800 (estimated) 
STORY TONY TAN LOCATION MUNICH, GERMANY