This writer discovered that amateurishness, hot SUVs and icy conditions are not a good combination.
I was showed Up by a geriatric Station wagon, Humbled at the Drive center's Track, and utterly Humiliated by Walter rohrl.
LONG before I even began to drive two of the hottest Porsche Cayennes (specifically the GTS and lunatic Turbo S) on ice, I knew I was in over my head. Now, I use the phrase "drive" loosely, but more on that later. Anyway, the first sign of trouble was Porsche telling me I would be driving the pair of storming sports utility vehicles in Skelleftea, a sleepy mining town of a little over 30,000 inhabitants in northern Sweden. The trouble I'm talking about is how I can't even pronounce the name of the place – it's not "skell-eff -tee" as I first thought, but as pointed out by a helpful staff member at the Stockholm airport, "shell-eff -tee-oh".
However, I was to find out that the mild embarrassment of mangling the name of a place was to be a comparatively minor issue. I was clad only in a T-shirt, comfy lightweight sweatpants and canvas sneakers when I arrived at Skelleftea's bus terminus-sized airport (in contrast to the sprawling minimetropolis that is a modern air hub, the Skelleftea airport has but a single boarding gate). This is essential attire to survive tropical climes and the minor horrors of long-haul travel, but not so much when the landscape is covered in snow as far as the eye can see, and the temperature is well below freezing (it was minus 15 deg C, if you must know).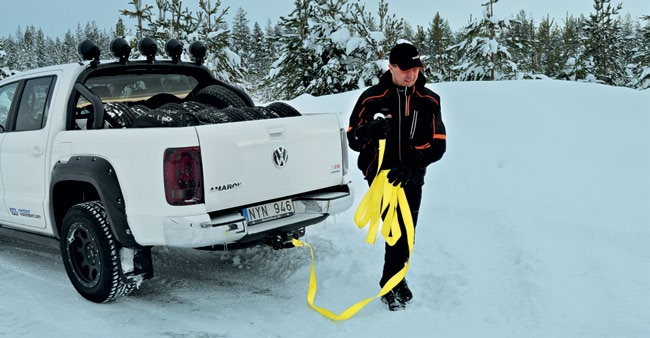 The writer became firm friends with the man driving the tow truck.
I suff ered a mild panic attack at the baggage claim belt as I waited for my luggage, paranoid that my heavy winter coat and boots (in addition to clean underwear) were happily winging their way to Senegal, not Sweden. My anxiety wasn't helped when a Malaysian journalist on the same trip with me failed to see his bag emerge. After several interminable minutes of waiting, I saw my battered bag appear, and made a mad dash for it, tearing it open to get at my cold-weather gear.
Soon, and agreeably warm, I was in high spirits, a mood that was carried over to the next morning when the driving in earnest began. Given my buoyant mood, I clambered into the Cayenne Turbo S for the journey to the Skelleftea Drive Center, an automotive playground equipped with skidpans and various handling circuits located on the site of a former air force base. Within the first few minutes, my confidence was taken down a peg, because a powerful car piloted by someone completely unaccustomed to driving in sub-zero temperatures and icy roads was not a good idea.
A terminal lack of talent saw this writer towed out of a snowbank a distressing number of times.
My ego was to take a further beating not too long after, when an elderly Mitsubishi station wagon that was clearly in a hurry overtook the super-SUV I was in and eff ortlessly pulled off a four-wheel drift going around a sweeping corner. As for me, I sheepishly tiptoed through the same bend. Still, I wasn't quite ready to quit just yet. After all, I'm a veteran of the most powerful road car Porsche makes today, the 887bhp 918 Spyder, and drove it on a frigid, wet racetrack in Valencia. With some pride reclaimed thanks to a creditable showing on the skidpan, I headed to the slalom course… and proceeded to swop ends during my first attempt.
I didn't fare much better during the next few tries, which saw me fishtailing wildly when I was too aggressive or crawling through the course because I was too conservative. The next item on the menu was a run through a narrow, icy racetrack with an instructor in a lead car (a 911 Carrera 4S) taking us on a spotting lap. "This is going to be easy," I thought to myself. But by the time the third corner hoved into view, I found out I was dead wrong, as I had unceremoniously planted the big SUV's nose into a snowbank. Thankfully, I was able to reverse out on my own power, but several other times I wasn't so lucky, which necessitated the deployment of a VW Amarok to help drag me out.
A powerful SUV made for a surprisingly effective snow plough.
Towards the end of my session, I managed to get the hang of it (in theory, at least). Instead of braking hard at the last possible moment, turning in and powering out early as I would during regular circuit driving, going quickly on ice is a completely diff erent kettle of fish. Since the brakes and steering aren't as responsive as they are on more grippy surfaces, I had to induce oversteer early, pitch the car in, and use the throttle to glide around corners while applying judicious amounts of opposite lock. But while I was able to grasp the basics of ice driving on an academic level, I was still abysmal in practice. By this time, my ego was in tatters, having been delivered a comprehensive thrashing at the icy hands of the Skelleftea Drive Center, and salt savagely rubbed into my wounded pride when I was taken on a joyride by all-round driving god Walter Rohrl.
In sharp contrast to my flailing limbs, Rohrl was as cool as the weather outside, dancing around the icy tarmac without any apparent eff ort. While chewing sullenly on some reindeer jerky, I was left to rue the day that just went by, showed up by a geriatric station wagon, humbled at the Drive Center's track, and utterly humiliated by Herr Rohrl. Never mind, because I had already started making excuses for myself, with jet lag and limited sub-zero driving experience being high on the list. After all, the ability to make good excuses after crushing defeats – more than blinding talent or foolhardy bravery – is the surest sign of a great driver.