This might be the "slowest" Ducati out there, but it's also the coolest.
A new wave of ducati fanboys could be scrambling for this lifestyleoriented motorbike.
IF you've always wanted a Ducati but don't have time for knee sliders or full-face helmets, the new Ducati Scrambler should be right up your alley. Cashing in on the "modern-retro" trend (a modern interpretation of a classic motorcycle), the Scrambler was inspired by the firm's single-cylinder models of the same name from the 1970s, and created to attract new and younger riders to the bike brand from Bologna. The marketing strategy for the new Scrambler is as impressive as the bike itself. At the regional launch in Thailand, there were glitzy multi-coloured lights, yellow container panels (colour of the original Scrambler) as props, and no less than 50 diff erent accessories to fully personalise your own Scrambler.
Ducati's new "lifestyle" bike targets the "lifestylish" rider with its range of accessories, from helmets to T-shirts.
Add to that an entire line of Scrambler apparel, ranging from old-school openfaced helmets and goggles to embossed leather belts, matching retro tees, boots and water bottles. It's what Ducati calls a brand within a brand. Carefully crafted to recreate the coolness of the '70s, the marketing campaign might be unfamiliar to Ducati purists, but it'll certainly make fashionable hipsters sit up and take notice. Said demographic would be looking to upgrade to a Class 2 motorcycle from, say, restored vintage Vespas.
Instead of striving to stay as true as possible to the original bike in terms of styling, Ducati has adopted a more contemporary approach, with only the teardrop-shaped tank, upright riding position and round headlight being the most obvious similarities to the original Scrambler. To keep up with the times, there's a USB socket and a phone storage area under the Scrambler's seat, plus a large digital speedometer that, annoyingly, does not include a gear indicator or fuel gauge.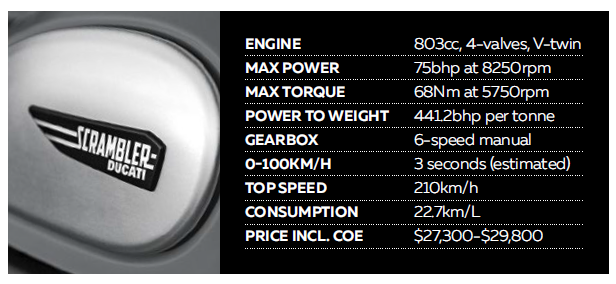 Free of riding modes, traction control and the usual go-fast riding aids other high-end Ducatis are equipped with, the "renewed" Scrambler is all about basic, straight-up riding fun. It was designed to get newer riders on the road without the need for them to complete an advanced riding course. You do get ABS as a standard safety measure, though. Central to that riding experience is an 803cc, 90-degree V-twin engine taken from the discontinued Ducati Monster 796 and detuned from 87bhp to 75bhp to deliver a broader spread of torque. Seasoned riders might find the power a little wanting, but the "twin" pulls cleanly from 2000rpm and off ers more than enough grunt to keep newer riders thoroughly entertained. Other cutbacks include nonadjustable front forks and a rear shock adjustable for preload only, but they are all firm from the get-up, so as to aid handling.
Like all Ducatis, the bike inspires confidence when pushed through corners, and its braking performance, although managed only by a single brake disc up front, is strong and reassuring. Taller riders like me will find the riding position cramped at first, due to the low-slung seat and the high, wide handlebars that initially feel too close to the chest. But the low sitting position and extra leverage of the bars actually make the bike a treat to chuck about. In any case, the cramped feeling disappears after a while on the saddle. While the firm suspension and instant throttle response are useful when riding hard, the Scrambler suff ers when travelling through the potholed towns on our test route. The over-sprung rear spring and excitable throttle response mean the ride is firmer and friskier than I'd have liked. But it's a small price to pay for the bike's dynamics.
It may lack the relaxing nature and authenticity of rivals such as the Triumph Scrambler and Kawasaki W800, but none of them comes close to the Ducati in entertainment and engagement. Four versions of the Scrambler are available: Icon (tested here); Urban Enduro, the most off – road-ready model with high mudguards and a headlight grille; Full Throttle, the model with lower bars and a sportier sports muffl er; and Classic, the most accurate reflection of the original model with its spoked wheels and brown leather seat. It may lack the usual bells and whistles of other highperformance Ducatis, but the Scrambler ticks all the right boxes in terms of style, simplicity, aff ordability and badge appeal. Call it anti-conformist, but the most lifestyle-orientated Ducati yet could see a new wave of Ducati fanboys scrambling for it