DRIVER'S LICENCE
6 – Number of speed cameras encountered during the drive. 
JEREMY CHUA
Our editor dislikes how these devices make you look bad in photos, yet still charge you an arm and a leg for them. 
ASK a Japanese engineer a sensitive question about an upcoming model or upgrade and you'll be met with a smile and very polite response.
"We will announce it at the appropriate time."
No matter how many times you repeat the question, you're going to get the same answer. I get the feeling that they have been relentlessly drilled before they're grilled by the press.
I received this response on several occasions during the 2017 Tokyo Motor Show. At the time, the Mazda 3 hatchback splashed all over these pages was still something called the Kai Concept.
Back then, I guessed that the Kai Concept would be the next Mazda 3. I asked for confirmation but was met with said polite reply. Then I put forward more queries about the Skyactiv-X motor. Again, the same courteous replies.
But after having driven the new Mazda 3, it all makes sense. Apart from not wanting their rivals to really get the jump on them, I think the Mazda folks were purposely being coy. They knew exactly how good a car this was going to be.
So, they stayed true to Japanese culture. Instead of hyping up the car and shouting about it every chance they got, they're letting the car do all the talking. And has it got a lot to say.
When the latest Mazda 3 hatchback was unveiled, I couldn't believe my eyes. Its styling was very close to the concept car's, except that the wheels are smaller, the wing mirrors are larger and there are proper door handles.
The hatchback looks best in Soul Red Crystal Metallic. And yes, like most enthusiasts, I am taken by the striking C-pillar and gorgeous rear end. 
No touchscreen here – Mazda says it's less precise and more distracting than using the control knob. 
Because the Skyactiv-X motor is smooth and eager to rev, you'll forget about SPCCI and its fuel-saving aim. 
Mazda says that their designs are all human-centric, but they forgot to mention that they have also added a minimalist approach.
Unlike most new cars that grow larger with each iteration, the new Mazda 3 is actually smaller than its predecessor. Its overall length of 4460mm is 15mm shorter and its height is 30mm lower. The 1795mm width is unchanged, but the wheelbase has grown by 25mm to 2725mm.
The longer wheelbase but shorter overall length mean that the wheels are pushed further into each of their corners, which reduces overhang and gives the car a more athletic stance.
I didn't stand around ogling the exterior for long, though.
As I got behind the wheel, I was struck by the clean cockpit layout. While other carmakers add more buttons and controls to their cars, Mazda is eliminating them. As our legal eagle opined, it seems like tidying expert Marie Kondo had a hand in the Mazda 3's design.
This minimalist approach was applied to the infotainment system as well. Compared to the previous Mazda Connect, the current one has prettier graphics, swifter loading times, and a simpler and more intuitive menu structure. Everything about it feels very seamless.
If you're wondering if there's some smart voice assistant function, there's none. But before you think this is a minus, think about how often you're going to use it. Most drivers I know use (and are content with) Apple CarPlay or Android Auto, which the Mazda 3 has.
Do we actually need more complicated car infotainment?
As I'm adjusting my seat and getting to grips with the other controls, I notice the softness of the cabin materials. No other vehicle in this segment feels as refined or well-designed. The only thing I could find wrong was the passenger side door handle, which seemed a bit loose.
Everything else is designed to please the driver, from the new steering wheel to the improved seats. Mazda worked with a university research team to study how humans balance themselves while walking. A lot of it has to do with our pelvis and the S-shape of our spine.
The goal was to make driving feel as natural as walking. And cornering as natural as dodging obstacles in our path – as we're walking. To this end, they also studied how road forces impact the wheels and are transferred to the suspension.
ENGINE 1998cc, 16-valves, inline-4
MAX POWER 178hp at 6000rpm
MAX TORQUE 224Nm at 3000rpm
GEARBOX 6-speed automatic with manual select 0-100KM/H 8.6 seconds
TOP SPEED 216km/h
CONSUMPTION 15.9km/L
CO2 EMISSION 142g/km
PRICE INCL. COE From $120,000 (estimated; car expected to reach Singapore in Q1 2020) 
+ GORGEOUS DESIGN, WELL-EXECUTED INTERIOR, POTENTIAL FOR EVEN SPORTIER HANDLING
– SMALLER BOOT, BACKSEAT LACKS HEADROOM, PRICEY FOR A NON-LUXURY MODEL 
To make a long story short, Mazda undertook solutions such as welding/connecting chassis components that used to be separated, and coming up with a new kind of torsion beam that tapers towards the middle. The carmaker has actually filed a patent for the latter.
Other interior improvements include a roomier and more practical backseat, which now offers more legroom and finally has door bins. The sloping roofline, however, is going to cause headroom issues for anyone taller than 1.75m.
The Mazda 3 hatchback is also found wanting when it comes to boot space, which has bizarrely shrunk by 13 litres to 295 litres. It's unreasonable, but perhaps Mazda expects drivers to also declutter and buy less stuff, not more.
Speaking of less, consuming less petrol is the goal of the new Skyactiv-X motor, Mazda's new innovation which enables the engine to run extremely lean, thanks to Spark-Controlled Compression Ignition or SPCCI.
SPCCI enables the engine to use very high air-to-fuel ratios (AFR). The ideal (stoichiometric) AFR is 14.7:1, but in Skyactiv-X, this can be up to 36.8:1.
In regular engines, an AFR of over 14.7:1 means you are running very lean, and there is chance that the fuel will not ignite.
SPCCI solves this issue. It compresses the air-fuel mixture to near-ignition, then triggers combustion with a spark.
Skyactiv-X also has a compression ratio of 16.3:1, which is similar to a diesel motor. I know of no other production petrol engine with such a figure.
In effect, SPCCI enables an engine to produce even more power without using too much more fuel. 
The 2-litre Skyactiv-X in the Mazda 3 produces 178hp and 224Nm. Its combined fuel consumption is 15.9km/L.
The older 2-litre Skyactiv-G motor, on the other hand, has 162hp, 210Nm and a fuel economy of 16.9km/L.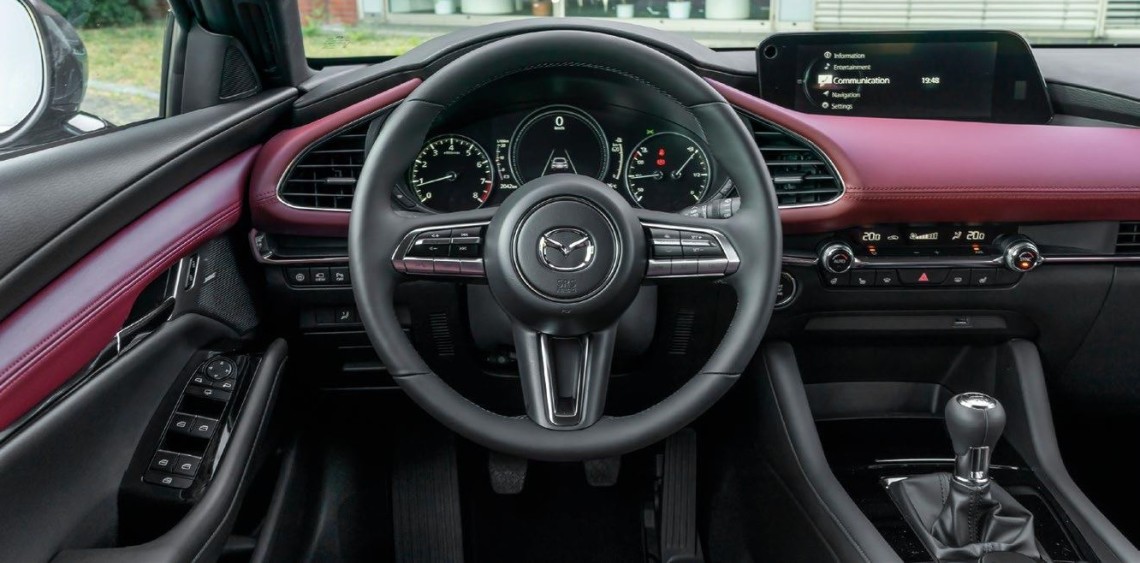 Probably the most refined and driver-centric space in its segment. 
New 3's backseat has more legroom, but reduced headroom; rear air-con vents would have been a nice touch. 
Mazda, however, refuses to state how much fuel Skyactiv-X actually saves. "It really depends on the driver" is their safe (and polite) answer.
Well, given Mazda's penchant for engineering well-handling cars, this driver's fuel savings were unimpressive, to say the least.
It is hard to resist pushing the new Mazda 3. The new motor starts up normally and sounds like a somewhat rorty naturally aspirated unit. But it is also smooth, and as expected, also rev-happy.
By the way, you can't feel when the engine switches to SPCCI mode. When it happens, the only indicator is a symbol on the infotainment screen.
The 3 is eager to play and keen to show off its additional ponies. So, I oblige. After all, nudging the accelerator pedal causes the 6-speed automatic gearbox to quickly drop two gears and snap the tachometer needle towards the right. 
The country lanes, and slip roads leading to and from the autobahns give the 3 a chance to dance. It is hard to believe that the rear suspension is a simple torsion beam. The car's nose willingly tucks into bends, with the precise steering allowing you to place the car where you want it. The rear end obediently follows. 
THE NEW 3'S HANDLING POTENTIAL HAS YET TO BE FULLY REALISED. 
Gorgeous C-pillars and rear end look even more enticing in Soul Red. 
The new seats and suspension work well. Unless you push ridiculously hard, your body doesn't lean. It's only your head that slightly moves.
But I need to stress that you have to be in a proper driving position. If your definition of "proper" is to drop the seat height as low as possible even if you're not tall enough (and now can't see over the dashboard), you're not going to reap any benefits.
Before long I realise that the Mazda 3 is actually capable of more – much more. I put it to the model's programme manager, Kota Beppu, that he is purposely playing down the handling.
After I tell him what I experienced, he finally confesses that he is an MX-5 fan, and that he wanted to imbue the Mazda 3 with the same nimbleness and agility as the iconic roadster.
The 3's limitations are its standard touring tyres, which are designed for comfort rather than performance. Thus, before I can push harder, the tyres squeal and plead for mercy.
Braking is progressive and again, would improve with a better set of tyres. The 3 is quite refined during highway runs as well, with wind noise only becoming a bother past 160km/h.
Mazda claims a top speed of 216km/h, but it'll take forever to reach that. Going from 180km/h to 200km/h required a long, empty and unrestricted stretch of autobahn to achieve.
At the end of my drive, I got out of the car and stood back to admire it. It is stunning to look at, satisfying to drive and despite its flaws, is something that I would want to own. What an effect it's had on me.
No wonder when I'm asked if this is the best car I've driven all year, I've been replying: "I'll tell you at the appropriate time." 
STORY JEREMY CHUA LOCATION FRANKFURT, GERMANY