The second-generation Nissan Leaf is out to electrify EV buyers with its sportier looks, improved interior and longer range.
WHEN the first-generation Nissan Leaf first broke cover, its otherworldly looks immediately polarised opinions.
Its bulbous shape ensured that it looked like no other car on the road. Some found it cute. But many did not find it appealing.
The previous Leaf arrived in Singapore in 2012 as part of a test-bedding programme. Torque drove it and found it to be a pleasant, albeit quirky car.
Although zippy, the older Leaf has a very limited range. It was rated for 150km, but under local driving conditions, we could only safely eke out 100-110km.
The latest Leaf, however, is claimed to have more than twice the range (311km). Its more conventional design is also more attractive than before.
We subject this electric hatchback to a comprehensive review by three Torque regulars: writer Wong Kai Yi, along with core contributors Tony Tan and Shreejit Changaroth.
Keen driver Kai Yi will put the Leaf's performance and handling to the test, while Tony analyses the car's practical attributes.
Shreejit, on the other hand, will put on his engineer's hard hat before checking out the Leaf's technical specifics.
The Performance Factor
Every time I drive the Nissan Leaf, I kid you not, I run straight into a massive traffic jam.
It's not your garden-variety jam but a bumper-to-bumper tailback.
That's probably because Nissan's Ubi showroom is in the middle of a busy industrial estate, not to mention sandwiched between entrances to the KPE and PIE.
It was a sign, then, for me to try out the e-Pedal that Nissan advertises as a standout feature on the Leaf.
The e-Pedal's premise is simple but highly effective: you can start, accelerate, decelerate and brake simply by depressing or lifting off the accelerator.
It's very intuitive once you get the hang of it. With e-Pedal mode engaged, depress the accelerator pedal to move off and when you want to stop, gently ease off.
The motor, through regenerative braking, slows you to a halt.
A good many electric cars also use strong regenerative braking to slow you down, but Nissan is the only automaker which has refined it into something that you can use daily.
The system even automatically applies the brakes for you (and illuminates the stop lamp) when you're stationary, so you can rest your hard-working right leg.
Kai Yi likes the e-Pedal function, but says it needs to be switched off when you're parking.
During my time with the car, I challenged myself to only drive with the e-Pedal – and I succeeded. It was definitely easier to drive with it and soon, I got quite used to modulating it without much difficulty.
With some practice, it's entirely possible to drive solely with the e-Pedal and help save some battery power in the process.
Ironically, my foot began aching after a while as I was constantly easing on and off in peak hour traffic. But it sure beats having to do the throttle-brake-throttle dance that I smugly knew other drivers must be doing.
Also, unless you have plenty of practice driving backwards, parking manoeuvres are best done with e-Pedal off, because the strong regen can cause the car to jerk while you try to finesse it into a parking lot.
Which brings us onto the topic of the Leaf's brakes. When you depress the brake, the pedal feel could do with more bite.
There's linearity to the braking feel, but no "hard stop" after some travel. The feel is in no way terrible, but it just doesn't have as meaty a bite as I would like.
Aside from that, the Leaf is smooth on the road and like every other electric car, dead easy to drive.
It knows how to party. With e-Pedal off, the Leaf leaps snappily away from the lights, putting some two-doors to shame with its 147hp and 320Nm of instant torque.
Round a corner with a touch of speed and the Leaf keeps body roll impressively in check, cornering with no histrionics and minimal fuss despite being shod with skinny eco-oriented Dunlop Enasaves.
But its steering, though largely accurate, is too light and doesn't transmit much textural feel of the road surface.
Some road noise and tyre roar is audible but overall, the Leaf is relatively quiet inside and the seats are very ergonomic and comfortable to sit on.
With innovative technology and a fuss-free driving experience, it's not difficult to see why the Leaf has won plenty of international fame.
But starting at $160,300 with COE as of June 13, the Leaf in Singapore is within spitting distance of ye olde petrol cars like the Audi Q2, BMW 2 Series Gran Tourer, Mazda CX-5, Toyota Harrier and the Hyundai i30 N.
And in EV land, the Leaf faces competition from the more powerful and longer-legged Hyundai Kona EV long range (and its "cousin", the similarly-specced Kia Niro EV) and the cheaper Renault Zoe.
The local version also doesn't get Nissan's clever ProPilot system, the company's name for a suite of advanced driver-assistance technologies like steering control and adaptive cruise control.
But the Leaf has got its own merits: it stands out with its innovative e-Pedal and huge 435-litre boot, making it more practical than most other EVs in its price range.
Add an eff ortless driving experience to that and it's clear why you shouldn't leave the Leaf out of your EV shopping list.
The Engineering Factor
As much as I get excited whenever a new electric car is introduced here, there is always the disappointment in being reminded at the first drive that all EV "engines" always behave the same way.
AT THE MOMENT, IT COSTS LESS THAN $10 TO FULLY CHARGE THE LEAF'S BATTERIES.
The few things I am really going to miss are the sounds from an engine and exhaust, accelerating through the gears and feeling the g's change with every shift.
Most of all, I will really miss the fact that there are distinct differences between any two internal combustion engines whether petrol, diesel, turbo or naturally aspirated.
In contrast, the typical EV characteristics are seamless, silent progress and spontaneous acceleration especially from a standstill. But there is no way you can re-flash the ECU to extract more power.
Take this Nissan Leaf for instance. It has an unremarkable specific power of 100hp per tonne, which is about that of a 1.6 litre Nissan Sylphy (95 hp/tonne). 
The Leaf's electric motor, however, will give you 320Nm of torque anytime you want it. That is more than twice what the Sylphy's 1.6-litre petrol engine can manage.
With its snappy off-the-line performance, the Leaf can give a rude shock to more powerful cars of the fossil fuel variety.
It is quite hilarious really, especially if the car next to you is something like a turbocharged, 3-litre premium saloon.
The official figure of 7.9 seconds to 100km/h says nothing about the Leaf's fascinating urge to the next traffic light and on the city streets, that is way before you even hit 80km/h.
My sprint opponent finally gave up after three attempts.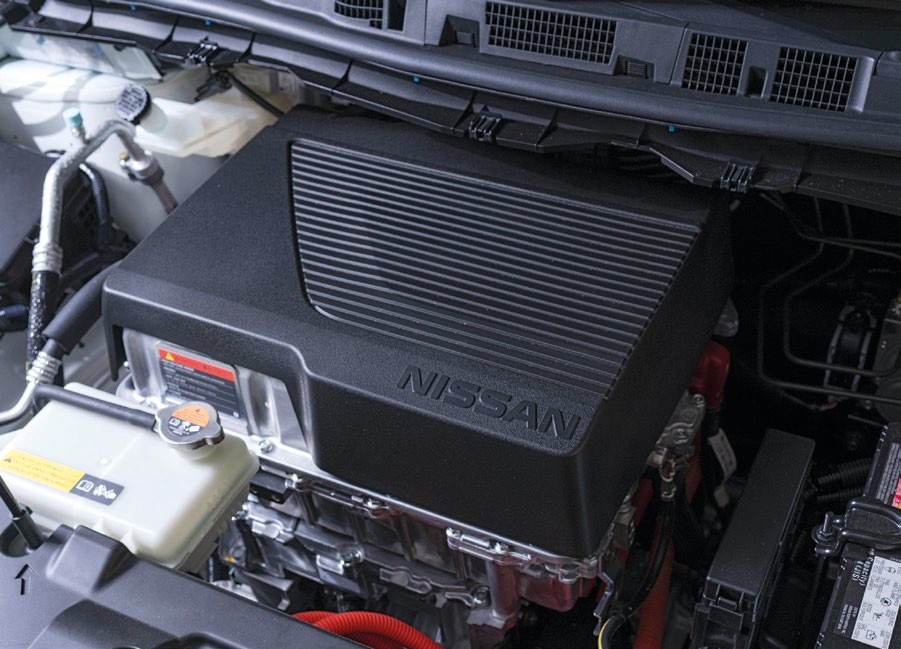 Electric motor's instantaneous 320Nm gives it a surprising turn of speed that belies its century sprint time of 7.9 seconds.
By the standards of the current generation of EVs, the Leaf is essentially quite conventional and as strange as it may sound, rather simple in its chassis and powertrain.
MacPherson struts in front, torsion beam in the rear, telescopic hydraulic dampers, coil springs and electrically assisted rack and pinion steering. This is probably as neat and simple a chassis as you can get.
A single AC synchronous motor sits in front, driving the front wheels through a fixed, single-reduction gearset.
You will not find anything familiar under the bonnet, except a regular 12-volt lead-acid battery which is required to provide power to the lighting and accessories.
What looks like an engine block is the motor housing and the power-control module.
In every EV, this controller is the central brain that regulates energy flow not just from battery to motor, but also from the wheels back to the battery during regenerative braking and power input when charging.
The battery, a multi-cell lithium-ion pack that totals 40kWh, is spread across the underfloor between the front and rear axle lines. 
There are two types of standard charging ports on the Leaf, but here in Singapore, only the Type 2 AC is useable.
The other facility, known as CHAdeMO, is a DC charging receptacle that is currently not a standard used in Singapore's EV charging network.
Tony Tan was pleased with the Leaf's roominess, which easily accommodated his 1.8m frame.
When I picked up the Leaf, its battery was filled to 99%. After two days of driving over 210km, there was still another 20% charge available.
WITH THE E-PEDAL ACTIVATED, ALL YOU NEED TO PROPEL, SLOW DOWN OR STOP THE LEAF IS THE ACCELERATOR PEDAL.
Nonetheless, I drove to the Tan Chong service centre and had it charged using the single-phase 6.6 kW adaptor supplied with the car, and plugged in to an industrial 3-pin 20 Amp power point.
Leaf's cockpit has intuitive controls and a pair of very cushy front seats.
Five hours later, the Leaf had another 165km of range and the battery gauge showed 64%. This would be the type of facility you would be able to install at home.
Eight hours is what you need for a full charge, which is fine because that is less than the time most people spend at home after work every day.
Public charging stations around Singapore, such as those installed by SP Utilities and Greenlots, offer the 3-phase, 43 kW charger which in the case of the Leaf means no more than 1 hour for a 10% to 100% battery fill up.
These services include mobile apps to locate nearest charging stations. They can even monitor the charging status and electricity cost once you have plugged in.
This is why you really don't need the CHAdeMO DC charger for the Leaf.
The Practical Factor
Surely 400,000 buyers can't be wrong. Yes, that's the number of Nissan Leaf (or should I say Leaves?) that have been sold since the first-generation model was launched in late 2010.
I was the only motoring journalist invited to test-drive the Leaf back then in Yokohama, Japan. I came away very impressed with the car's capabilities. The only downside was its range.
During our drive around the factory's test track, the display showed that I had a range of 60-65km remaining after just one hour. And it wasn't because I was piloting the car like a Formula 1 driver.
I can only imagine what it would have been like if I was driving the car back in Singapore. The dreaded illness – range anxiety – which afflicted many an electric vehicle driver back then would have reared its ugly head extremely often.
The new Nissan Leaf won't leave you anxious about its range at all. While I couldn't match Nissan's claims of 311km, the display showed a maximum reading of 278km – that's enough for four days of driving for me.
At the current rate of $0.2439 per kWh that is charged by SP Group, it'll cost just $9.76 for the batteries to be charged to full capacity.
That's 28.5km for every dollar! Cost-wise, that's (obviously) way more practical than any fossil-fuel guzzling car.
Mind you, with the plethora of companies offering cheaper rates for electricity nowadays, you might save even more money.
Getting the most mileage out of the batteries is made easier with the clever e-Pedal. When activated, all you need to propel, slow down or stop the Leaf is the accelerator pedal.
As you drive, a slight lift of the pedal is all that is needed to decelerate. Lift your foot completely off and the Leaf comes to a complete stop.
I've to admit that the concept of single-pedal driving sounded quite scary at first. However, I got used to the system in five minutes. It works great!
And don't worry if a car pulls into your lane abruptly or brakes suddenly in front of you – the emergency braking feature will automatically apply the brakes to help avoid a collision or lessen the severity of the impact.
Backseat occupants sit higher than the front passengers due to the battery pack below the rear bench.
Also, you can use the brake pedal at any time to switch back to "normal" driving. For added assurance, the 360-degree camera with moving object detection makes manoeuvring around tight, crowded spaces a cinch.
Four driving modes are also available – D, D + Eco, B and B + Eco. The last two are for extended downhill driving (something you rarely encounter in Singapore) while D is for maximum performance with a highly responsive accelerator pedal.
For optimum range, D + Eco hits all the right spots – the accelerator pedal becomes slightly muted while air-con settings are adjusted for added distance, but you'll still stay comfortable.
The new Leaf is spacious. With a wheelbase of 2690mm – just 15mm shorter than the seven-seater X-Trail SUV – it seats five comfortably.
Leaf's 435-litre boot expands to 1176 litres with the rear seats folded – big enough to stow two fullsuspension mountain bikes.
As the batteries are located beneath the rear seats, occupants at the back sit a little higher thus according them a commanding view of the road.
In fact, I could see almost the entire front windscreen when I plonked myself in the centre position.
There are numerous storage options including a decently sized glove box and centre console compartment between the driver and front passenger.
Boot capacity is 435 litres – five litres more than the Qashqai SUV. Fold down the rear seatbacks and storage increases to 1176 litres! I could fit two full-suspension mountain bikes with consummate ease.
For all its many practical attributes, the one that shouts the loudest is the amount of money you will save as an owner of the new Nissan Leaf.
While it's pricier than a non-electric hatchback of similar size and attributes, you'll make back the extra amount you forked out in a couple of years, then it's more money in the bank after that.
PHOTOS TAN MENG CHOON
ART DIRECTION MICHAEL CHIAN