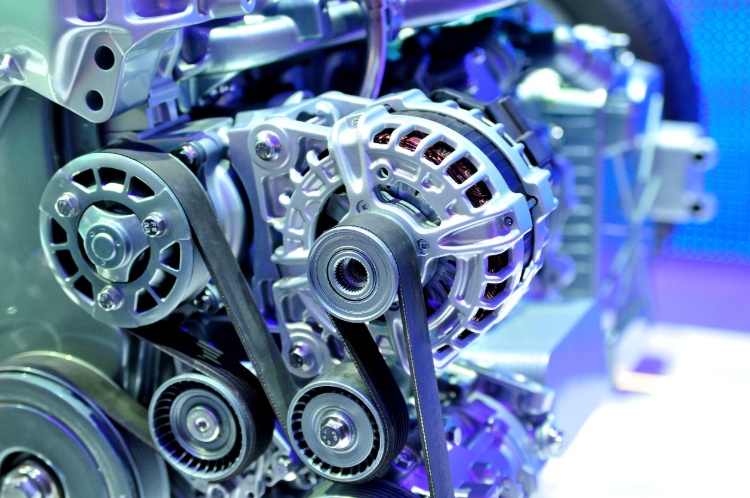 When is it time to replace your car's alternator?
Like all vehicle components subject to wear, an alternator's service life is finite.
Some car owners are luckier than others. Their alternators give them 10 years of service life (sometimes more) before needing to be replaced.
Before we continue, let's define what alternators do.
IT'S YOUR CAR'S ELECTRICAL GENERATOR!
The electrically powered items in your car don't run off the engine. Instead, there is a 12-volt electrical system powering them.
Everything from your headlights, battery and infotainment system is powered by electricity.
This current is generated by an alternator. As seen in the above image, the alternator itself is driven by a belt that's connected to the engine.
HOW TO TELL WHEN TO REPLACE YOUR ALTERNATOR?
Because so many devices are reliant on electricity, the warning signs are easy to spot.
Signs that you need to replace your alternator include:
1) Flickering headlights and power windows that operate slower than usual.
2) The infotainment or hi-fi system suddenly switches itself off for no apparent reason.
3) An engine that's hard to start (or refuses to) and misfires. Remember, the spark plugs require current to spark.
However, if your car is relatively new, the alternator may not be at fault.
Generally speaking, a car between one and five years old that clocks less than 20,000km a year should not have a bad alternator.
CAN AN ALTERNATOR BE REPAIRED INSTEAD OF REPLACED?
Replacing your car's alternator can be expensive.
When the alternator went kaput on my previous car, a Mitsubishi i, Cycle & Carriage quoted me about $1200 to replace it.
However, the service adviser told me that the alternator could be overhauled (repaired) for $400, or a third of the replacement cost.
Obviously, have the alternator repaired if you're going to scrap the car, and get a new one if you are planning to renew the COE for another 10 years.
---
How can I maintain my car after renewing its COE for another 10 years?