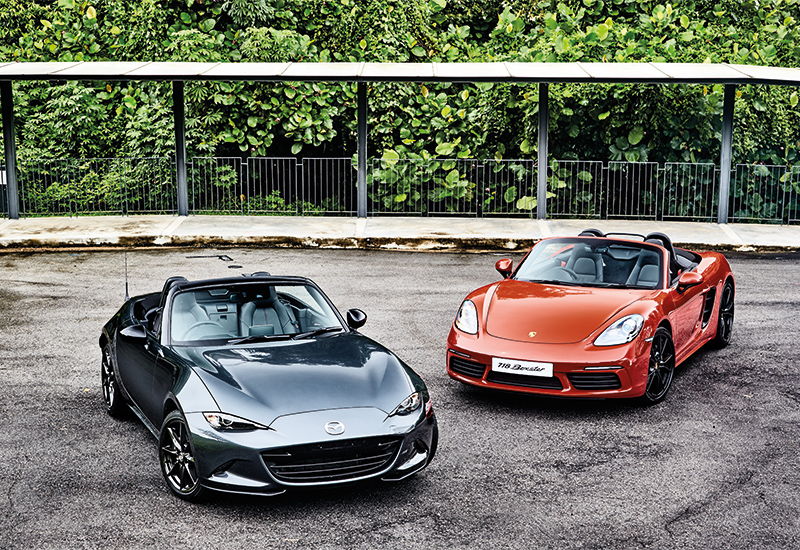 The mere thought of driving a roadster with its roof down in Singapore's perpetually muggy climate is enough to make beads of sweat form on my forehead.
Chalk that up to my being used to working in a perpetually chilly office. To me, the only time to get sweaty is during a workout, not during a drive.
These two rear-wheel-drive roadsters, however, make me sing a different tune.
For them, I'll happily swop my long-sleeved shirt and jeans for a T-shirt and bermuda shorts.
The Mazda MX-5 and Porsche 718 Boxster are quite similar – both have soft-tops and are powered by 2-litre engines. But each has its own special recipe for delighting drivers.
The MX-5, like its forebears, is a "purer" roadster. Its 4-cylinder motor is naturally aspirated, while its handling prowess stems from the fact that it is lighter (by up to 100kg) and smaller than its predecessor. In fact, the latest MX-5 is smaller than the first-generation model.
The 718 Boxster, though bigger and heavier, has a more ideal mid-engine layout. Its motor, a turbocharged flat-4, also helps to lower the car's centre of gravity.
Said powerplant is the smallest one ever fitted to a Boxster, and also the first one to be turbocharged.
The previous entry-level Boxster is equipped with a naturally aspirated 2.7-litre flat-6.
When it comes to agility, the Boxster takes the high-tech route. It can be specified with optional electronic aids, such as Porsche Active Suspension Management and Porsche Torque Vectoring, to further enhance its nimbleness.
The MX-5, on the other hand, "makes do" with its standard anti-lock brakes and traction control, leaving the rest up to the driver.
Being the skinnier roadster, the MX-5's cockpit is comparatively cosy. There's not much room for the occupants to move around and even less space for items.
But the Mazda is also incredibly driver-focussed. The driving position is spot-on, with the gearshift lever and handbrake falling easily to hand
No wonder the seat adjustment range is limited and the steering wheel is only adjustable for rake.
I find the 718 Boxster more accommodating. Apart from its roomier cockpit, the seats and steering wheel are electrically adjusted and have a wider range of adjustment, too.
I also prefer the Porsche's more convenient, electrically operated soft-top to the Mazda's manual affair, which requires me to exit the car in order to open/close it properly.
What I don't require from the MX-5, though, is big power. That's a good thing, because the Mazda 4-pot only delivers 158bhp and 200Nm.
These figures look rather modest for a 2-litre, but since they only need to pull just over a tonne (1080kg to be exact) of Japanese sheet metal, 158bhp will do nicely.
In fact, I cannot believe that the car takes 8 seconds to complete the century sprint – it definitely feels one or two seconds quicker than that.
Well-ensconced in the driver's seat, I point the MX-5's nose towards a clear stretch of road and open the throttle.
The roadster's response is simultaneously linear and scintillating. It excels at delivering exactly what the driver asks of it – no more, no less.
The MX-5 feels very pointy. It instinctively knows where you want it to go, and its light weight means there's very little inertia to overcome, especially when you make sudden directional changes.
Approach your favourite corner, nail the brakes, tuck the nose in and apply more throttle.
This process sounds boring on paper, but in the MX-5, it is a joy to repeat, for the car's sharpness is simply addictive.
There's never a corner too tight, or a series of bends too challenging, for this Japanese roadster. Even more amazing is the amount of grip you get from its 17-inch tyres. When you've got the suspension tuned right, you don't need big, fat tyres.
Further enhancing the MX-5's driveability is its steering, which is not only precise but also chock-full of feedback. Mazda has done a staggering job with its signature sports car.
While you've got to keep the MX-5's engine buzzing close to its 6000rpm redline to get a move on, you can literally get away with far fewer revs in the 718 Boxster.
With 300bhp and 380Nm from its turbocharged 2-litre flat-4, the Boxster is nearly twice as powerful as the MX-5.
And since the Boxster's full torque is available from just 1950rpm, as opposed to 4600rpm in the MX-5, the Porsche is also comfortable puttering around town.
However, the Boxster weighs 1440kg, or 360kg more than the MX-5. That difference is the equivalent of six 60kg adults.
But true to its reputation, the Boxster is wonderfully light on its feet.
Set the driving mode to Sport+, and the drivetrain's response will be at its snappiest.
The Boxster takes 4.9 seconds to hit 100km/h from a standstill. But what's really exciting is how the German roadster gets there.
Though it sounds no more enticing than the MX-5's motor, Porsche's flat-4 is smoother and feels more willing.
And the Boxster's 7-speed dual-clutch gearbox is a real gem, swopping cogs as quickly as one can blink.
Mind you, the MX-5's 6-speed automatic transmission is no slouch either, for it'll drop two cogs in a jiffy when the accelerator pedal is floored.
If the MX-5 has all the gracefulness of a Japanese figure skater, then the Boxster has the agility of a German ballet dancer.
Like the MX-5, the Boxster is perfectly at home when treading a line through a sequence of corners.
But the Boxster's nose feels flatter as you turn into a bend. I feel more confident in the Porsche, and find myself applying the power sooner than I really should.
At the end of our photo shoot, my photographer asked which of these two roadsters I preferred.
"You'd probably opt for the Porsche, because it has more power", he quipped.
Truth be told, I had no answer. How does one choose between Mazda's most magical and Porsche's finest?
Indeed, 2-litre roadsters don't come any more terrific than the Mazda MX-5 and Porsche 718 Boxster.
---
Related story: Mazda MX-5 review
Related story: Porsche 718 Boxster review