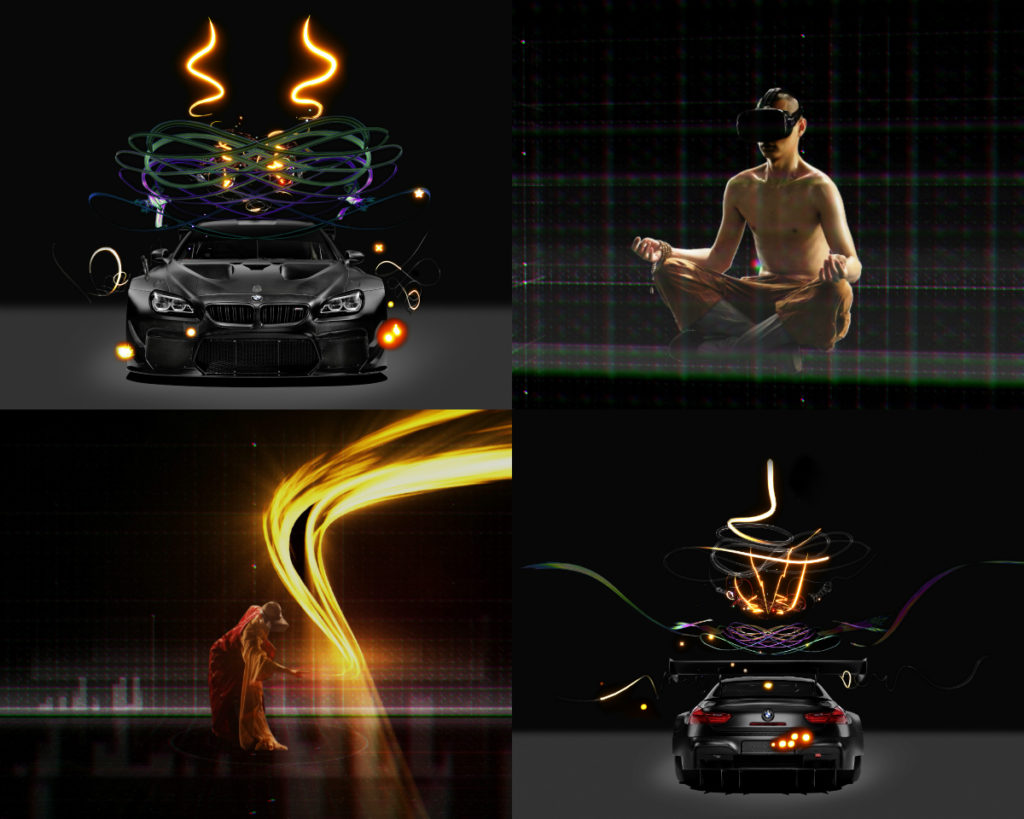 Following the contributions by Jeff Koons and John Baldessari, Cao Fei (born 1978) is the youngest and first Chinese artist ever to create a BMW Art Car.
By employing augmented and virtual reality, the internationally acclaimed Chinese multimedia artist addresses the future of mobility such as autonomous driving, airborne cars and digitalisation.
Cao Fei's work is a reflection on the speed of change in China, on tradition and future. With her BMW Art Car project, she delves into a trajectory spanning thousands of years, paying tribute to Asia's ancient spiritual wisdom as it swiftly spreads out into the third millennium.
The acclaimed multimedia artist approached the BMW Art Car in a way typical for her artistic practice, building a parallel universe. The body of work consists of three different components: a video focusing on a time-travelling spiritual practitioner, augmented reality features picturing colourful light particles, accessible via a dedicated app (App Store keyword: "BMW Art Car #18"), and the BMW M6 GT3 racecar in its original carbon black.
Paying tribute to the carbon fibre structure of the racecar chassis, Cao Fei's holistic use of a non-reflective black incorporates the car into the possibilities of the digital world.
Within this concept, Cao Fei's implementation of video art as well as augmented reality creates an environment of which the M6 GT3 is an essential part. In her video work, the practitioner executes spiritual movements, which echo in colorful streams of light. When the app is used within the premises of the Art Car, these light swishes become an AR installation floating above and around the M6 GT3 – involving the spectator as an interactive agent of participation.
This narrative reflects on a traditional spiritual ceremony very common throughout Asia, in which new objects such as automobiles are being blessed, in this case wishing good luck to car and driver. On a broader level, the light elements mirror what the eyes cannot see and the mind cannot picture.
Cao Fei commented about her BMW Art Car: "To me, light represents thoughts. As the speed of thoughts cannot be measured, the #18 Art Car questions the existence of the boundaries of the human mind. We are entering a new age, where the mind directly controls objects and where thoughts can be transferred, such as unmanned operations and artificial intelligence. Which attitudes and temperaments hold the key to opening the gateway to the new age?" 

Read about the 50-year art history of the Pirelli Calendar.
Check out the artwork of the world's largest 3D pen sculpture, a full-sized Nissan Qashqai replica.