Kia's next all-electric seven-seater is in the works, and it is likely to be based on the Concept EV9.
Concept EV9 is based on the carmaker's E-GMP architecture, which is specifically designed for full electric models. The SUV is styled according to Kia's "Opposites United" design philosophy.
A pillar of this design philosophy is what Kia refers to as "Bold For Nature". The carmaker says that the Concept EV9 "embodies an adventurous, outgoing and recreational form with its rugged and upright stance."
The concept is fitted with 22-inch machined wheels to further enhance its presence.
Instead of Kia's conventional "tiger face", the Concept EV9 has what the brand calls a Digital Tiger Face. Without the need for additional cooling, the mostly blanked off front end is full body-coloured.
This new grille houses a "star cloud" display that remains hidden behind the body panel when not in use. When the driver approaches, sequential patterns create a "welcome light" for the driver.
Interestingly, the bonnet vent duct area is used as a solar panel that helps recuperate electrical energy.
Instead of wing mirrors, a next-generation camera system is used. Kia says this improves aerodynamics while also enhancing the driver's spatial awareness.
The Concept EV9 has a sizable presence, measuring 4930mm long, 2055mm wide and 1790mm tall. It has a wheelbase length of 3100mm, which is similar to flagship luxury limousines.
AN ADAPTABLE CABIN
The Concept EV9 features a panoramic roof, which Kia says "creates a direct connection to the outside environment". Apart from relaxing views, being bathed in sunlight or moonlight, and being able to listen to raindrops, can have a positive effect on wellness and mood.
The driver and front passenger are presented with an interactive 27-inch screen that displays driving information, media, climate control and comfort functions.
Instead of treating the steering wheel like a separate product, the Concept EV9 has a pop-up steering pad that is integrated with the rest of the cabin.
For versatility, the interior has three modes: Active, Pause, and Enjoy. These cater to different journey situations and requirements.
As its name indicates, Active mode is for when the Concept EV9 is on the go. The Pause setting modifies the interior so that the space resembles a first-class lounge. In this mode, the first-row and third-row seats face each other, while the second-row seats are folded down and transformed into a table.
When Enjoy mode is selected, the interior is opened into a breakout space by turning around the three rows of seats. At the same time, the tailgate opens, allowing everyone to admire the outside scenery.
The Kia Concept EV9 supposedly has a maximum range of up to 483km (300 miles). It comes with ultra-fast charging technology – a 350kW charger will enable it to charge its batteries from 10 percent to 80 percent in 20 to 30 minutes.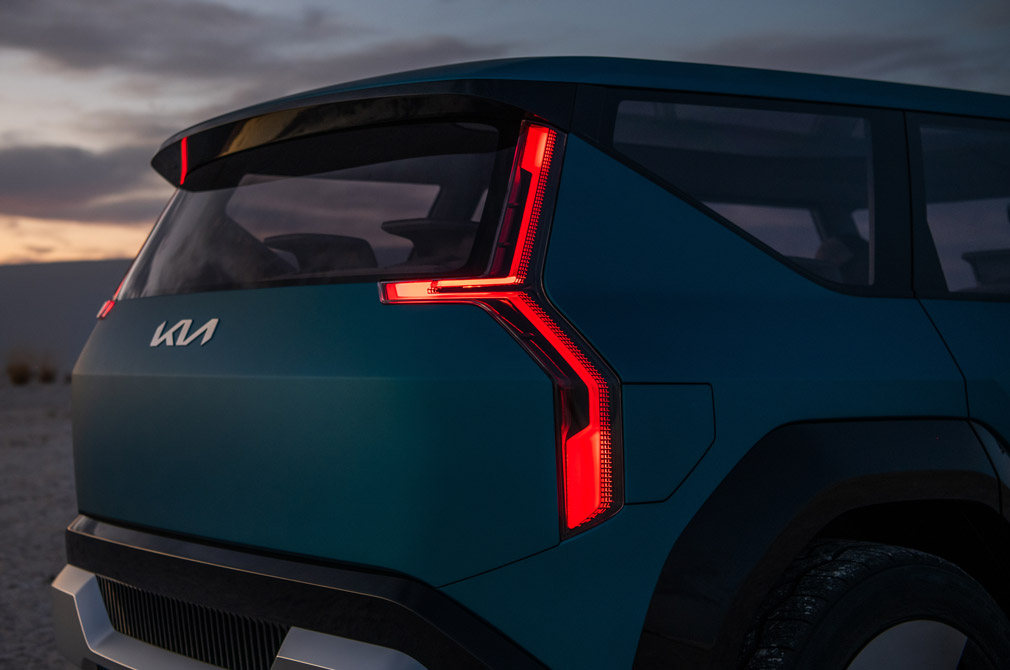 ---
Click here for our review of the updated Kia Cerato
Check our our Kia Stinger GT review here
Head over here for our Kia Carnival review