The Countach is back.
The new model arrives 50 years after the carmaker first launched the outrageous supercar.
Like its predecessor, the new Countach is also V12-powered. Only this time, the engine is supplemented by a 48-volt motor for even greater performance.
Only 112 units will be produced. This number was derived from the original Countach's internal product name (LP 112) and not surprisingly, all cars are already spoken for.
THE PROGENITOR
Today's Lamborghini sports cars trace their design language to the Countach.
The original Countach's distinctive silhouette, with its essential line running from front to rear, sharp angles and wedge shape became the basis of Lamborghini's sports cars.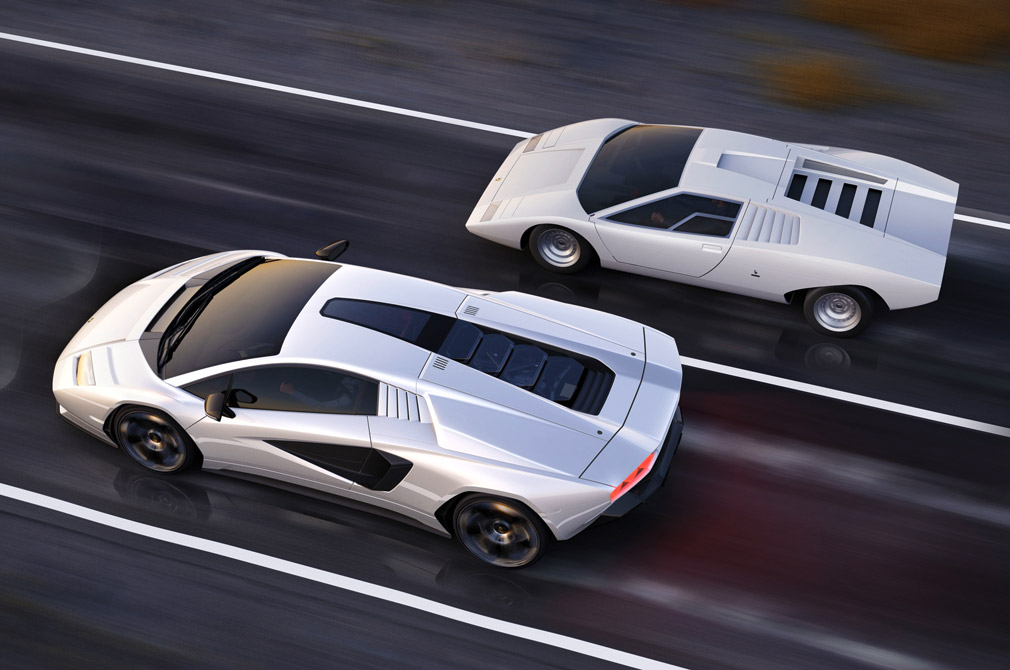 The sharp inclination of the new Countach's greenhouse adopts the straight lines reminiscent of the original car's. There is no fixed rear wing, and the air scoops are integrated in the "shoulders", which themselves have distinctive slatted gills.
Another throwback to the first Countach are the 20-inch front and 21-inch rear wheels, which feature the "telephone" style of the 1980s.
The rear end has three-unit light clusters, which have a "hexagonita" design. Four tailpipes are connected by the carbon fibre diffuser and naturally, access to the cockpit is via a pair of scissor doors.
These doors were first introduced in the original Countach and have since been used on Lamborghini's V12 models.
Inside, the cabin is finished in red and black, with design cues taken from the original model. Geometric stitching is found on the seats and dashboard, with a square motif that references 1970s style and technology.
Retro references aside, the cockpit is totally modern. It has a digital instrument cluster and an 8.4-inch touchscreen display that lets drivers manage the various car controls.
EXOTIC BUILD
The Lamborghini Countach's monocoque chassis and body panels are made from carbon fibre.
Nestled behind the cockpit is a naturally aspirated 6.5-litre V12 that kicks out 770hp (780CV) at 8500rpm, and 720Nm at 6750rpm.
This powerplant is combined with a 48-volt e-motor that is placed directly on the gearbox – a 7-speed automated manual. It adds another 34hp and 35Nm to the car's output.
With up to 803hp and four-wheel-drive, the 1595kg Lamborghini Countach has a power to weight ratio of 503.4hp per tonne. It clears the century mark in 2.8 seconds, and does zero to 200km/h in 8.6 seconds.
Top speed is 355km/h.
SPECIFICATIONS
Lamborghini Countach LPI 800-4 6.5 (A)
ENGINE     6498cc, 48-valves, V12, 48-volt mild hybrid
MAX POWER     770hp (780CV, 574kW) at 8500rpm
MAX TORQUE      720Nm at 6750rpm
ELECTRIC MOTOR POWER     34hp (34CV)
ELECTRIC MOTOR TORQUE     35Nm
TOTAL SYSTEM POWER     803hp (814CV)
POWER TO WEIGHT     503.4hp per tonne
GEARBOX     7-speed automated manual
0-100KM/H     2.8 seconds
TOP SPEED     355km/h
---
Click here to read our Lamborghini Huracan EVO RWD review
Lamborghini Huracan STO unveiled in Singapore