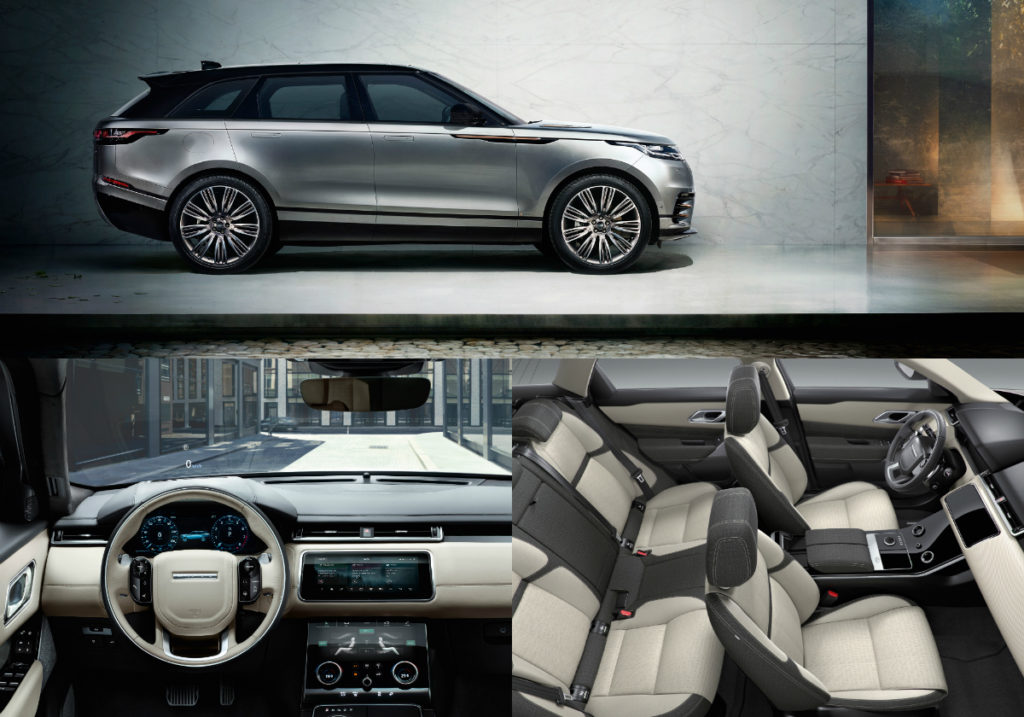 The Range Rover Velar brings a new dimension of glamour, modernity and elegance to the Range Rover family. Designed to fill the white space between Range Rover Evoque and Range Rover Sport, the Velar offers levels of luxury, refinement and all-terrain capability never before seen in the mid-size SUV segment. This is a new type of Range Rover for a new type of customer.
The Rangie Velar is defined by a visually reductive approach and meticulous attention to precision in every detail, which evolves the Range Rover DNA. The Velar's design is beautifully balanced, from its powerful proportions to its continuous waistline through to the taut tapered lines of the rear. The generous wheelbase contributes significantly to its elegance while helping to provide a spacious interior.
The large alloy wheels, in particular the range of 22-inch designs, optimise the vehicle's stunning silhouette, while further enhancing the Velar's dramatic presence.
Advanced technology is pivotal to the contemporary design – for instance, the full-LED headlights are the most slender ever to appear on a production Land Rover vehicle. The flush, deployable door handles emphasise the Velar's reductive, sculptured form, and contribute to the low drag coefficient from only 0.32 – this is the most aerodynamically efficient Land Rover ever produced.
Inside the Velar's interior are elegant simplicity, sophistication and refinement. An unwavering belief in reductionism has been fully employed, with switches being kept to an absolute minimum to help create a calm sanctuary.
Design-enabling technology has been engaged fully to create the new Touch Pro Duo infotainment system which is the centrepiece of the Velar's cockpit.
Touch Pro Duo features two 10-inch high-definition touchscreens integrated seamlessly behind secret-until-lit surfaces. These slim, intuitive displays work in harmony with the cabin architecture while adding an overall sense of modernity congruent with the vehicle's exterior design.
All of this is equalled by the Velar's practicality – the cargo compartment volume is an impressive 632 litres, including a reduced-section spare wheel as standard.
Unique in the segment, the Velar offers a sustainable textile seat material as an alternative to leather. The Dapple Grey material was developed together with Kvadrat, Europe's leading manufacturer of high-quality design textiles, and is complemented with Suedecloth inserts in Ebony or Light Oyster.
The light, stiff, aluminium-intensive body, together with double-wishbone front and integral link rear suspension, provides the perfect basis for agile handling, superior ride comfort and outstanding refinement. It also delivers exceptional levels of crash protection, and the Velar has been developed to meet the most demanding crash test regulations worldwide.
Combined with a comprehensive restraints system that includes six airbags, plus a suite of advanced driver assistance systems including Autonomous Emergency Braking with pedestrian detection, Adaptive Cruise Control with Queue Assist and an Adaptive Speed Limiter, the Velar integrates the latest safety technology.
The car features a sophisticated all-wheel-drive system, four-corner air suspension, class-leading ground clearance of up to 251mm (213mm with coil springs), drive-anywhere wading depth of up to 650mm (600mm with coil springs) and Land Rover's unmatched suite of traction technologies that include Terrain Response 2 and All Terrain Progress Control. The Velar, like all Range Rovers, offers world-class all-terrain capability.
Exceptional performance and efficiency come from the range of six petrol and diesel powertrains, all matched to smooth-shifting ZF 8-speed automatic transmissions and all-wheel-drive with Intelligent Driveline Dynamics.
Designed and engineered at Jaguar Land Rover's development centres in the UK, the Range Rover Velar will be produced at the company's Solihull production facility, UK. It goes on sale in July in its home market and Europe, followed by over 170 markets worldwide. 

Read our review of the Land Rover Range Rover Evoque Convertible.
Read our comparison of Range Rover Sport 3.0, Porsche Cayenne 3.6 and BMW X5 3.0.