Delivering food and products to people, disposing of waste, supplying goods to industry, trade and commerce, taking away the finished products and growing sensitivity to exhaust and noise emissions – the transport of goods in towns and cities around the world is faced with ever greater challenges.
While trucks remain indispensable, the demands on them are increasing. As an alternative to the consistent gradual reduction of emissions through ever tighter regulations, the ideal solution is local emission-free mobility – in future, also for trucks up to a permissible gross vehicle weight of 26 tonnes. Daimler Trucks is a pioneer in this field.
Although electric drives long appeared to be out of the question for trucks, the economic viability of battery-electric trucks is now starting to emerge. This is because of major advances in battery technology – between 1997 and 2025, the costs are likely to fall by 60 percent, and the power will increase by around 250 percent over the same period.
The latest proof of this development is provided by the Mercedes-Benz Urban eTruck, which shows the way to emission-free mobility in short-radius distribution with heavy-duty trucks.
Technically, the Urban eTruck is based on a heavy-duty three-axle short-radius distribution truck from Mercedes-Benz. Apart from that, however, the developers at Daimler Trucks have totally revised the drive concept – the entire conventional drivetrain has been replaced by an electrically driven rear axle with electric motors directly adjacent to the wheel hubs.
Their maximum output is 2 x 125kW, while the peak torque is 2 x 500Nm. In combination with the gearing, the torque at the wheel reaches 11,000Nm.
The power is supplied by a battery pack consisting of three modules of lithium-ion batteries with a total capacity of 212kWh. This results in a range of up to 200 kilometres – normally enough for a typical day's delivery round. Depending on the desired range, the modular battery pack can be customised by adding or removing batteries.
The Urban eTruck is connected to the charging station using the Europe-wide standardised Combined Charging System (CCS) Type 2 connector. With a charging power of 100kW, the fully discharged batteries are charged to 100 percent in two to three hours.
As the EU Commission is in favour of increasing the permissible gross vehicle weight of trucks with alternative drives by up to one tonne, this will more or less cancel out the weight disadvantage of the electric drive. This will raise the permissible gross vehicle weight of the three-axle rigid truck from 25 to 26 tonnes, which will bring the original extra weight down to 700kg compared with a directly comparable combustion-engined truck.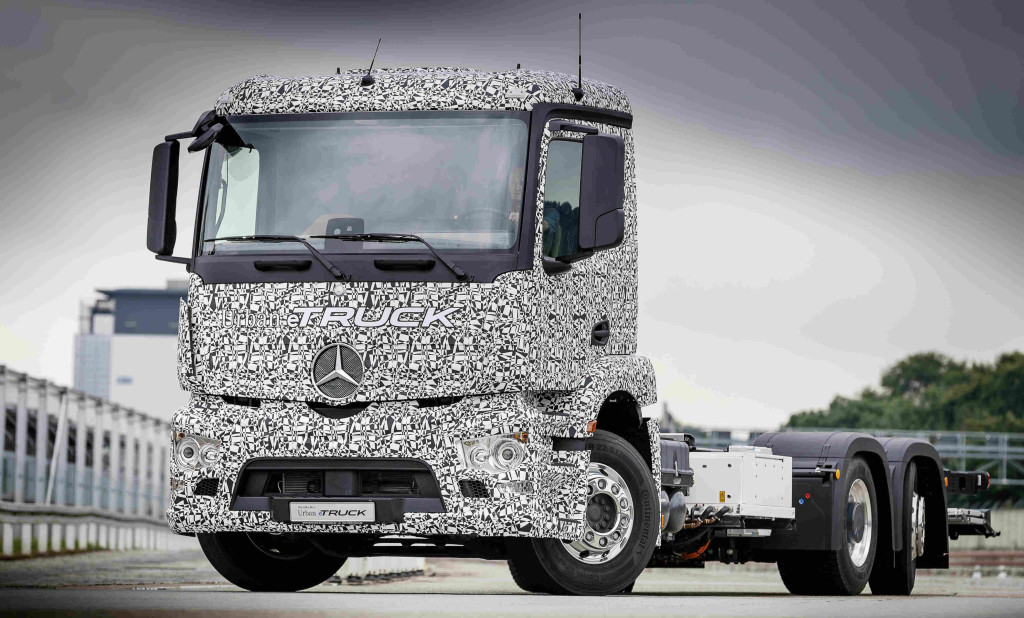 Our editor wanted to be a truck driver.
Our consulting editor went truckin' in a Daimler trailer truck.