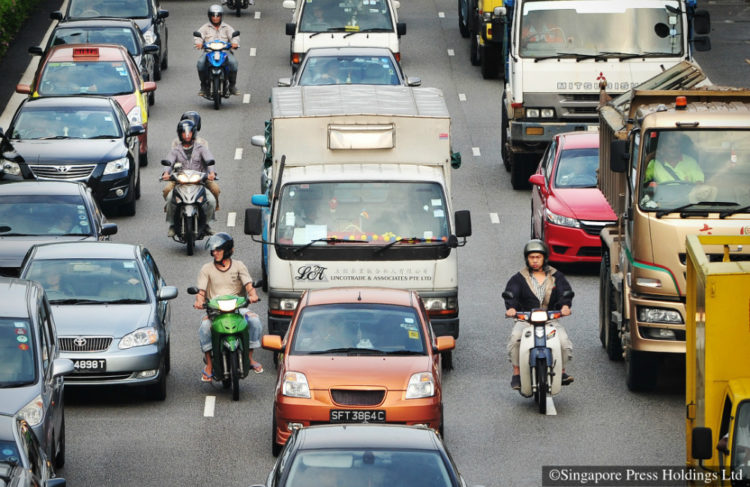 Despite a government probe into alleged COE speculation by a group of motorcycle dealers, premiums for certificates of entitlement (COEs) for two-wheelers remained robust in the latest tender yesterday.
The COE premium for motorbikes ended at $7589, just 6.1 percent lower than the record on March 29. The steep motorcycle premium persists, undeterred by recent government intervention.
In February, higher taxes were rolled out for bigger, costlier motorcycles, in a move to soften demand for the machines, which are widely seen as contributing to the high COE prices of two-wheelers.
The motorbike premium, which has been rising from below $2000 in 2013, breached $6000 in 2015.
It hovered around $6500 in the past 12 months before rising to the current near-record levels.
Industry observers said it should ease from next month, when the motorbike COE supply increases by more than 30 percent.
Meanwhile, prices of COEs for cars ended higher yesterday.
The COE premium for cars up to 1600cc and 130bhp finished 0.5 percent higher at $52,000, while that for cars above 1600cc or 130bhp crept up by 0.8 per cent to $54,405.
The Open COE category, which can be used for any vehicle type but ends up used mostly for bigger cars, closed 0.1 percent higher at $54,556.
All three are at their highest in five months. Dealers said a push to clear stocks ahead of Euro 6 standards that take effect in September, and models that will be penalised when the new Vehicular Emissions Scheme starts next January, exerted upward pressure on premiums.
Commercial vehicle COE prices finished 2.4 percent lower at $45,906.
---
Related story: LTA meets four dealers over motorcycle COE price spikes
Related story: Why is motorcycle COE defying gravity?