The facelifted BMW 7 Series is here, and boy would you look at that massive grille up front.
That's the most recognisable change on the face of BMW's flagship sedan, "around 50mm taller" at its foremost point, the company says.
Why that grille though?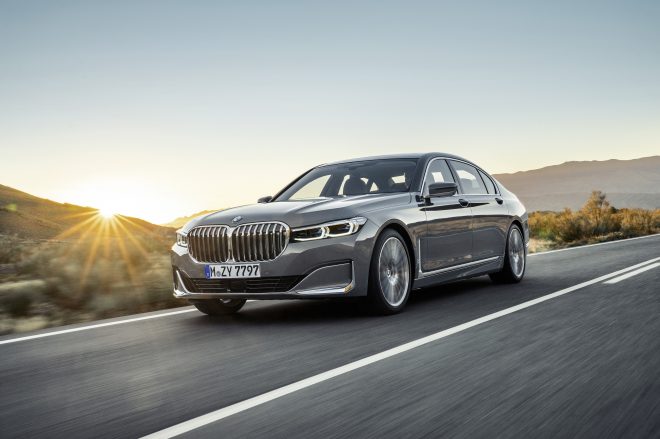 The new 7 Series' kidney grille is now "significantly larger" and features active air flap control with adjustable vanes, which only open when the engine needs more cooling.
New "Air Breathers" which optimise airflow through the wheel arches also feature on the new 7 Series, helping reduce turbulence and drag, which should boost fuel economy.
A range of engines will be available, among them six-cylinder units, a new V8  and an inline-6 with plug-in hybrid system offering "extended electric" range.
An 8-speed Steptronic transmission is available in the xDrive all-wheel-drive versions of the new 7 Series, while the BMW 745e and BMW 745Le xDrive are equipped with a hybrid-specific variant of the eight-speeder.
What's cool is that the gearbox will factor in navigation and sensor data to optimise gearshifts, for example when the vehicle is approaching a junction.
The result is more efficient engine start/stop and coasting functions.
Seventh (tech) heaven
Inside, more tech is the name of the game, with BMW's standard-fit BMW Intelligent Personal Assistant able to respond to requests like turning down the air-con or navigating to places.
Drivers of the new 7 Series will appreciate BMW's standard fitment of a digital cockpit – called BMW Live Cockpit Professional – comprising a 12.3-inch, high-resolution digital instrument cluster behind the steering wheel and a 10.25-inch Control Display.
In future, you'll also be able to send destinations from various apps to your new 7 Series via BMW's "Connected Navigation" system, which encompasses several digital services to enhance route planning.
Suspend your belief
Meanwhile, all variants of the new BMW 7 Series will have adaptive suspension fitted as standard, which includes electronically controlled dampers and two-axle air suspension with automatic self-levelling.
You can also spec optional rear-wheel steering to help you navigate tight parking spaces.
At low speeds, the rear wheels turn in the opposite direction to the front ones to significantly reduce its turning circle, while the rear wheels follow the same direction as the fronts at higher speeds.
If you do buy the new 7 Series, we would appreciate it if you could write to us if your car can, indeed, smell what the Rock is cooking.