Nanyang Technological University (NTU) and Volvo Buses will team up to develop driverless electricity-powered buses, which they target to begin testing in Singapore in early 2019.
Through a partnership inked on Thursday (Jan 11), Volvo will provide two 12m, 40-seater battery-powered buses, which will be fitted with autonomous driving technologies.
The buses will have Global Positioning System and lidar (light detection and ranging) sensors, which use laser beams to map the surrounding environment and detect obstacles.
The two parties will work with Swiss-Swedish engineering group ABB to use the company's fast-charging technology to charge up the buses' batteries during layovers.
NTU and Volvo will also partner SMRT to assess buses at a depot to see if the vehicles can navigate into washing bays and park at charging stations.
The self-driving buses will be first tested in a test circuit for autonomous vehicles, located outside NTU, before they are put on the roads.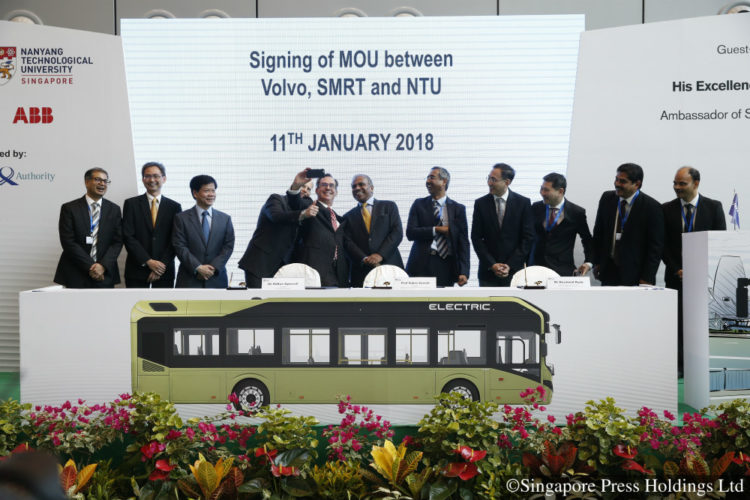 NTU previously said it would deploy the driverless buses on a 1.4km route between NTU and the neighbouring CleanTech Park, before possibly extending the route to the nearby Pioneer MRT station.
NTU president Subra Suresh said in a speech at the university on Thursday: "Like NTU, Volvo embraces technological change and disruption. They are no strangers to electro-mobility with their electric and electric hybrid buses, which are already operating around the world.
"Together with NTU's expertise in engineering and mobility research, this partnership will push the frontiers of public transportation."
Volvo Buses' president Hakan Agnevall said Volvo is an ideal fit for Singapore's roads, as 1800 of Singapore's 2200 double-decker buses are currently running on Volvo chassis.
Mr Agnevall said the partnership with NTU marks the company's first foray into autonomous uses for buses and public transport.
Volvo has been involved in developing autonomous vehicles for mining, quarry and refuse collection operations.
---
Related story: 50 Volvo diesel-electric hybrid buses to join public fleet this year
Related story: Driverless buses to ply Punggol, Tengah and Jurong Innovation District
Related story: LTA counting on young folks for Smart Bus ideas