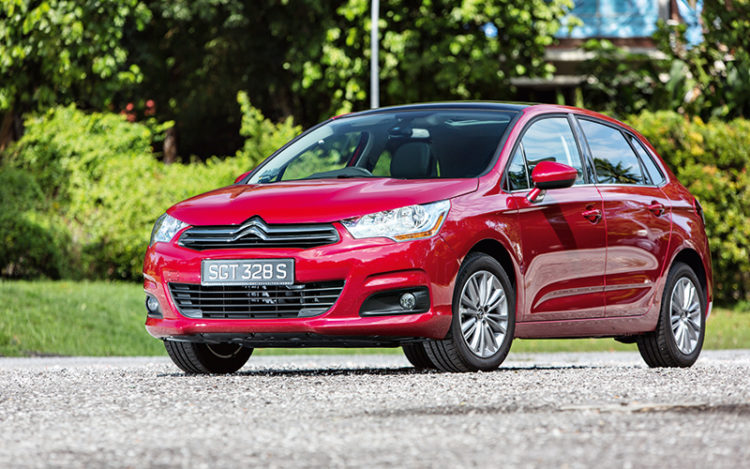 It's amazing the difference a gearbox makes. Drive a good one (BMW's 8-speed automatics or Volkwagen's dual-clutch transmissions come to mind), and it'll positively flatter what would otherwise be an extraordinarily pedestrian engine or chassis.
Drive a lacklustre one, and it's likely to loom large over everything about the car. Thankfully these days, truly bad gearboxes are pretty uncommon – most are simply average. A bad one, then, is a bit of a rarity, which makes the gearbox used in the Citroen C4 so unusual. Then again, Citroen has always done things differently.
The gearbox in question, used across the facelifted C4 model range (which returns to Singapore after a two-year absence), is a 6-speed "EGS" robotised manual gearbox. Such gearboxes work in much the same way as a regular manual, but the clutch is controlled by the car's electronic brain. And we can't help but wonder in this case if said brain came from the Victorian era.
There's a yawning delay as the clutch engages/disengages, resulting in an almighty lurch as the gearbox swops ratios around. More than that, low-speed modulation is difficult, making parking (especially in smaller spaces) particularly harrowing. It's difficult to guess exactly how much throttle to apply, or if the clutch will decide to close fully, shunting you backwards into a pillar or worse, someone else's vehicle.
The gearbox also seems to be perpetually caught in the wrong gear. It drops gears at odd moments (going down even the mildest inclines, for instance) and hangs onto ratios for no apparent reason.
In all fairness, it is possible to drive around it – by lifting off the throttle just before shifts as you would in a regular manual, or by simply engaging the manual override. The latter makes anticipation simpler and nullifies our gripe about the C4 always being in the wrong gear… which sort of defeats the purpose of buying an automatic in the first place.
Of course, Citroen might argue that a robotised manual suffers less frictional losses, and therefore, returns better fuel economy and lower CO2 emissions, but the penalties to smoothness are just too great.
And that's a crying shame, because the C4 is thoroughly decent in just about every other department, although the more red-blooded driving fanatic might find issue with the disconcerting roll and the car's lack of grip.
For everyone else, however, the C4 bears more than a passing resemblance to its chic-er (and pricier by around $20k) cousin, the DS4. It "copies" a few DS interior design cues, too, including the sculpted instrument cluster cowl with "floating" speedometer, digital tachometer and a gear lever supposedly inspired by aircraft throttles.
Even one of the two engines on offer here is shared with the DS4 – the familiar 1.6-litre turbocharged 4-cylinder with 156bhp. It's starting to show its age, displaying less keenness to rev than more modern offerings, but still has more than enough zip when the need arises.
More interesting, however, is the addition of a 1.6-litre diesel with 110bhp. It carries Citroen's eco-friendly "Airdream" badge, emitting just 109g/km of CO2 (eligible for a $15k CEVS rebate), and the claim is it'll return 23.8km per litre. It's also (surprisingly enough) non-anaemic, so don't let its 12.9sec century sprint timing fool you. The motor gets noticeably strangled the harder you work it, but in the lower registers, where most people do their driving, there's a very beefy 270Nm of torque to be had from 1750rpm.
Whichever propellant option you choose, the C4 has a fairly good selection of standard equipment, including a full-length panoramic roof, rain-sensing wipers, Bluetooth telephony and cruise control. Pay a $5000 premium for the petrol version (over the $144,988 diesel), and that'll net you larger 17-inch wheels, switchable colours for the instrument cluster, and interior ambient lighting.
Yet, for all the C4's merits, it's hard not to bring up that gearbox – a particularly fat fly in an otherwise quite likeable ointment. A switch to a conventional automatic would no doubt engender far more positive reactions to it, but until then, the EGS-equipped C4 remains strictly one for the convinced.
This story was first published in the March 2013 issue of Torque.
---
Citroen C4 e-HDi 1.6 (A)
ENGINE     1560cc, 16-valves, inline-4, turbo-diesel
MAX POWER     110bhp at 3000rpm
MAX TORQUE     270Nm at 1750rpm
GEARBOX     6-speed automated manual
0-100KM/H     12.9 seconds
TOP SPEED     190km/h
CONSUMPTION     23.8km/L (combined)
---
Citroen C4 THP 1.6 (A)
ENGINE     1598cc, 16-valves, inline-4, turbocharged
MAX POWER     156bhp at 6000rpm
MAX TORQUE     240Nm at 1600rpm
GEARBOX     6-speed automated manual
0-100KM/H     8.7 seconds
TOP SPEED     214km/h
CONSUMPTION     15.6km/L (combined)
---
Check out the 2016 Citroen C4 hatchback here
The Citroen C4 1.2 takes on the Volkswagen Golf 1.2 and Peugeot 308 1.2