Big businessmen tend to have big carbon footprints. They are frequent fliers earning at least 100,000 air miles per year, their factories spew out smoke (black, white or grey), their landed properties use up more fossil energy than a HDB housing estate, and their expensive cars emit more carbon dioxide than a fleet of rental runabouts.
Thankfully, there are cleaner motoring alternatives for the towkay with a green conscience, such as the new diesel version of Porsche's fastback flagship. The turbocharged 3-litre V6 is not only more economical than the 14.7km-per-litre hybrid Panamera S (and $68k more affordable), it's also the least thirsty model in the Porsche range today, returning well over 15km per litre on the combined cycle. And its CO2 figure is 172g per kilometre, which puts it in the CEVS (Carbon Emissions-based Vehicle Scheme) "neutral" band.
Despite a power output of just 250bhp (less than the much smaller Boxster), the diesel Panamera performs fantastically, with its ample 550Nm of torque (more than the 4.8 petrol V8 in the Panamera S) doing most of the work, ably assisted by the cohesive and responsive Tiptronic S 8-speed automatic. It might be the least accelerative Panamera, but a century sprint timing of under 7 seconds is respectable for a well-equipped, five-door four-seater that weighs 1.88 tonnes unladen.
On the go, the diesel-powered Panamera pulls like a Teutonic freight train and sounds almost V8-ish. Its in-gear pick-up from 50km/h to 100km/h is particularly impressive, and once you reach that three-digit speed, the drivetrain winds down and cruises along with just 1400rpm on the tacho dial. There's a Sport switch to "sharpen" the throttle and transmission, but said button is redundant with so much blunt-force torque packed within a tight rev range on the "left" and "right" of 3000rpm.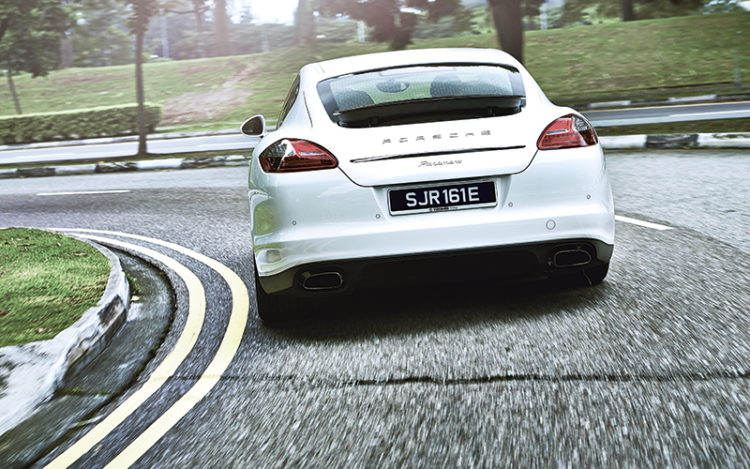 The diesel rattles a little, especially when it hasn't warmed up, but this is only noticeable when you stand beside the car while it's idling. Who would do this on a regular basis? A chauffeur, perhaps. An owner-operator, on the other hand, would be inside the cabin driving the thing, regularly, and enjoying the surprisingly steady handling. Even the steering is weighty like that of a proper sports car, rather than overassisted and lifeless like that of a soft luxury saloon.
So, big bosses, take note – this big white limousine is whiter than you think.
This story was first published in the January 2013 issue of Torque.
---
2013 Porsche Panamera Diesel 3.0 (A)
ENGINE     2967cc, 24-valves, V6, turbo-diesel
MAX POWER     250bhp at 3800-4400rpm
MAX TORQUE     550Nm at 1750-2750rpm
GEARBOX     8-speed automatic with manual select
0-100KM/H     6.8 seconds
TOP SPEED     242km/h
CONSUMPTION     15.4km/L (combined)
---
Porsche Panamera 4 Executive review here
Porsche Panamera Sport Turismo review here