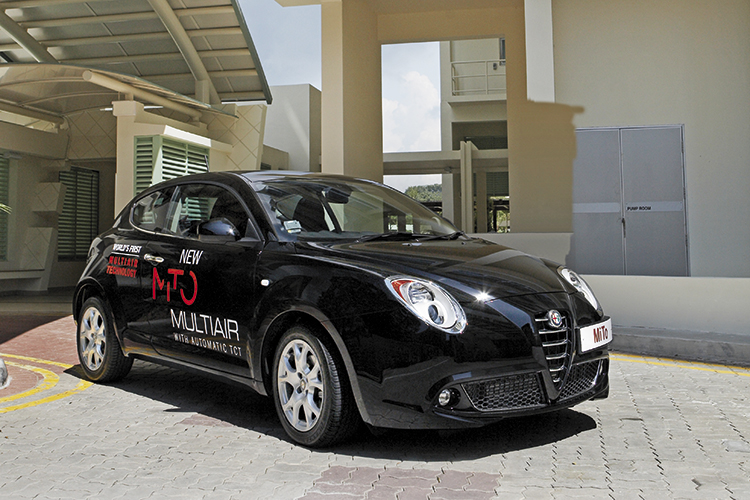 It's hard not to feel a sense of endearment when approaching the MiTo. It is, after all, rather cute due to its rounded body. Design cues borrowed from the 8C Competizione supercar are the icing on the (round) cake, with said pastry looking quite delicious in red.
The MiTo's interior is just as special, with its racy cowled meters and rich leather seats adorned with Alfa Romeo logos. There are no issues with ergonomics either, as the controls are straightforward and simple. For drivers with children, the MiTo even provides a seat belt indicator beside the rear view mirror.
This vehicle's local debut over a year ago gave the Alfisti and supermini fans alike something to lust after. But the MiTo was also uncompromising, for it only offered buyers a 6-speed manual – the kind of gearbox that had long fallen out of favour with most motorists.
Now, the MiTo is available with an all-new 6-speed dual-clutch transmission known as TCT. This development is significant, as it is Alfa Romeo's first fully automatic gearbox. The Selespeed transmission used in the 159 is not a true auto, but a robotised manual with an electro-hydraulic clutch.
Paired to the TCT is a new MultiAir engine, so called due to its ability to change the lift profile of the valves in response to the engine's need for air. This system allows the powerplant to better respond to the driver's input, while reducing fuel consumption.
With Alfa arriving late to the dual-clutch party, it's only reasonable to expect that the TCT would be up to the task of providing timely shifts to ensure unimpeded power delivery during acceleration. Although there is some hesitancy as you move off, this is a characteristic also evident in some other dual-clutch systems. With the DNA system left in N (for Normal), the MiTo drives like a regular automatic. This is fine, but since you're still expecting the expediency of a quick dual-clutch, the car ends up feeling
a bit slow.
Move the DNA's toggle into D (for Dynamic) and the car's personality changes. The steering becomes heavier, the suspension firmer and, yes, the shifts are executed faster, but not by much. A turbo boost gauge is even displayed on the dashboard LCD to add to the occasion.
The potential downside to this is the jerkiness felt during downshifts. Had the TCT's operation been smoother, the experience of exploiting the engine's sweet spot (that lies between 3500rpm and 4500rpm) would have been more complete.
Despite the TCT having some way to go before matching its rivals, all is not lost. Skipping the ordinary automatic and going straight for a dual-clutch transmission is a step in the right direction for Alfa Romeo. As the saying goes, better late than never.
---
Alfa Romeo MiTo 1.4 (A)
ENGINE     1368cc, 16-valves, inline-4, turbocharged
MAX POWER     135bhp at 5000rpm
MAX TORQUE     230Nm at 1750rpm
GEARBOX     6-speed dual-clutch
0-100KM/H     8.2 seconds
TOP SPEED .    207km/h
CONSUMPTION     18km/L (combined)
PRICE INCL. COE     $128,800 (as of January 2011)
---
Check out the Alfa Romeo Giulietta
Alfa Romeo Stelvio Quadrifoglio Nring and Giulia Quadrifoglio Nring