Trend watchers say the youth of today are no longer as in love with the car as the generations before them.
One of the reasons cited for this was that driving took them away from screen time with their mobile devices, whereas on a train or a bus, the Gen Z (which some say stands for zombie) could continue to indulge in their head-down hobby.
The new Audi A4 addresses this worrying trend with Apple CarPlay, a phone-compatible do-all platform for the iYouth. It will be available in several models across several brands soon, but the A4 is the first premium car here to offer this on its factory-fitted system in Singapore.
(We first drove the Audi A4 in Venice, Italy, and you can read about it here.)
Apple CarPlay allows the driver to have access to nearly all his phone functions. That includes asking Siri silly questions, streaming favourite tunes from Spotify, texting and, of course, making calls.
It also allows him to do away with having to pay for a satellite navigation system, since the phone's navigation function is projected onto the large infotainment monitor and speakers. It even allows the user to listen to podcasts.
In essence, Apply CarPlay allows device-dependent people to continue life as they know it. In the A4, the system will even accept Android applications with some tweaking.
But do not ask me how that is done. I belong to a generation which prefers to be connected to the non-virtual world.
On that front, the new A4 has plenty to offer. While it is still positioned as Audi's compact executive, the latest model feels like a car that is one size bigger.
It is 4726mm long (25mm longer than its predecessor), 1842mm wide (+16mm), 1427mm tall (unchanged) and its wheelbase measures an incredible 2820mm (+12mm).
This makes it wider than the first-generation Mercedes E-Class and almost as long, and longer and wider than the current C-Class.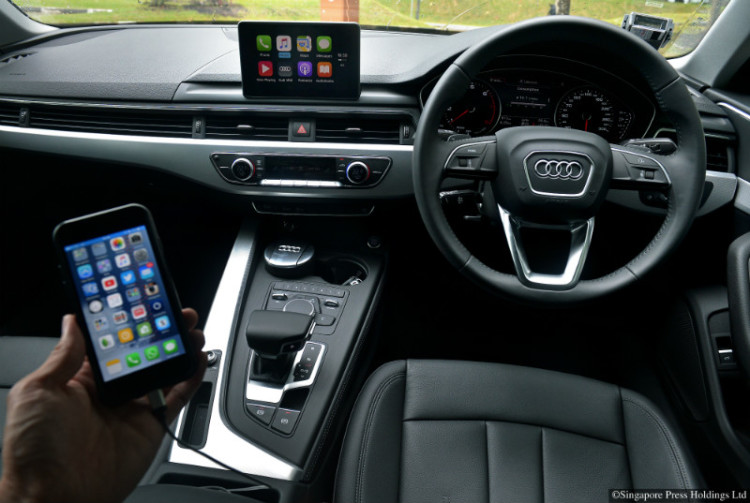 The external dimensions translate to more space in the cabin, as well as the way the car moves. For those who are into numbers, the car's interior is 16mm wider and 17mm longer. Its ceiling is 24mm higher and there is 23mm more knee-room in the rear.
At the helm, you get the same dash treatment first seen in the Audi Q7 – very sleek and smart.
The car comes across like a bigger car because of its effortlessness. You would not expect such a sizeable car fitted with a 1.4-litre engine to exude effortlessness, but this Audi does just that.
It is not exactly the sporty, dynamic effortlessness you get in a beefily equipped big-displacement carriage (although the A4 packs more than sufficient go), but the languid, laid-back sense of motion that bigger sedans are known for.
Lift off the throttle and the A4 glides. And glides. On a flat surface, it maintains its velocity for an inordinately long time. Initially, you wonder if you have activated the cruise control by mistake.
The car is up to 110kg lighter than the previous A4 1.8, mostly due to the smaller engine.
This again contributes to its lightfootedness, which you cannot quite wrap your head around because of the car's sheer size and modest engine displacement.
But because of its newfound majesty, the car loses a tinge of dynamism. It still feels sublimely composed in long, wide sweepers, but on tighter, twisted stretches, you find your foot swivelling to the left pedal sooner than expected.
It just goes to show that it is extremely difficult to pack everything in one car. But as far as younger buyers are concerned, this junior executive is a solid buy. Do not take my word for it, though – just ask Siri.
---
Audi A4 1.4 (A)
ENGINE     1395cc, 16-valves, inline-4, turbocharged
MAX POWER     150bhp at 5000rpm
MAX TORQUE     250Nm at 1500-3500rpm
GEARBOX     7-speed dual-clutch with manual select
0-100KM/H    8.5 seconds
TOP SPEED    210km/h
CONSUMPTION    17.9km/L (combined)
PRICE INCL. COE    From $176,800
---