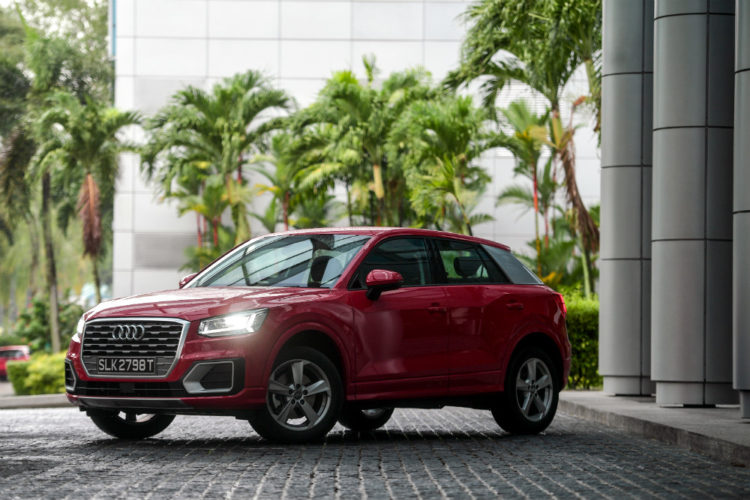 Audi says its new Q2 is a crossover, a coupe, a hatch and a city car. The test-car suggests that it might also be a horse-drawn carriage.
Because during idling, you can make out a faint but distinct percussion emanating from the engine compartment, sounding like horses galloping. Either that or there is a guy in there tapping his finger.
There isn't. I checked. What's there, though, is a turbocharged 1.4-litre engine with cylinder cut-off. That means under light-load conditions, two of the four cylinders are shut down, conserving fuel and reducing emissions.
It is the first 1.4-litre engine here with this system, which is usually found in bigger power plants.
The Q2 enshrines smallness. The compact crossover is shorter but wider than the popular Honda HR-V. It is also noticeably lower slung.
Despite its petite footprint, it is reasonably spacious inside. Its wheelbase measures 2601mm, just marginally less than the Honda's 2610mm. Boot space is also not too shoddy at 405 litres.
In a universe where every other car has grown to ridiculous proportions, it is refreshing to drive a car like the Q2. Its compactness makes it a joy in a built-up place like Singapore and yet, its intelligent space packaging makes it a practical choice for those who are not built like sumo wrestlers or pro rugby players.
Its strange noise notwithstanding, the Q2's engine is lovely. With 150bhp and 250Nm to its name, it is very punchy. Although Audi says the Q2 1.4 does the century sprint in 8.5 seconds, it often feels quicker.
It is so quick that a Porsche Macan driver thought I was racing when I pulled ahead of him from the lights.
The Q2 handles like a well-sorted hatchback, sticking to its trajectory with uncanny ease and naturalness.
Unlike its bigger brethren, the car is minimalistic when it comes to gadgets and driving aids. Again, this is an endearing trait which allows driving enthusiasts to enjoy the car with no beeps, buzz and unseen hand-holding to distract or irritate.
The cockpit is actually driver-centric, with the main dashboard console angled towards the person at the wheel. Drive-mode selection and paddle shifters are standard issue too.
The car here is not fitted with a flat-bottom steering wheel (an option), but its neat cabin is lined with body colour trim. A cheerful touch to an interior that is otherwise befitting of a car in its station (although at $165,800, the Q2 is not exactly in HR-V territory).
Seat adjustments are manual, but there are still enough modern amenities to keep most people happy. These include cruise control, electronic parking brakes with self-release, keyless system and dual-zone climate control.
The car is easy on the eye too. It has Q visual cues, but is sleeker than any of the other Q models. Its body panels feature unique angular character lines and side blades at the C-pillar remind us of the Audi R8.
The main seller here will probably be the 1-litre 3-cylinder variant. It will not have (or need) cylinder cut-off. But I wonder if it will have extra horses under the bonnet.
---
Audi Q2 1.4 (A)
ENGINE     1395cc, 16-valves, inline-4, turbocharged
MAX POWER     150bhp at 5000rpm
MAX TORQUE     250Nm at 1500-3500rpm
GEARBOX     7-speed dual-clutch with manual select
0-100KM/H    8.5 seconds
TOP SPEED    212km/h
CONSUMPTION    19.2km/L (combined)
PRICE INCL. COE    $165,800
---
Related story: Audi Q2 1.0 review
Related story: MINI Countryman Cooper S All4 review