SUVs and driving enthusiasts are like oil and water. You can put them together, but they will never mix. 
Everything about a typical SUV is the exact opposite of what a petrolhead wants in a car – the high centre of gravity and large dimensions makes an SUV less agile and harder to manoeuvre in tight spaces. 
As if these weren't enough, the heavier body results in less responsiveness and more inertia as well. 
All of these downsides, however, simply do not exist in the Audi RS Q8 – the brand's range-topping Q model. And with 591hp (600PS), it is also the most powerful SUV ever produced by Audi Sport. 
AUDI RS Q8: A DIFFERENT BREED 
No, the RS Q8 isn't smaller than its siblings. In fact, it is almost as large as the Audi Q7, which it outweighs by 175kg. 
Walking up to the RS Q8 feels intimidating. Its presence looms over you. Its menacing grille looks like it could barbecue other cars. The 23-inch wheels seem like they could run over lorries. And the large exhaust pipes can probably belch flames.
But there's a purposefulness to its character, which is also reflected in its interior.
Alloy pedals and a flat-bottom steering wheel tell you this is no ordinary car. RS-specific features include sports seats, a lap timer and a unique "Runway" layout for the instrument panel. 
True to Audi's restrained nature, the sporty bits are incorporated in an understated manner. Naturally, as the top model in the Q range, the Audi RS exudes luxury. Everything here feels solidly built and the buttons even have a classy clicking noise to them. 
After all, there is no need for this interior to shout at the driver and its occupants. The RS Q8's performance will take care of that. 
THE UNEXPECTED 
I fully anticipated the Audi RS Q8 to behave like a bull in a china shop – cumbersome and unwieldy. But the engineers at Audi Sport have set out to prove sceptics like me wrong. 
Twenty minutes into my drive and I was already eating my words. The RS Q8 is unlike any Audi SUV I have ever driven. 
Inertia does not exist in the RS Q8's world. Beneath that enormous bonnet resides a turbocharged 4-litre V8 that kicks out 591hp (600PS) and an eye-watering 800Nm of torque. 
You're probably expecting to hear how this SUV does 0-100km/h in 4.5 seconds. Maybe even 5 seconds, since it weighs 2.3 tonnes sans driver. 
No, those timings are too slow. The RS Q8 rockets from a standstill to 100km/h in 3.8 seconds, or just enough time to take two breaths.
Frighteningly, even though the V8 roars lustily, the acceleration punches you into your seat and the scenery becomes blurry in a hurry, there are no other sensations of speed. You could be in Traffic Court before you know it. 
The Audi RS Q8's speed is one thing, but its staggering agility is really something else. 
This nimbleness stems from the second-generation electronic chassis platform or ECP – the central control unit for the chassis. Among other things, it manages the all-wheel-steering, suspension and sport differential in response to driving inputs and road conditions. 
So, despite its size and weight, the Audi RS Q8 feels as small and as agile as a Q3. In my multi-storey carpark, I only triggered the parking sensors once over a period of three days. Hard to manoeuvre? Hardly. 
The RS Q8 adapts well to a variety of corners, from long sweeping bends to short and tight ones. It's like an elephant that moves like a cheetah.
POINTS TO PONDER 
As good as the Audi RS Q8 is, you still cannot escape its gargantuan size. Even if it is relatively easy to park, its width makes getting in and out difficult in most carparks. 
Plus in today's climate, an RS Q8 is selfish and anti-social. It says you don't give a damn about sustainability, even if you only drove it once a week. 
Then there's the obvious question: Why buy an SUV this big that can only take four passengers, even if it can outrun and outmanoeuvre smaller sports cars? Wouldn't something like an RS Q3 be easier to handle? 
Yes it would. But it also would not be as convincing as the RS Q8, which all sensibilities aside, is really the Q to queue for.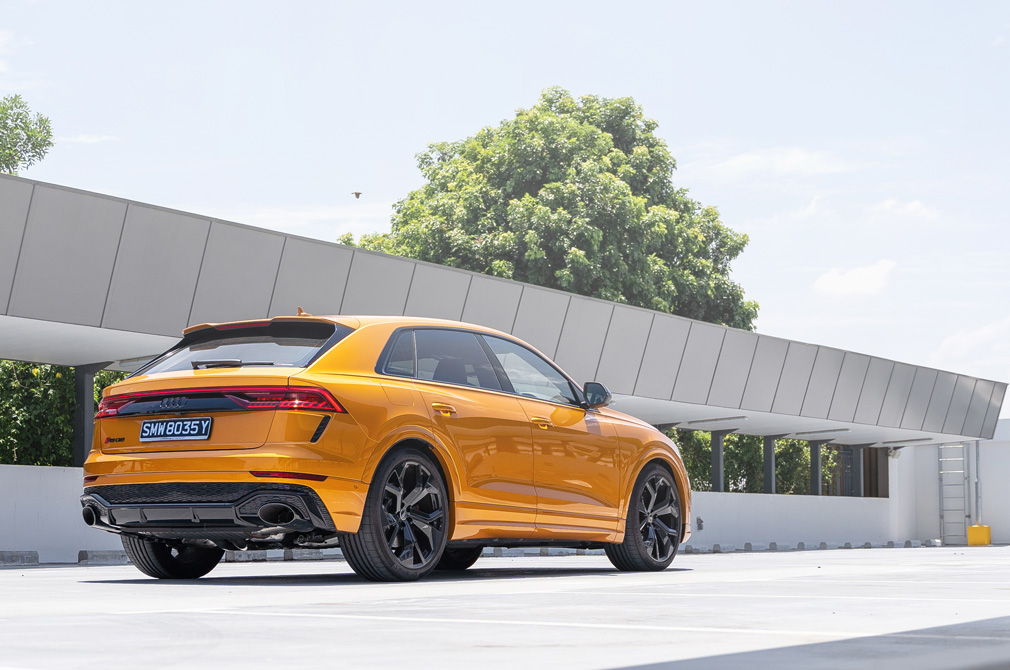 ---
Audi RS Q8 4.0 (A)
ENGINE     3996cc, 32-valves, V8, turbocharged
MAX POWER     591hp (600PS, 441kW) at 6000rpm
MAX TORQUE     800Nm at 2200-4500rpm
POWER TO WEIGHT     255.3hp per tonne
GEARBOX     8-speed automatic with manual select
0-100KM/H     3.8 seconds
TOP SPEED     250km/h (governed)
CONSUMPTION     8.3km/L (combined)
PRICE INCL. COE     $585,630
AGENT     Premium Automobiles
---
Looking for something smaller? Click here for our Audi RS Q3 review
Learn more about the Audi RS Q8 here
Read our Audi RS5 review here