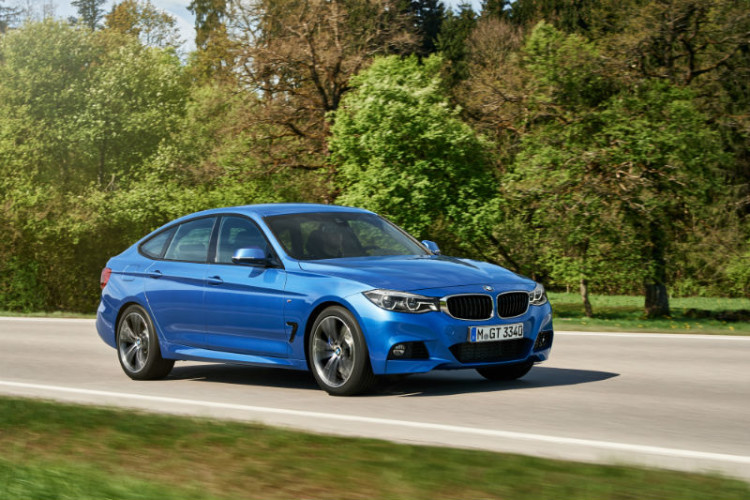 The BMW 3 Gran Turismo (GT), a five-door fastback, is not the most popular 3 Series body style in Singapore. For those not familiar with the 3 GT, it shares its powertrain with its equivalent notchback sibling.
But the chassis of the GT is slightly longer (by 110mm between the front and rear axles) and it has an additional 90mm overhang at the back.
That lengthened wheelbase boosts rear legroom, which is comparable to that in the 5 Series, while the boot space has ballooned to 520 litres, which is expandable to a maximum of 1600 litres by folding down the rear seats. As a cargo carrier, the 3 GT is even more sensible than a station wagon.
The seats have been raised by 60mm, so the cabin has more space than anything else in its class. The raised seats also make it easier to get in and out of the cabin.
The 3 Series GT is not pretty, but neither is it as bulbous as the much bigger and mostly unloved 5 Series GT. The 3 GT's twin kidney grille, incidentally, is the biggest you will find on a 3 Series today. Sleeker than the grille is the active rear spoiler that rises at speed.
The 2016/2017 model has a minor makeover. It is so minor that you might miss the new LEDs of the headlights, fog lights and tail-lights. There is also a new front bumper with reshaped air intakes.
The interior has been improved too, with the most obvious being the newest version of BMW's iDrive infotainment system.
Of more interest is the new petrol engine of the 340i GT. Like the defunct 335i, the 340i motor displaces 3 litres and has a single twin-scroll turbocharger. Its "40i" designation denotes increased power (326bhp, up from 306bhp) and greater torque (450Nm, up from 400Nm).
The new engine is fantastic, accelerating the 340i GT relentlessly to its top speed and with little drama. With its smooth 8-speed automatic transmission, the 340i GT does the century sprint in 5.1 seconds. This athletic performance deserves a gold medal.
It takes corners almost as well as its saloon sibling, which handles impressively by any standards. The 340i GT rolls more when going around in corners, but its ride comfort, roadholding and behaviour on bad roads are faultless.
BMW's 3 Gran Turismo does not have the suave styling of the saloon or even the Touring (the 3 Series station wagon), but its compelling combination of space, practicality and dynamic ability could make its 3 Series siblings look inadequate.
---
BMW 340i Gran Turismo 3.0 (A)
ENGINE     2979cc, 24-valves, inline-6, turbocharged
MAX POWER     326bhp at 5500-6500rpm
MAX TORQUE     450Nm at 1380-5000rpm
GEARBOX     8-speed automatic with manual select
0-100KM/H    5.1 seconds
TOP SPEED    250km/h (governed)
CONSUMPTION    14.3km/L (combined)
PRICE INCL. COE    To be announced
---