Do performance SUVs make sense?
If you asked a car enthusiast, he or she would say that these vehicles are pointless. They will tell you that a performance sedan or coupe will always be dynamically superior.
Eco-conscious folks, on the other hand, will complain that these vehicles are even more uneconomical than their "regular" counterparts. You might also hear that they are also dangerous to own.
Despite the idea of a performance SUV being questionable, BMW M has thrown caution to the wind by creating the X3 M Competition.
DOESN'T BMW ALREADY HAVE THE X3 M40i?
This is the first time BMW is offering the X3 with an M badge. It isn't just to please the badge-conscious, either. This is a full-on BMW M effort and it's very different from the X3 M40i.
For instance, it sports a new twin-turbocharged 3-litre straight-6 that produces a mind-numbing 503hp and 600Nm of torque.
Said engine will find its way to the next-generation BMW M3.
Like the BMW X5, the BMW X3 M Competition is equipped with a rear-biased all-wheel-drive system. It even shares the same gearshift lever as the M5 – along with other bits of the interior, such as the red M buttons on the steering wheel.
PUTTING IT ON TRACK
Behind the wheel, you do feel that the BMW X3 M Competition isn't just a souped-up X3. It is quite a high-strung animal, and on the 15-turn Kyalami Circuit in South Africa, it shows.
As you emerge from the pit lane and get on the throttle, there is no doubt that the BMW X3 M Competition is indeed rapid. But it doesn't offer an immediate, intense surge of torque as the 600Nm might suggest.
It's more linear and delivers rewarding amount of power as you build the revs. M car aficionados will be pleased with this.
The BMW X3 M Competition will hit the 100km/h from rest in a speedy four seconds. And just as swiftly as it builds up speed, the brakes do a good job in shedding velocity quickly and steadily, despite the SUV's nearly two tonne mass.
Around sweeping corners, you'd assume that you'll be hurtling forwards in a cloud of smoke and understeer, but that never happens.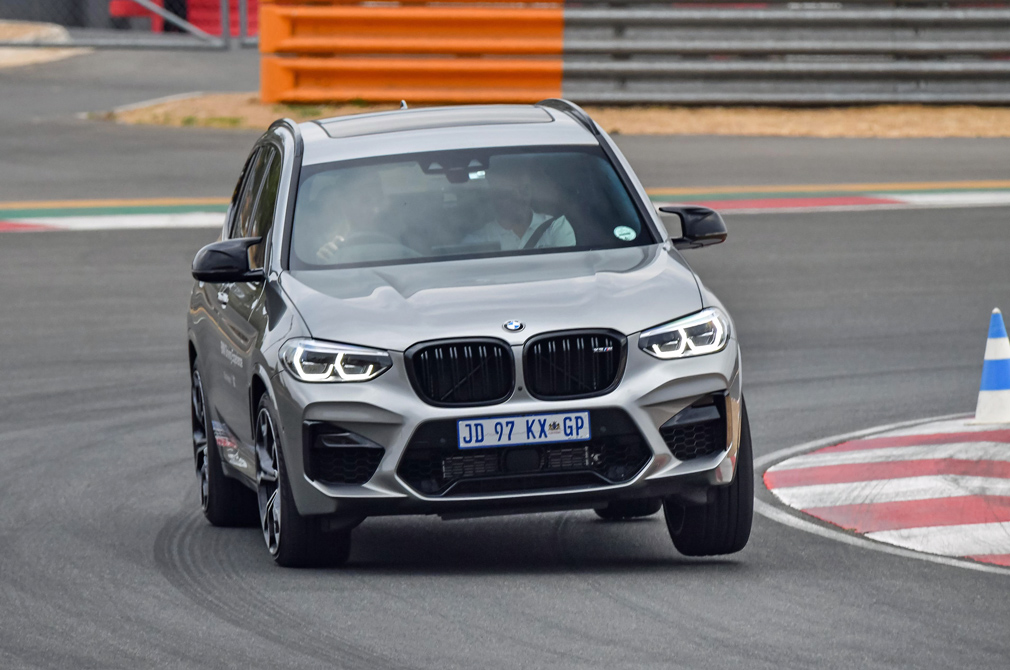 Body roll is slightly apparent, but there's lots of grip and the car just turns tightly with little drama. For an SUV, this is quite surprising.
The kerbs never seem to upset the BMW X3 M Competition either. Somehow, this SUV just wafts over them, seemingly unfazed and certainly assuring.
Overall, the BMW X3 M Competition offers a precise and predictable drive – just like an M model should.
It isn't as sharp a tool as an M2 Competition, but it manages to defy the laws of SUV physics enough to put a smile on your face every time to wring its neck.
IS THIS AN IDEAL PERFORMANCE SUV?
Even though I only got to drive the X3 M Competition on track, I still concluded that this isn't your ordinary, souped-up SUV. It offers a high level of agility and strength that one will expect from a car with an M badge.
Realistically, however, the less powerful X3 M40i is already fast enough for most drivers.
So, the added dynamism and power the BMW X3 M Competition offers might just be a tad over the top. At $461,888 (correct at time of publication), it also commands a $139,000 premium over the M40i.
Yes, the X3 M Competition goes against so many ideals in this climate of doom and gloom.
But its lunacy and ridiculousness are what make it such a joyful car. BMW M has certainly made one performance SUV that's worthy of consideration.
---
BMW X3 M Competition 3.0 (A)
ENGINE     2993cc, 24-valves, inline-6, twin-turbocharged
MAX POWER     503hp (375kW) at 6250rpm
MAX TORQUE     600Nm at 2600-5950rpm
POWER TO WEIGHT     255.3hp per tonne
GEARBOX     8-speed automatic with manual select
0-100KM/H     4.1 seconds
TOP SPEED     250km/h (governed), 285km/h (ungoverned)
CONSUMPTION     9.4km/L (combined)
PRICE INCL. COE     $457,888 (after $20k VES surcharge)
AGENT     Performance Munich Autos
---
The X3 is also available as a plug-in hybrid – the X3 xDrive30e
Read our Porsche Macan Turbo (Performance Package) review