The Hyundai Palisade is a Korean take on today's American family car – it is a large, roomy and cushy SUV powered by a big, naturally aspirated engine.
The first thing anyone notices when they arrive in the US, is that everything in the country is big.
People are big, so clothing sizes are also relatively more generous. Food portions are also huge (hey, that's how the people grew). Malls can be enormous. Roads are fantastically wide and parking spaces are generous.
Naturally, American cars – especially SUVs – must also be large. Think Cadillac Escalade or Chevrolet Suburban. Vehicles like these will be considered oversized in a small country like ours, but in the US, their dimensions are (pardon the pun) not a big deal.
There is a relaxed vibe about American culture, at least when I last visited in 2016. I am not sure if the size of the country has anything to do with it, but it felt like most folks were quite chill.
Drivers would cruise around in their giant SUVs or pickup trucks, seemingly in no rush to get to where they were going, even in places like downtown Los Angeles.
Surrounded by so much space, perhaps there is no need to "fight" your fellow driver for it. I certainly cannot recall anyone cutting me off during my two weeks there.
And if there was a car that could give its driver this vibe, it would be the Hyundai Palisade.
HAVING YOUR OWN SPACE
The Palisade is Hyundai's flagship SUV and the largest model in its range. At 4980mm long and with a wheelbase measuring 2900mm, it is comparable in size to the X7, BMW's flagship SUV.
The Palisade accommodates up to eight occupants with its 2+3+3 seating layout.
Get behind the wheel and a feeling of airiness envelops you. Chalk that up to the light-coloured upholstery and the wide expanse of the dashboard.
Helping save/increase space is the button-operated gear selector, which eliminates the need for a lever. Honestly, given the roominess, it wouldn't have been an issue. But the buttons look cool anyway.
As a flagship model, having a digital cluster – like the one in the Avante – would have been cool, too. The analogue gauges work fine, though.
I also didn't mind having to press buttons and turn dials. Direct controls are more intuitive than menus buried in the infotainment system, even if they add some clutter to the cabin.
The 10.25-inch infotainment system is user-friendly and responsive. Apple CarPlay and Android Auto, are of course, standard.
Unique to the Hyundai Palisade, though, are Driver Talk and Quiet Mode. The former picks up the driver's voice through a microphone and plays it through the rear speakers, while the latter lowers the audio volume and limits throughput to the front speakers.
Driver Talk can be useful if your children fear you. Otherwise, yelling "Don't make me come back there!" will only lead to giggles and sniggers. Quiet Mode can help lull kids to sleep, provided you do not give them smartphones or tablets to play with.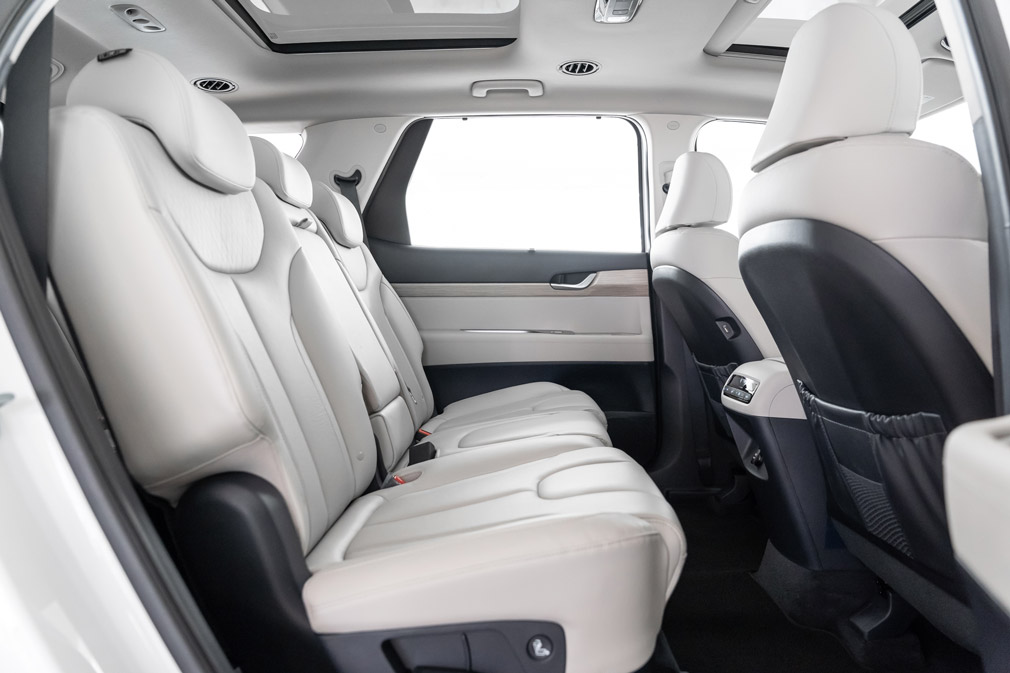 A ROOM TO LOUNGE IN
The Hyundai Palisade's second-row is a cushy place to stretch out and relax, with plenty of legroom, a sunroof for added light and overhead air vents to keep everyone cool.
In this hot weather, the thought of napping in the backseat is very appealing.
Getting in and out of the third-row isn't as bad as expected either. I suppose the Palisade's wheelbase is long enough to make the aperture relatively wide.
Space in the third-row isn't as bad as you think. Negotiate with the second-row passengers and if they move the bench forward enough, adults up to 1.7m tall can fit back here.
But letting three adults sit abreast is asking too much, unless the occupants literally enjoy rubbing shoulders. Maybe the overhead air-con vents here will help cool frustrations.
EASY DRIVER
If you think an SUV measuring almost five metres long and weighing 1.8 tonnes would take forever to get to expressway speeds, you'd be wrong.
Motivated by a naturally aspirated 3.5-litre V6 with 274hp and 336Nm, the Palisade does zero to 100km/h in 8.2 seconds. Considering the vehicle's size, though, there is no sensation of speed. Hence, it may even feel slow.
The V6 is quiet and creamy, and delivers the goods without strain. I didn't really bother with the "Sport" setting, though, for this is not an SUV you want to push hard.
And I am not referring to the plentiful understeer that sets in when you adopt a ham-fisted driving style. I am talking about the Palisade's easy-going American character.
In a Hyundai Palisade, you will feel unhurried. This is an SUV you will enjoy just cruising around in. It has the acceleration to keep pace with traffic, and the girth to deter rude behaviours, such as refusing to let you filter into a lane.
It is the kind of car you want to drive with one hand (not recommended), while the other rests on the window sill.
Numerous safety features from Hyundai's SmartSense help keep the drive relaxed, too. Functions such as Safe Exit Assist and Blind-Spot Collision Warning are there for peace of mind.
The most surprising thing about the Palisade is that it is easier than expected to manoeuvre in carparks. Yes, it is wide and long, but parking it was less tricky thanks to the Surround View Monitor.
BUT IT WOULD BE NICE IF…
The Hyundai Palisade probably has everything that a driver wants in an eight-seater SUV.
If it were me, I'd want a digital cluster and a nicer hi-fi system. More power would be nice, too. A turbocharged 3-litre V6, instead of the naturally aspirated 3.5 unit would also be better. It would have better low-end performance and lower road tax.
But if there's one thing that the Palisade really excels at, it is convincing a driver to just take it easy. After all, surrounded by so much space, you won't feel the need to fight your fellow road user for it.
---
Hyundai Palisade 3.5 (A)
ENGINE     3470cc, 24-valves, V6
MAX POWER     274hp (277PS, 204kW) at 6300rpm
MAX TORQUE     336Nm at 5000rpm
GEARBOX     8-speed automatic with manual select
POWER TO WEIGHT     272.1hp per tonne
0-100KM/H     8.2 seconds
TOP SPEED     210km/h
CONSUMPTION     9.5km/L (combined)
PRICE INCL. COE     From $218,999 (after $25k VES surcharge)
AGENT     Komoco Motors
---
Looking for an 8-seater MPV instead? Click here for our Kia Carnival review