If there's a word that best describes Korean carmaker Hyundai, it would be "bold". All one has to do is compare the cars it was producing five years ago to the models rolling out of its factories today. If you were to label a Hyundai vehicle as dull and frumpy back then, you'd be spot on. These days, however, Hyundai and its sister company Kia are better known for churning out models that are more eye-catching than their predecessors.
This boldness is certainly exemplified in Hyundai's new Santa Fe. In contrast to the more rounded shape of the last-generation model, the latest Santa Fe exudes more road presence thanks to its sharp lines and in particular, that aggressive new hexagonal grille. If Hyundai wanted its new SUV to part (and stop) traffic, it's on the right track.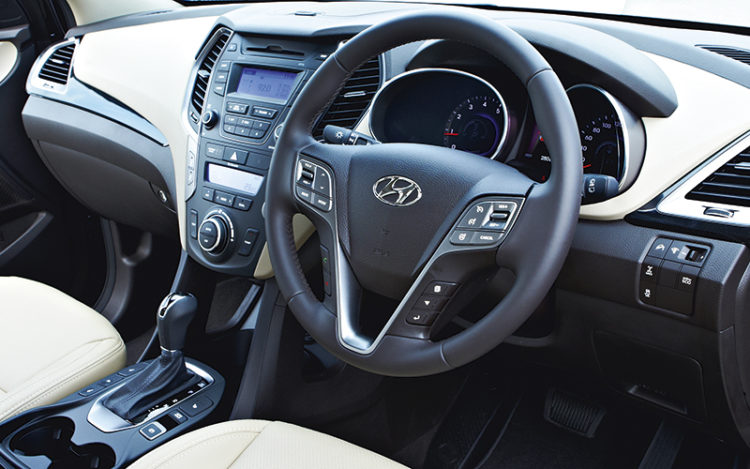 But instead of making the Santa Fe larger, Hyundai gave this SUV a much sleeker profile by making it longer and lower (by 30mm and 45mm, respectively) than the preceding model. And while the old Santa Fe has a slab-looking rear, the tailgate on the new one is sculpted and features a hidden soft-touch release in place of the unsightly handle present on
the former.
This SUV looks just as good on the inside, too. While the previous model is plain and utilitarian, the latest one is stylish and refined. The dashboard boasts a more elegant instrument cluster, while the buttons and switches on the centre console have a nice tactile feel to them. The audio unit is also now factory fitted rather than locally installed, adding to the classier feel.
Other cockpit enhancements include a convenient Seat Easy Access function that slides the driver's seat backwards when the car is unlocked to facilitate entry/egress, an auto-dimming rear view mirror with integrated reversing camera display, plus an electronic parking brake. The latter operates much faster and more quietly than the ones in more expensive vehicles.
Apart from these features, the Santa Fe also has a panoramic sunroof, which adds to the cabin's airier feel. This component, however, is unnecessary not just because of our climate, but because it reduces the available headroom in the second row. The bench, though, is wide enough to seat three adults, with the almost-flat floor providing plenty of legroom, too.
However, the same can't be said for the third row, where space is perhaps only decent enough for children below 10. But the real issue is getting out of this space – the access gap is narrow, so even the tiny might have to perform contortionist tricks to get in or out.
But aside from that, the Santa Fe is one smooth operator. The 2.4-litre GDI (Gasoline Direct Injection) engine, in particular, isn't just more refined than the 2.4-litre MPI (Multi-Point Injection) motor it replaces – its 192bhp/242Nm output is also 18bhp/16Nm more potent than before.
The GDI unit's power delivery is as creamy as expected. Despite the engine's "tightness" (the test vehicle's odometer had less than 200km when we collected it), it revs smoothly and only becomes vocal when it approaches 5000rpm. But since this powerplant has to move around 1.7 tonnes of Korean sheet metal, the Santa Fe's performance is relaxed instead of exciting, so you'll need plenty of revs if you really want to get moving.
Complementing the motor's polished nature is the well-mannered ride. Although the amount of lean when cornering is less than expected, the vehicle's overall ability to soak up bumps is relatively unaffected. The cabin, too, stays pretty hushed during expressway runs – there's some tyre noise at 90km/h, but that's about it.
One aspect that Hyundai should definitely improve, however, is the Santa Fe's steering. Although equipped with the Flex Steer system, which allows drivers to choose between Comfort, Normal and Sport settings, each mode pretty much feels the same. There's plenty of steering assistance, which makes for effortless manoeuvring around tight carparks, but not enough feel and feedback.
Much cooler than the Flex Steer function is the Smart Parking Assist System, which helps you parallel-park this seven-seater. You activate it by pressing a button and indicating "left" or "right" to tell the system which side you wish to park on. Once a sizeable enough space is detected, the system will prompt you to stop and shift into reverse. All you have to do is modulate the brakes while the car steers for you. Once the purview of luxury cars, this only reinforces how far the supposedly mass-market Koreans have come in recent times.
Of all its aforementioned talents, however, the most significant one is the Santa Fe's ability to make motorists part with their cash. Prior to the SUV's launch two months ago, local agent Komoco Motors claimed to have received more than 50 orders for the SUV. Now that's smooth operating, indeed.
This story was first published in the August 2013 issue of Torque.
---
2013 Hyundai Santa Fe 2.4 (A)
ENGINE     2359cc, 16-valves, inline-4
MAX POWER     192hp at 6300rpm
MAX TORQUE     242Nm 4250rpm
GEARBOX     6-speed automatic with manual select
0-100KM/H     10.9seconds
TOP SPEED     190km/h
CONSUMPTION     11.2km/L
CO2 EMISSION     209g/km
---
Check out the all-new Hyundai Santa Fe here
The Hyundai Santa Fe takes on the Kia Sorento and SsangYong Rexton here