Having been in this job for over a decade now, I can say that cars have just gotten better and better.
In the past, there used to be bad cars. They were poorly engineered, badly designed, drove terribly and smelt even worse.
Today, it hard to find a shabby car. Now, finding one with a distinct personality and flavour – that's a challenge.
But it's a challenge that a car like the Hyundai Venue S is more than ready to meet. And in this colour, it's like a breath of fresh air.
DRIVE FIRST, LOOK LATER
The Hyundai Venue is certainly not the best or fastest crossover around. In fact, with a 1.6-litre powerplant pushing out 121hp and 154Nm to the front wheels, it isn't exactly exciting.
It only has enough punch to get up to speed and keep up with other cars on expressways.
But it is a car I could drive all day long. And there is a lot to like about it, especially since it now comes with a suite of standard driving aids.
You get blind spot collision warning, lane keeping assist, forward collision avoidance assist, and what Hyundai calls leading vehicle departure alert.
This gives off a classic SMS-like chime when the vehicle in front starts moving off but you don't. That's perfect for drivers like me who are always on their phones at the lights.
Although many may find these nannies a little bothersome (especially the blind spot monitor which tends to warn rather frequently), it's better to be safe than sorry.
Thanks to this feature, the Hyundai Venue helped keep me and my daughter safe while I was driving us home after a long day at work.
DESIGN DISCUSSION
After a long day at work, it's always nice to walk towards a car whose design reminds you of your age.
Since I'm still young, it's always nice to know that a stylish-looking car is waiting for you in the carpark after a stressful day.
The Hyundai Venue may not particularly look gorgeous to many. But I reckon it'll definitely hold its own when parked next to a MINI in Dempsey, thanks to the striking yellow bits that complement the grey paintwork.
Also striking is the new cascading grille, which gives the front end a more modern and three-dimensional appearance on the road.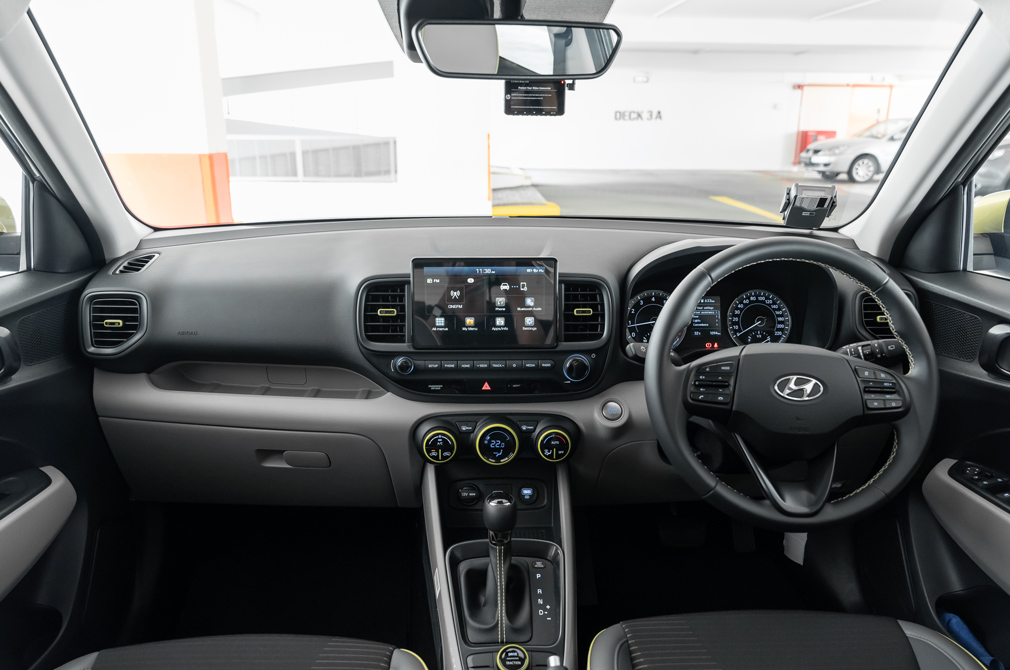 IT'S WHAT'S INSIDE THAT MATTERS
Hyundai designers mirrored the exterior design in the cabin. Only with this particular colour do you get bits of yellow contrast stitching on the steering wheel.
There are also yellow trimmings on the fabric seats, air-con vents and circular knobs, giving this compact crossover a zesty ambience. An 8-inch infotainment screen takes centre stage on the dashboard.
You won't be surrounded in luxurious materials, but it's genuinely hard to ignore that everything in the Hyundai Venue feels well-assembled. There's a nice mix of textures that give occupants a sense of occasion each time they enter the car.
And when they are in the car, your passengers will find a good amount of headroom and legroom (for two) in the backseat. Three adults here will be rubbing shoulders, but not to a point where comfort is severely compromised.
The Hyundai Venue offers decent boot space, too. At 355 litres, the cargo capacity is greater than the Kia Stonic's and Toyota C-HR's.
TURNING HEADS
The Hyundai Venue is aimed at first-time buyers, fashionable couples and young families. With this S model starting from $98,999, more buyers are likely to lean towards the base model, which is $6000 less.
But considering how finding a car with a distinct personality and character is a challenge, we should remind ourselves that the Hyundai Venue S is a breath of fresh air. That alone is worth more than its $6k premium.
---
Hyundai Venue S 1.6 (A)
ENGINE     1598cc, 16-valves, inline-4
MAX POWER     121hp (90kW) at 6300rpm
MAX TORQUE     154Nm at 4500rpm
POWER TO WEIGHT     105.8hp per tonne
GEARBOX     CVT
0-100KM/H     11.2 seconds
TOP SPEED     186km/h
CONSUMPTION     17.2km/litre (combined)
PRICE INCL. COE     From $98,999 (after $10k VES surcharge)
AGENT     Komoco Motors
---
Find out more about the Hyundai Venue here
Click here for our review of the previous Hyundai Venue
Looking for a larger Hyundai crossover? Read our Kona Hybrid review