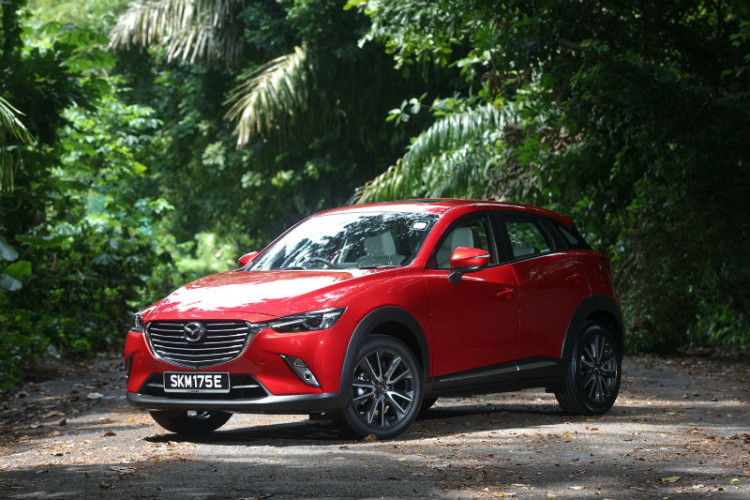 Compact crossovers are the rage these days. Models from Nissan and Honda are rolling out of showrooms faster than you can spell sports-utility vehicles.
Mazda hopes to carve a slice of the growing pie with the CX-3 – the latest addition to the newish CX family. The CX-3 is a small and snappy number which is arguably the best-looking contender in the segment.
With sporty curves that are familiar on Singapore roads, the car looks like a raised Mazda 2 hatch. Black extruded wheel arches, big wheels and a third rear quarter window accentuated by a new C-pillar complete the rugged look.
On the road, the CX-3 is by far the most agile kid on the block, zipping from point to point with the enthusiasm of a supermini. Its compactness helps and so does having a relatively big engine.
The CX-3 is slightly smaller than the Honda HR-V, but is equipped with a 2-litre engine – an anomaly among its peers.
With an extraordinarily high compression ratio of 14:1, this non-turbo engine puts out 156bhp and 204Nm. With the car (Deluxe variant) weighing 1277kg, the output translates to a fairly generous 122bhp a tonne.
Paired with a six-speed autobox, it carries the CX-3 to 100kmh in 9.5 seconds – appreciably quicker than the Nissan Qashqai and Honda HR-V. And it actually feels quicker at the wheel too.
The recipe works well for drivers who enjoy a good measure of verve, even if it comes with rather high revs at times. But for those who place utility above driving fun, the CX-3's relatively large engine may not be appealing.
In fact, what usually works best for the typical car buyer here is the opposite – small engine, big body.
Still, the CX-3 offers a not-too-shoddy level of utility. Despite its size, the crossover accommodates four adults with ease. Rear legroom is not the best in class, but no one will get cramps if journeys are confined to the island.
Ride quality is pretty decent, with a suspension that shields occupants from the harshness of the road and yet offers a high degree of resistance to leaning into corners. Arriving at this balance is not always easy even for a hatchback, much less a tallish crossover.
Like all modern Mazdas, the CX-3 has a well-furnished and incredibly well-finished cabin. Everything you see and touch is a notch above what you find in rival models. Seats are upholstered in leather and suede. Even the fascia and centre console are lined with hide.
The car comes with lots of premium features too, such as head-up display, cruise control, an infotainment tablet with navigation and connectivity, stop-start system, keyless system and climate control.
The only thing that is out of place in this modern setting is a traditional handbrake.
Separately, the compact Mazda's boot has a stated capacity of 240 litres, but there appears to be more space than that because of its flat, rectangular intrusion-free shape.
Ultimately, this is a car for those who like the shape of a crossover, enjoy the dynamism of a hatchback and have come to expect premium finish and features. And are willing to live with more displacement and less room for all that.
---
Mazda CX-3 2.0 (A)
ENGINE     1998cc, 16-valves, inline-4
MAX POWER     156bhp at 6000rpm
MAX TORQUE     204Nm at 2800rpm
GEARBOX     6-speed automatic with manual select
0-100KM/H    9.5 seconds
TOP SPEED    192km/h
CONSUMPTION    16.4km/L (combined)
PRICE INCL. COE    $126,800
---