AMG, the firm that takes regular Mercedes-Benz cars and gives them a healthy overdose of steroids, has a beguilingly simple approach to performance cars: It takes a whacking great, powerful V8 or V12 and shoves it (sometimes a little unwillingly) into regular Mercedes-Benz cars.
Sometimes, AMG crams said oversized engines into undersized cars, like the 6.2-litre V8 in the C63, or the 5.5-litre V8 in the SLK55. It's a very German approach to performance, for brutally efficient Teutonic logic dictates that monstrous motors can be deployed to maximum tyre-destroying effect in a small chassis.
Unfortunately, that formula has been tweaked slightly (downsizing and turbocharging) in recent times, owing to more stringent EU emissions legislation. Also because it's a little uncool to be bandying large-displacement engines about in these times of heightened climate awareness. That must've been quite galling to a company so weaned on engines almost never falling below 5-litres in displacement and having less than six cylinders.
To date, Mercedes-AMG's smallest-engined car has been the C32, which uses a supercharged 3.2-litre V6. More than attempting to appease the environmental crusaders, however, is how the A45 and its sister saloon, the CLA45, are meant to put Mercedes-AMG cars in the hands of a completely new audience.
Specifically, an audience whose bank accounts won't stretch to the traditional V8-powered AMG. Once the A45 arrives in September, it's set to cost $293,888, which undercuts the next most affordable AMG car, the SLK55, by $135,000. Plus, its annual road tax bill of $1,202 is a tiny fraction of the SLK55's $6,236.
Yes, AMG zealots out there – that tiny road tax bill can only mean that the A45 does not have a V8. Its motor displaces just two litres and has (horror of horrors!) four cylinders. According to Steffen Jastrow, Mercedes-AMG's project manager for compact cars, even internally there was some initial scepticism surrounding Mercedes-AMG's first ever 4-cylinder car.
If you're an AMG zealot and you haven't yet died of shock or jetted off to Affalterbach with the pitchforks and torches, that's good. We'd like to assure you, here and now, that the A45 is fully worthy of the badge that adorns Mercedes-Benz's wildest models.
While Mercedes-AMG didn't have its usual V8s to play around with, it's nevertheless tried to grab the headlines with this engine here. It's nominally similar to the one used in the A250, but so heavily modified (new forged crankshaft and pistons, plus a low-friction coating on the piston walls) that it warrants an internal engine code-name of its own.
The result – it's managed to wring 360bhp and 450Nm of torque out of it, with the A45 doing the benchmark zero to 100km/h sprint in only 4.6 seconds. Oh, and it'll also return a claimed 14.4km/L and it's CEVS-neutral.
Forget about those numbers, impressive as they are. Forget about how Mercedes-AMG says it spent hours on end in a recording studio just to get the fizz and pop of its highly alluring exhaust note right. Forget about how that engine is running a staggering 1.8bar of boost pressure (even performance cars rarely go beyond 1.5bar). Forget also about how that, like all AMG engines, is hand-built by one man.
We want you to forget about how that engine checks all the AMG boxes of big power and makes a borderline obscene noise, but focus more on how the A45 fulfils something a little less quantifiable. It is, like all the best cars to come from AMG, more than just a little wild.
That most significant aspect of "AMG-ness", we're happy to report again, is correct and present here. Not that it has a sting in its tail, mind you – despite its all-wheel-drive 4Matic billing, the A45 is closer to being front-wheel-driven, that is, kind of "safe".
Only when the situation calls for it ("dynamic handling", for example) does it send up to half of the available torque rearwards. That torque split is constantly being evaluated by the A45's electronic brain and determined by a host of factors including steering angle, vehicle speed, lateral g-forces, plus feedback from the electronic stability programme, among other factors. Apparently, the stability programme can also perform autonomous counter-steering actions when things get a little hairy, Mercedes-AMG claims.
But don't go thinking those fancy electronic systems are there to cosset. Far from it. In our time with the A45 out on narrow public roads and on the track at the Bilster Berg Race Resort (see "Rich Man's Playtime" on previous page), these systems seem to exist to allow drivers to flog the A45 harder. And with impunity. And you never really feel all those systems working.
Find yourself understeering (as we did on the circuit)? Not a problem – just apply more steering lock and throttle. Somehow, the car sorts itself out, the line tightening as you go. Where some cars reward being driven in a measured fashion, not so the A45. It feels at its best when driven with a sort of reckless abandon, braking late and chucking itself into corners.
The compact dimensions, meaty and precise steering, flat cornering attitude, and traction afforded by the trick all-wheel-drive and grippy 235-section tyres conspire to give the A45 plenty of confidence. The same goes for its pace out on public roads, although we think that its suspension is a touch too firm out there, with larger potholes tending to unsettle its balance.
It's quite the revelation, especially when compared to the regular A-Class. We had a few spotting laps in a regular A250 on the Bilster Berg circuit, and it's as wobbly as the A45 is pin-sharp. Not surprising, since the A45 sports completely new, uprated front and rear axles, including a rear subframe bolted directly to the body.
Criticisms? Well, there are scant few. Chief among them would be how it's difficult to drive the A45 in a "normal" fashion. That is, one that will see you end the drive still in possession of your licence.
Sure, you could slot it into Controlled Efficiency mode, but that mutes the exhaust melodrama, gives it a galactically "long" throttle and shifts up so early that the engine is permanently off the boil, making sudden overtaking moves more difficult than they should be.
You could put it in Sport, but you'd best hope to be well out of the long arm of the law's reach.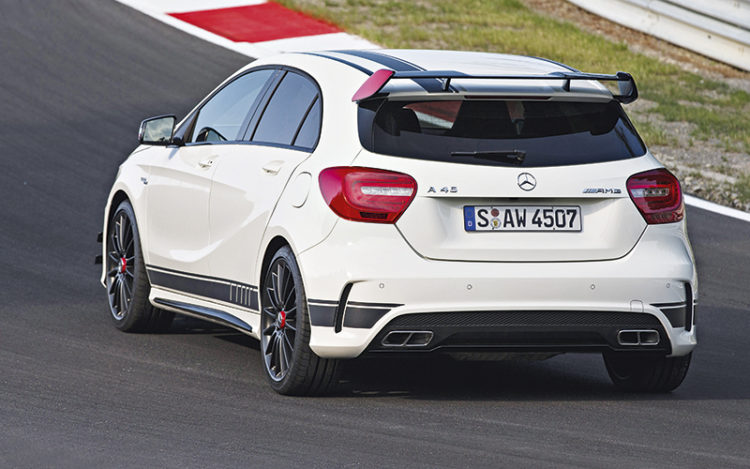 But if that mania constitutes the sort of car you live and breathe for, then you're in luck. Call it a cynical marketing gimmick if you will, it's all part of Mercedes-AMG's push to increase sales by 50 per cent to 30,000 cars by 2017 (in time for its fiftieth anniversary), but the A45 delivers the AMG goods. And how.
It looks a little outlandish thanks to the rather beng bodystyling, has an outlandish engine (that makes an equally outlandish noise), and has outlandish cross-country and racetrack pace. Now, small or not, that sounds like an AMG car to us.
This article was first published in the August 2013 issue of Torque.
---
2013 Mercedes-AMG A45 2.0 (A)
ENGINE     1991cc, 16-valves, inline-4, turbocharged
MAX POWER     360hp at 6000rpm
MAX TORQUE     450Nm 2250-5000rpm
GEARBOX     7-speed dual-clutch with manual select
0-100KM/H     4.6 seconds
TOP SPEED     250km/h (governed)
CONSUMPTION     14.4km/L
CO2 EMISSION     165g/km
---
The updated Mercedes-AMG A45 takes on the Audi RS3 Sportback here
SLS AMG and AMG A45 will rock your world