AMG cars are supposed to be understated. They are meant for people who enjoy sports cars but not necessarily the attention that they attract.
The new Mercedes-AMG C63 S Coupe does not fit that bill though. It is loud, fast and flashier than most of its siblings.
On an attention-grabbing scale, it is on a par with the Porsche 911-rivalling AMG GT. Blessed with the Merc C-Class Coupe's wind-chiselled profile and elegant proportions from nose to tail, you could even say it is easier on the eye than the AMG GT.
There are various elements to distinguish it from the more ordinary C-Class Coupe.
These include 19-inch alloys wrapped in low-profile tyres, a long bonnet with noticeable power domes, front apron and splitter, twin-louvred radiator grille, flared wheel arches and rear apron with diffuser.
The car comes across as a particularly muscular two-door with low ground clearance and wide tracks.
Its performance is commensurate with its sporty visual cues.
One moment you are at the lights and 3.9 seconds later, the speedometer is reading 100km/h. This would have qualified it for the supercar league just a few years ago.
Yet, you wonder if it could have been a little quicker, given that it is powered by an illustrious 4-litre bi-turbo V8 with 510 horses and 700Nm of torque from just 1750rpm. And surely it can be faster than its electronically limited 250km/h top speed.
After all, the less rarefied C43 – powered by a turbocharged 3-litre V6 – delivers a 4.7-second century sprint and a matching 250km/h top velocity.
Pound for pound, the C63 is as generously endowed as Ferrari's GTC4Lusso T, a four-seater which is notably quicker and faster.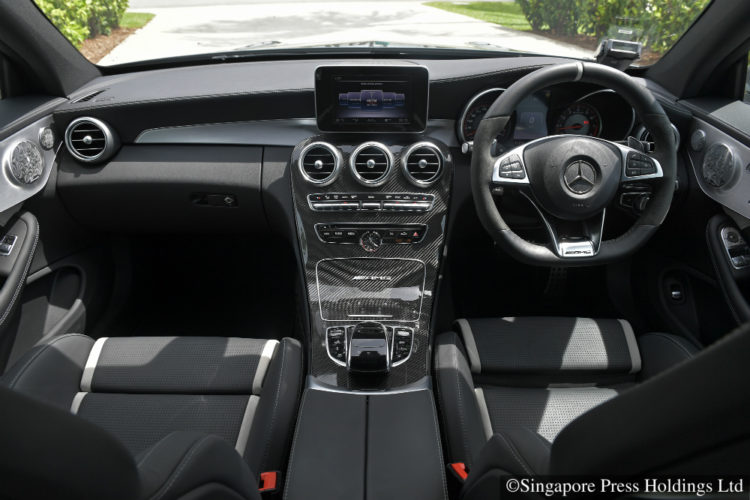 Perhaps Mercedes does not want the C63 to eclipse the AMG GT, which does the 100km/h dash in 3.8 seconds and which attains a top speed of 310km/h.
It is also a bit strange that Mercedes has decided to equip the C43 with all-wheel-drive, but not the C63.
With so much power and so much distance between the front and rear axles, the car would theoretically benefit from better distribution of its 700Nm.
Yet, there is little evidence of it being unwieldy. As with most Mercs, its helm is extremely well-judged and precise. It is also effortlessly tractable, no matter the speed.
A very firm suspension allows the car to hold up well against cornering forces and its weighty steering is reassuringly steadfast – especially when almost every other rival has opted for a featherweight feel.
That said, it is still a lot of metal to juggle. At times, you wish for a smaller car which is more nimble and less prone to kerb-kissing.
But for its size, the C63 acquits itself rather well, perhaps due to its rear differential.
If the car's size, shape and speed are not enough to make its presence felt, the noise it makes most certainly will.
The C63's V8 has a nice bassy rumble channelled through a four-way acoustic exhaust. You can amplify its sonorous percussion by activating a button which opens up flaps in the tailpipes. This is recommended if you wish to drown out the car's rather loud tyre roar.
But, of course, you draw attention to yourself this way.
---
Mercedes-AMG C63 S Coupe 4.0 (A)
ENGINE     3982cc, 32-valves, V8, turbocharged
MAX POWER     510bhp at 5500rpm
MAX TORQUE     700Nm at 1750-4500rpm
GEARBOX     7-speed automatic with manual select
0-100KM/H     3.9 seconds
TOP SPEED     250km/h (governed)
CONSUMPTION     11.2km/L
PRICE INCL. COE     $453,888
---
Related story: Group Test: Mercedes-AMG C63 S vs Mercedes-AMG CLA45
Related story: Mercedes-AMG S63 4Matic+ review