The Swiss authorities are known for their zero-tolerance stand on speeding. Being caught at even 1km/h over the limit will earn you a ticket. So it is puzzling that Mercedes-Benz chose to launch the S63 AMG, along with its tamer S-Class siblings, in Zurich.
Perhaps it is because Zurich, being one of the most expensive cities in the world, suits Mercedes' equally expensive flagship model.
Fortunately, the bulk of the driving route was in Germany, a country with many unrestricted highway stretches.
Apart from being sizeable, the S63 is stupendously powerful. This updated model has a twin-turbocharged 4-litre V8 that produces 612bhp and a phenomenal 900Nm. It will demolish the century sprint in 3.5 seconds.
That is half a second quicker than what the pre-facelift S63 manages. Mind you, that car boasts 585bhp from a twin-turbocharged 5.5-litre V8. It is not exactly short on power.
Aside from being more powerful, the latest S63 is more efficient. Mercedes claims a consumption of 11.2km per litre, versus 9.9km per litre for the previous car.
This improvement is aided by a cylinder deactivation feature, which shuts off four of the eight cylinders under partial loads. A new 9-speed automatic, which replaces the 7-speed auto, also keeps the motor spinning at lower revs when you are just cruising.
And when Comfort mode is selected, the transmission is decoupled from the engine when the driver takes his foot off the accelerator. This function is available from 60km/h to 160km/h.
That said, it is not efficiency but performance that matters to an S63 buyer. In this regard, the AMG has not disappointed. The S63's V8 awakens with a deceptively modest "vroom". But once you start revving it (be sure to select Sport+ mode first), your heart will flutter and skip a few beats.
Despite the turbos, this motor sounds like an old-school, naturally aspirated unit. It grumbles, throbs and "clears its throat" in a gloriously guttural manner. At times, you would swear that it has a displacement of at least six litres.
When driven hard, the S63 becomes more animalistic. You will hear it snarling, cracking and growling through its sports exhaust. As I tear down country lanes and carve up mountain roads, I wonder if the blaring exhaust might cause a landslide.
With the S63's keen and precise helm, I am spurred on to push it harder. I need not try very hard. Even with gentle throttle inputs, it goes from 120km/h to more than 200km/h in a few blinks of an eye. It seems like other vehicles are being driven in reverse.
What impresses me more than the car's acceleration is its handling. Unlike less powerful S-class models that feel barge-like, the S63 feels more like an E-Class around corners. This nimbleness is down to its sportier Airmatic suspension, thicker stabiliser bars and all-wheel-drive system with fully variable torque distribution.
Indeed, despite betraying some lean when pushed hard, this Merc feels unflappable. If a corner suddenly becomes tighter, you simply apply more steering lock. Unless you switch off the traction control, all this power is adeptly harnessed.
So, does all of this make the S63 even more of a driver's car than a rival such as the Porsche Panamera Turbo? Let me put it this way: The latter is an overgrown sports car that also functions as a limousine, while the former is a limousine endowed with a sports car's abilities.
That is what makes the S63 such a blistering luxo-barge. It would be awesome to own one – especially if you do not live in Switzerland.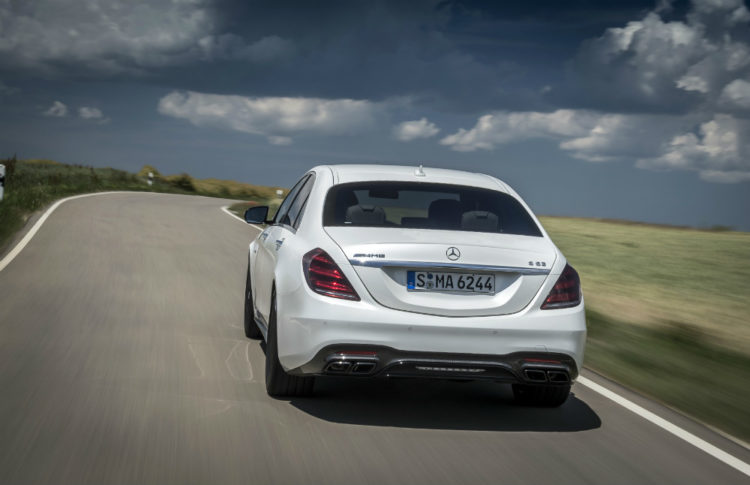 ---
Mercedes-AMG S63 4Matic+ 4.0 (A)
ENGINE     3982cc, 32-valves, V8, turbocharged
MAX POWER     612bhp at 5500rpm
MAX TORQUE     900Nm at 2750-4500rpm
GEARBOX     9-speed automatic with manual select
0-100KM/H     3.5 seconds
TOP SPEED     250km/h (governed)
CONSUMPTION     11.4km/L
PRICE INCL. COE     To be announced
---
Related story: Mercedes-AMG Performance Drive at Sepang Circuit
Related story: Mercedes-AMG E63 S review