Equally surprising is how neat the entire setup is. Unlike its fellow German rivals, the Audi A8 and BMW 7 Series, the S-Class doesn't overwhelm drivers with dozens of buttons. The few buttons present, such as the air-con controls, each have a knurled finish that's usually seen in modern Bentleys.
But while the cockpit's layout is tidy, Mercedes' Comand infotainment system is downright befuddling, even to someone who has used this system in other Merc models. Fortunately, the rotary control dial provides some measure of help, as it only allows you to turn it as many times as there are menu options on screen.
Apart from accessing your music tunes and plotting your destination, you can also perform actions such as adjusting the lumbar and lateral support for the front seats, and selecting the colour of the cabin's mood lighting (there are seven to choose from).
Given the classiness of the cabin, it's hard to believe that the S350L BlueTEC seen here is actually the entry-level variant in the local S-Class lineup. Powering this "base" model is a 3-litre V6 turbo-diesel that churns out 258bhp and a mountain-conquering 620Nm of torque. But because the engine is so refined, the only way you'd believe it was a diesel unit is by checking the brochure.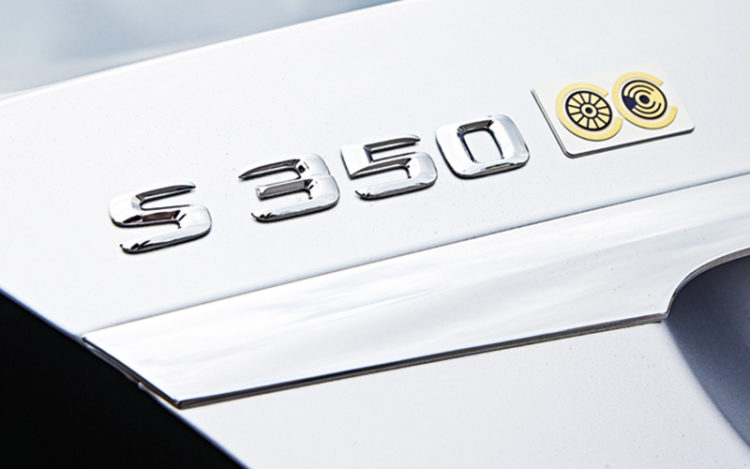 There's barely any clatter when the motor is started, and the V6 even sounds throaty when pressed. The power is consistently delivered in a velvety manner – even if you were to suddenly lift your foot from the accelerator, there's no jarring sensation at all.
The 620 Newton-metres, available from 1600rpm, enable you to overtake traffic with ease. The only sensation of speed is from the scenery, which will begin to blur. Some might find this unnerving, but to S-Class buyers, it spells refinement.
Adding to this car's luxurious feel is the Airmatic suspension, which individually adjusts damping levels for each wheel. The ensuing ride quality is beyond cosseting and makes the optional Sport setting seem superfluous, because it doesn't belong in a vehicle that was built to pamper occupants.
The new S-Class might not be as athletic as a Jaguar XJ or BMW's 7 Series, but to compare it to them in that manner alone would be to overlook the Mercedes' purpose as a flagship limo. Until its competitors catch up, the S-Class will remain the most accomplished contender in this segment.
---
2014 Mercedes-Benz S350L 3.0 (A)
ENGINE     2987cc, 24-valves, V6, turbo-diesel
MAX POWER     258bhp at 3600rpm
MAX TORQUE     620Nm at 1600-2400rpm
GEARBOX     7-speed automatic with manual select
0-100KM/H     6.8 seconds
TOP SPEED     250km/h
CONSUMPTION     17.9km/L (combined)
CO2 EMISSION     148g/km
---
Mercedes-AMG S63 4Matic+ is a German limousine on steroids
3 things we love about the Mercedes-Benz S-Class
Mercedes-Benz C-Class is a junior S-Class