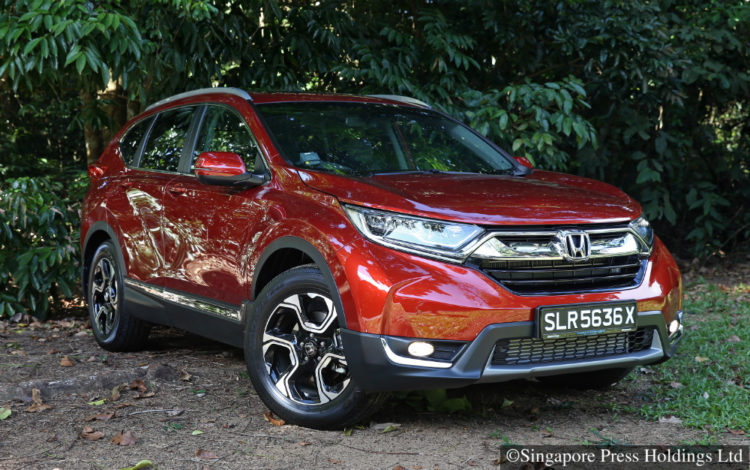 Darwin's theory of natural selection charts evolutionary changes over several generations. The automotive world is a little faster than the animal world in this respect.
When something is no longer competitive, it is replaced, and rather quickly. So is the case of the MPV, a people mover once as common as sparrows. But before you can spell multi-purpose vehicle, the species is nearly as dead as the dodo.
In its place is the superior SUV. Many have evolved by sprouting two extra seats to compete in the same territory as the MPV.
The new Honda CR-V is the latest SUV to offer this proposition. Unlike its 2.4-litre five-seat predecessor, the latest car is powered by a turbocharged 1.5-litre engine which churns out significantly more torque.
It is also slightly bigger all round, but remains compact enough not to be daunting in tight carpark ramps.
Space in the third row is surprisingly adequate for small-built adults. Seats are easily manoeuvrable and pose no danger to manicured nails or fragile ligaments.
With the third row in place, stowage capacity is modest. But you can flip the seats flat in a jiffy to free up a sizeable cargo area. Long pull straps are in place to help you get those seats up again. These come with Velcro fasteners to ensure they do not flap about noisily when the car is in motion.
Other thoughtful features include a panoramic glass roof which brightens up the third row; electrically adjustable driver's seat (manual for the five-seater version); motorised tailgate; keyless access with walkaway self-lock; electronic parking brake with auto hold; cruise control; hill start assist; and front and rear parking sensors.
In the evolutionary process, the CR-V has shed its urge to go off-road and relies only on its front paws for traction.
At 1.64 tonnes, the seven-seater is 113kg heavier than its five-seat twin (additional heft from extra seats, panoramic roof, third-row air-con and roof rails).
Yet, it acquits itself rather well on the go. Its turbocharged 1.5-litre heart is punchier than the previous 2.4-litre naturally aspirated unit. So, despite its heft, it out-sprints its five-seat predecessor.
Top speed is also higher at 200km/h, up from 190km/h.
Fuel economy has improved 13 percent to 13.7km per litre, thanks to the car's downsized engine as well as its CVT gearbox, which is clearly more efficient – if more whiney – than the previous five-speed autobox.
The car is not particularly sharp or poised when hurried. But neither is it sloppy or shoddy. It certainly feels more confident and engaging than a full-size MPV.
The best part about its drivetrain is probably its brakes. Electrically assisted for the first time, they are very sensitive yet easily modulated.
But most potential buyers are likely to be drawn to its styling. The CR-V is much better-looking than before, having lost its jutting jaw line. From the rear, it looks more sophisticated. And overall, it is less stiff and chunky.
Build quality is decent, although for something above $160,000, you might expect a bit more.
At this price, you can pick quite a few seven-seaters, including the VW Touran and BMW 216 Active Tourer.
Then again, you wouldn't be driving an SUV if you did, would you?
---
Honda CR-V 1.5 (A)
ENGINE     1498cc, 16-valves, inline-4, turbocharged
MAX POWER     193bhp at 6000rpm
MAX TORQUE     243Nm at 2000-5000rpm
GEARBOX     CVT
0-100KM/H     9.4 seconds
TOP SPEED     200km/h
CONSUMPTION     13.7km/L (combined)
PRICE INCL. COE     $161,900
---
Related story: New Nissan Qashqai review
Related story: Toyota Harrier Turbo review
Related story: New Mazda CX-5 review
Related story: BMW 218i Active Tourer review