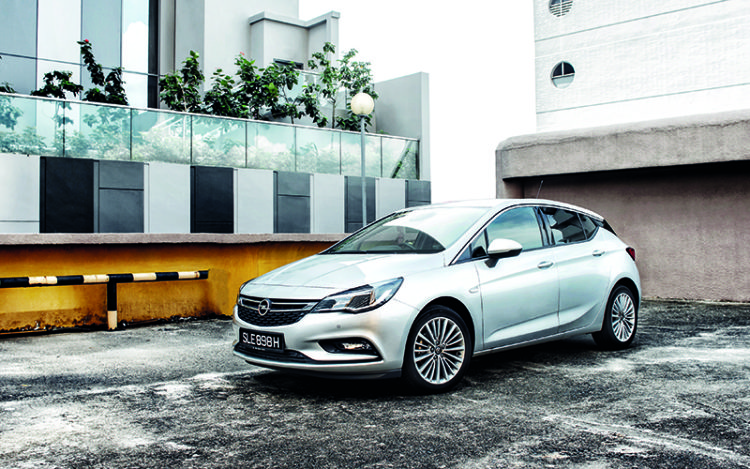 Opel's Astra has to be one of the most underrated hatchbacks in the Golf segment. Despite being handsomely styled and possessing tidy handling manners, it hardly appears on buyers' radars.
This was especially true for the last-gen Astra. Its only weak points are a befuddling cockpit, which has too many buttons, and a relatively compact interior, despite it being larger than the Mk 6 Volkswagen Golf.
The all-new Astra, however, is no longer plagued by these issues.
It is even more attractive than its predecessor, with evolved "Blade" styling that features crispier lines and the illusion of a floating roof, thanks to the blacked-out C-pillars. Its rear end is rather fetching, too.
Like the older model, the current one is still larger than its main rival, the Mk 7 Volkswagen Golf. But this time, Opel has ensured that interior room is actually decent.
The wider backseat and lower floor protrusion means three average-sized adults can sit abreast without rubbing shoulders as often as before. There's also a touch more legroom (35mm to be exact), thanks to the slimmer design of the front seats.
Up front, you'll find that the cockpit has been simplified, with a greatly reduced number of buttons and controls. The instrument cluster, with its white backlighting, looks classier than before, while the IntelliLink infotainment system, with its pretty graphics, is pretty intuitive as well.
Helping secure occupants are several safety features, which include Side Blind Spot Alert, Lane Departure Warning and Lane Keep Assist. The last function can actually perform steering corrections to keep the Astra from veering out of its lane.
Which is just as well, since you'll constantly be tempted to switch lanes and overtake slower traffic, thanks to the car's new turbocharged 1.4-litre inline-4.
Said engine is good for 150bhp and 245Nm, or 10bhp and 45Nm more than the older turbocharged 1.4-litre lump. More importantly, the engine has a slightly wider powerband, which is good news for keen drivers.
And because the latest Astra is at least 120kg lighter than the previous one, it now finishes the century sprint in 9 seconds – a second quicker than before.
Apart from its quicker acceleration, the new powerplant is also quieter, and only turns hoarse when revved past 5000rpm. The previous 1.4-litre engine sounds gruff as it passes 3000rpm.
Handling, however, is the Astra's forte. Opel doesn't shout about this, but its cars display plenty of poise around bends.
Enter a corner too hot and even if understeer sets in, it does so in a gradual manner. Driven more moderately, you'll find that the car's nose is obliging and there's more grip than expected from the rear.
Another of the Astra's strong suits is its steering. The helm is precise, and there's a nice balance to its weight as well. When combined with the well-sorted chassis, it makes drivers  adopt a more enthusiastic driving style.
If you think that the Astra's nimbleness comes at the expense of ride comfort, you'll be glad that your assumption is wrong. Compared to the old model, the new one actually offers a quieter and more 
pliant ride.
Opel finally has a serious contender in the Golf segment. It is so competent that it was voted "Car of the Year 2016" by a panel of European motoring journalists.
All Opel has to do to win over potential buyers is convince them to get behind the wheel of this hatchback and discover its abilities, which really are plain to see.
(Click here to read our review of the Opel Astra Sports Tourer)
---
Opel Astra 1.4 (A)
DRIVETRAIN
Type    Inline-4, 16-valves, turbocharged
Capacity    1399cc
Bore x stroke    74mm x 81.3mm
Compression Ratio    10:1
Max power    150bhp at 5000-6000rpm
Max torque    245Nm at 2000-4000rpm
Power to weight    121.7bhp per tonne
Gearbox    6-speed automatic with manual select
Driven wheels    Front
PERFORMANCE
0-100km/h    9 seconds
Top speed    210km/h
Consumption    18.2km/L (combined)
CO2 emission    127g/km
SUSPENSION
Front    MacPherson struts, coil springs, anti-roll bar
Rear    Torsion beam, coil springs, anti-roll bar
BRAKES
Front / Rear    Ventilated discs / Discs
TYRES
Type    Michelin Primacy 3
Size    225/45 R17
SAFETY
Airbags    6
Traction aids    ABS, ESC
MEASUREMENTS
Length    4370mm
Width    1809mm
Height    1485mm
Wheelbase    2662mm
Kerb weight    1233kg
Turning circle    11.4m
BUYING IT
Price incl. COE    $124,888 (after $5k CEVS rebate)
Warranty    5 years/100,000km
+ More potent yet quieter engine, roomier cabin, even more fun to drive
– Gearbox could be quicker, no rear air-con vents, still not as well-known as the Golf
---