Although its figures may look anaemic on paper, the current Zafira Tourer MPV (multi-purpose vehicle) actually delivers decent performance. Its 1.4-litre turbo engine, which produces 140bhp and 200Nm, even feels like it was built just for the Zafira Tourer because it performs more smoothly here than in other Opel models, such as the five-door Astra hatchback.
But the Zafira 1.4 begins to struggle when it has to ferry more than three adults. Because it only has 200Nm of torque, overcoming the vehicle's inertia when moving off from the lights is frustrating, to say the least. One can only imagine how sluggish it would feel with a full complement of seven passengers on board.
Opel agent Auto Germany, however, is hoping that family men who previously found the Zafira uninspiring will want to take a second look now that the more powerful Zafira 1.6 has arrived. Equipped with a turbocharged 1.6-litre motor, this MPV packs 170bhp and 260Nm – 30bhp and 60Nm more than the earlier Zafira 1.4 model.
The added muscle is most obvious when pushing off from a standstill, because the 260Nm is churned out at 1650rpm, whereas the 200Nm produced by the Zafira 1.4's lump is only delivered at 1850rpm. Thanks to the better low-end performance, city driving is now a more pleasant experience.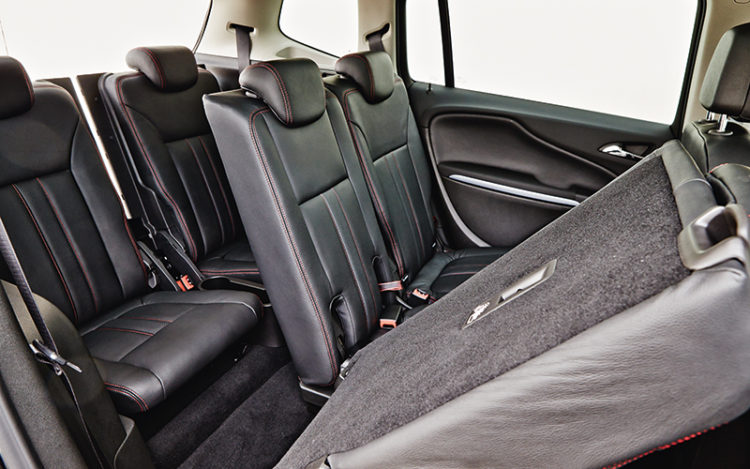 Equally enjoyable is the Zafira's well-tuned ride, which is one of the best in the seven-seater MPV segment. Shocks from the nastiest bumps (including a particularly horrid one just outside SPH Media Centre) are barely felt, so driving trips up north will be a comfortable experience for everyone on board. The same, however, can't be said for any adults who've been forced into the rearmost pair of seats, because the space there is only adequate for children below 10.
Opel engineers haven't forgotten about the driver, however, for the Zafira's handling belies its size. It remains composed even around tight bends, with the accurate helm further increasing the driver's confidence. With large windows all around, forward and lateral visibility is fantastic. Rearward visibility, however, is dreadful due to the tiny rear view mirror.
What the Zafira Tourer really needs to overcome is the fact that it continues to be underrated despite sporting a handsome design, delivering a smooth drive and offering that great handling balance. If this MPV generates more buzz, there might be more children getting whisked to school in this swifter zephyr.
---
2013 Opel Zafira Tourer 1.6 (A)
ENGINE     1598cc, 16-valves, inline-4, turbocharged
MAX POWER     170bhp at 6000rpm
MAX TORQUE     260Nm at 1650-3200rpm
GEARBOX     6-speed automatic with manual select
0-100KM/H     9.9 seconds
TOP SPEED     205km/h
CONSUMPTION     16.7km/L
CO2 EMISSION     159g/km
---
Check out our review of the Volkswagen Touran Comfortline 1.4 here
Read our Renault Grand Scenic review here