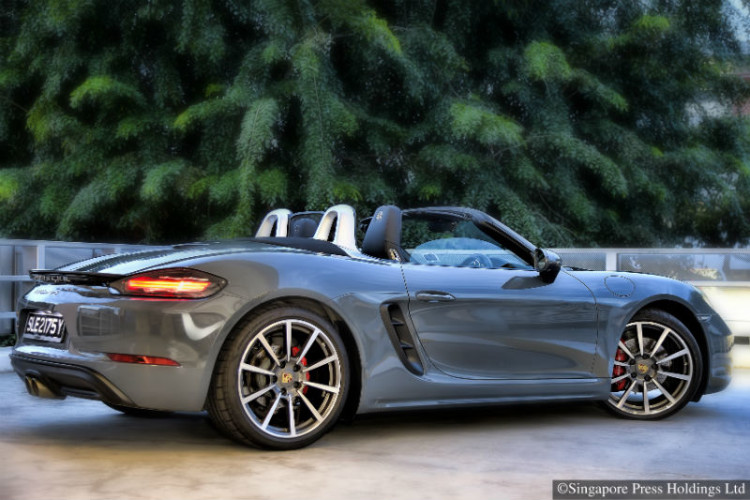 The first Porsche sports model I drove with a four-cylinder engine was the 968, back in the early 1990s.
The 718 Boxster S is the second, but its performance is nothing like the 968's.
The old 968 had a 3-litre inline-4 front-mounted normally aspirated engine which made 240bhp (a lofty figure back then), allowing it to clock a zero to 100km/h in 7.9 seconds and a top speed of 247km/h.
The 718 Boxster S is powered by a 2.5-litre flat-4 mid-mounted turbo engine, making a hearty 350bhp. (There is a 2-litre 300bhp 718 Boxster too.)
Mated to a slick and seamless dual-clutch gearbox, it powers the Boxster to 100km/h in 4.4 seconds and a peak velocity of 285km/h.
The two cars are completely different, of course, even if the comparison is an interesting illustration of how far engines have evolved in a relatively short span of time.
Indeed, the Boxster's new power plant is so muscular and smooth, it is indistinguishable from the preceding flat-6.
With the car's foldable roof up, it sounds no different from the flat-six too. It is only when you drop the top that you notice the new unit is a little less textured and wee bit coarser than the six-cylinder.
But with Singapore being either too hot or too wet, most Boxster drivers will be driving mostly with the canopy in place.
Compared with the previous 3.4litre flat-six Boxster, the new car is noticeably more driveable in the city. Its generous spread of torque – 420Nm from 1900rpm to 4500rpm – allows the car to respond to throttle inputs promptly and unreservedly.
When equipped with a Sport Chrono package, the car arrives at 100kmh in 4.2 seconds – 0.6 of a second sooner than its 3.4-litre predecessor.
For day-to-day motoring, the new car is flawlessly compliant as it dishes out heaps of shove to keep it slightly ahead of the pack effortlessly.
It is only when serious acceleration is needed that you notice the transmission holding on to a gear longer than usual to keep revs up. This makes the car appear a bit more high-strung.
And it is also when revs are high (above 4000rpm) that the 4-cylinder engine starts to sound less appealing than a 6-cylinder.
This aside, the revised Boxster remains an unmatched roadster in terms of ride and handling. Its wide, midship stance sees to this. The latest car's brakes have been upgraded too, but you are unlikely to notice this on public roads.
At the wheel, you still get that instant sense of well-being from a car crafted for balance and poise. But a heated steering wheel function remains a mystery for a place like Singapore.
(Click here to read our review of the 718 Cayman)
---
Porsche 718 Boxster S 2.5 (A)
ENGINE     2497cc, 16-valves, flat-4, turbocharged
MAX POWER     350bhp at 6500rpm
MAX TORQUE     420Nm at 1900-4500rpm
GEARBOX     7-speed dual-clutch with manual select
0-100KM/H    4.2 seconds (with Sport Chrono package)
TOP SPEED    285km/h
CONSUMPTION    13.7km/L (combined)
PRICE EXCL. COE    $316,588
---