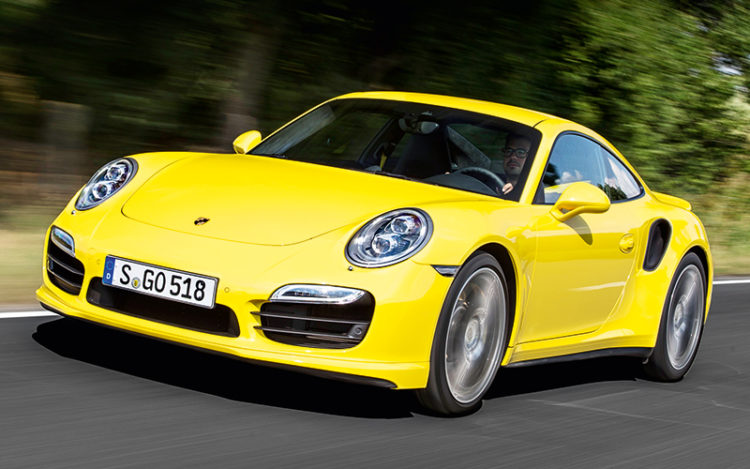 Back in 1975, Porsche dropped a turbocharger into its 911 sports car and in typically Teutonic, no-nonsense fashion, christened it the "Turbo". In its original guise, it packed 260bhp from its 3-litre flat-6 engine, b0asted a zero to 100km/h time of 5.5 seconds, and could reach a heady top speed (for the time) of 246km/h.
These performance figures might seem modest by modern standards, especially for a flagship sports car, since some hot hatchbacks these days can match or even eclipse it.
But back in those days, such performance was blinding, with the first 911 Turbo giving the flagship Ferrari of the day, the 365 GT4 BB, a run for its money. It should also be noted that Porsche managed to give Maranello's best a bloody nose essentially by just dropping a hot motor into a 911, in contrast to the bespoke engine/chassis used in the Ferrari.
Some four decades on, the 911 Turbo formula hasn't changed all that much – it's still largely based off a regular 911 Carrera and has a turbocharged engine, though now it gets an extra turbo and four-wheel-drive.
It's just as rapid and accomplished as its fraternal flagship twin, the GT3, featured in the preceding pages, but the Turbo takes a completely different tack to achieving that pace and ability.
Where the GT3 is all about minimalism and lightness, the "everyday supercar" Turbo gets (as it has for the past few generations) every ounce of Porsche's technical wizardry thrown at it, especially in range-topping, 560bhp Turbo S form.
That wizardry will cost you some $163,100 more over the regular Turbo's already-significant $781,888 (prices to be finalised, without COE). However, for its on-the-road price in excess of a million dollars, the Turbo S has 40bhp more than the regular Turbo's 520bhp and comes with so many Porsche acronyms, it could make a stealth bomber envious.
That's including PDCC (Porsche Dynamic Chassis Control), PTV Plus (Porsche Torque Vectoring), PASM (Porsche Active Suspension Management), PAA (Porsche Active Aerodynamics) and Sport Chrono. That last item has optional adaptive engine mounts that stiffen when the Sport button is pressed.
Further differentiating the Turbo S from the Turbo are the 20-inch, centre-lock wheels. Of course, you could option all the aforementioned goodies for your standard Turbo, although totting it all up would certainly cost more than the price of the Turbo S. That makes the Turbo S "options pack" weirdly sensible, never mind that the premium Porsche is asking for the latter could well be deployed elsewhere, to buy a very decent car, for instance.
In spite of the stratospheric price, performance figures and promise of the Porsche acronyms, the Turbo is more suave, emphasising effortless autobahn travel, against the GT3's more frenzied character. Clues to this can be seen in both Turbo variant's gear ratios, which use an overdriven seventh gear.
That makes for lower engine speeds and hence, greater refinement during high-speed cruising, roughly 5500rpm at its 315km/h top speed (318km/h for the Turbo S). In contrast, the GT3 reaches its top speed of 315km/h very close to its redline of 9000rpm.
Even achieving the Turbo S' claimed zero to 100km/h time of 3.1 seconds (!) is done without too much drama despite engaging the violent-sounding launch control mode, a function of the Sport Chrono.
Engage Sport Plus mode, keep your left foot on the brake, and floor the throttle. The engine then revs to 5500rpm and when you feel like being hurled bodily towards the horizon, simply take your left foot off the brake and hang on tight while the Turbo executes a perfect launch. Amazingly, Porsche says you can do this all day long and not void its warranty.
And that pretty much sums up the 911 Turbo – it's a devastatingly quick car, one of the five fastest mass-production cars in the world around the fearsome Nurburgring Nordschleife circuit. Yet, the Turbo's personality is so effortless and unintimidating, it's a car your grandmother could easily drive.
Of course, mere mortals (grandma included) won't come close to its officially posted 'Ring lap time of 7 minutes 26 seconds, but the Turbo will surely make you look pretty darned heroic while doing so, largely thanks to its progressive on-limit nature.