All right – so this is something that doesn't happen all too often. We've been driving Porsche's new second-generation Cayman for the better part of a day across Faro's narrow hilltop passes, including several cautious laps on a sodden Algarve race track, and we're struggling.
Struggling, that is, to find some chink in the Cayman's armour. We did find some (after a lot of searching, admittedly), but you'll forgive us if they sound a little… trivial.
Let's start with its cupholders. They're particularly shallow and awkwardly placed, popping out from a slot just above the glove compartment. Put in anything larger than an espresso cup, and it sticks out into the driver's peripheral vision.
And there are also far too many buttons, especially if you decide to tick off items from Porsche's fabled extensive (and expensive) options list, including adaptive dampers, sports exhausts and the like.
On that last point, the infotainment system, which conspires to complicate matters still further has, besides its multitude of buttons and knobs, a touchscreen interface. And we haven't yet gotten to the numerous stalks behind the steering wheel, which work the cruise control and central multi-function display.
But tiny cupholders and fiddly infotainment aside, the Cayman is a remarkably difficult car to fault where it really counts. And it's not that the Cayman didn't have a lot to live up to. Its predecessor was widely regarded as one of the finest handling cars in the modern age.
So die-hard Porsche fanatics may have bristled at the choice of an electromechanical power steering setup over its predecessor's hydraulic version. To be certain, the old Cayman's near-magical steering feel is gone, but the new system's increased accuracy and directness make complaining about the missing feel a little churlish.
It's scarcely believable, but Porsche has bettered the Cayman in just about every conceivable metric. Thanks to the new platform, which sees a 60mm swell in wheelbase and 40mm increase in track width, it looks better proportioned (and it has more road presence) against its forebear, which tended to look a bit like a squashed 911. Squint hard at the new Cayman and you might even see shades of Porsche's Carrera GT hypercar or its successor, the upcoming 918 Spyder.
These enlarged dimensions also serve it well when it's on the move, the wider stance giving it phenomenal traction, complementing the sticky 265-section tyres on the optional 20-inch wheels (19-inchers are standard Cayman S).
More than the amount of mechanical grip on offer, the Cayman is, in a word, glorious. It tucks into corners crisply and with little inertia, carries plenty of speed through and generates such traction on exit, we get the feeling one would have to try (quite hard, at that) to get it out of shape. It's so competent, unruffled and forgiving even to the ham-fisted, one might almost write it off as dull.
Much of the new Cayman's sharpness can be attributed to the new chassis' construction, which is composed of nearly 40 percent aluminium, and the corresponding 40 per cent increase in torsional rigidity.
This also happily saves some 47kg over the previous model, but the larger overall dimensions have seen this diet negated, with the old and new Caymans running an identical kerb weight. Still, at 1350kg, it's hardly what anyone might call overweight.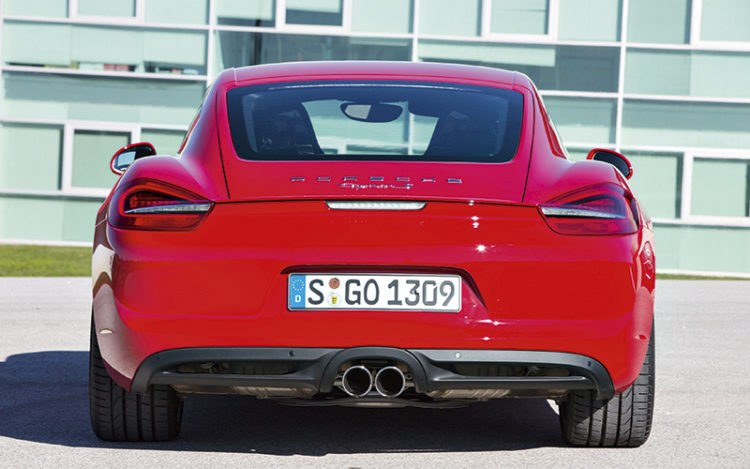 There's room to hone that even further by checking off more items from the aforementioned options list, such as the Sport Chrono pack, which also includes dynamic engine mounts (first debuted on the current 911). These stiffen up when the Sport Plus button is depressed, which improves throttle response and reduces unwanted flex from the rear end.
That, along with a launch control mode, drops its 0-100km/h timing by 0.2 of a second to a scorching 4.7 seconds, a good 0.5 of a second off its predecessor's time.
It's interesting to think that despite all the gains in our perceptions of the new Cayman's point-to-point speed and agility, it's just 5bhp more powerful than before, producing 325bhp from a largely unchanged 3.4-litre flat-6 also used in the base 911 Carrera.
That engine, used to such devastating effect on Faro's hills and on the track, is also devastatingly effective around town. Of a maximum of 370Nm, 310Nm is available from just below 2000rpm.
A peaky, track-only machine this isn't, which makes it remarkably easy to live with on the daily grind. It has excellent all-round visibility, and will even provide a modicum of practicality, with a combined total of 425L of luggage space underneath the bonnet and in the boot.
And that might just be the crux of the Cayman's considerable charm. It's as magical around the twisties as it is in the city, plus it doesn't make any serious concessions to either (though thanks to the strict two-seater configuration, the brood might disagree).
Interior quality is up (way up) and the new lines make it look more purposeful on the road, with the pinched line bisecting its rump a particularly appealing feature.
There's no such thing as a perfect car, but if there's a car that could come perilously, tantalisingly close, the Cayman would be it.
This story was first published in the April 2013 issue of Torque.
---
2013 Porsche Cayman S 3.4 (A)
ENGINE     3436cc, 24-valves, flat-6
MAX POWER     325hp at 7400rpm
MAX TORQUE     370Nm 4500-5800rpm
GEARBOX     7-speed dual-clutch with manual select
0-100KM/H     4.7 seconds
TOP SPEED     281km/h
CONSUMPTION     12.5km/L (combined)
CO2 EMISSION     188g/km
---
Check out the Porsche 718 Cayman S here
Read about the Porsche 718 Cayman GTS and Porsche 718 Boxster GTS here