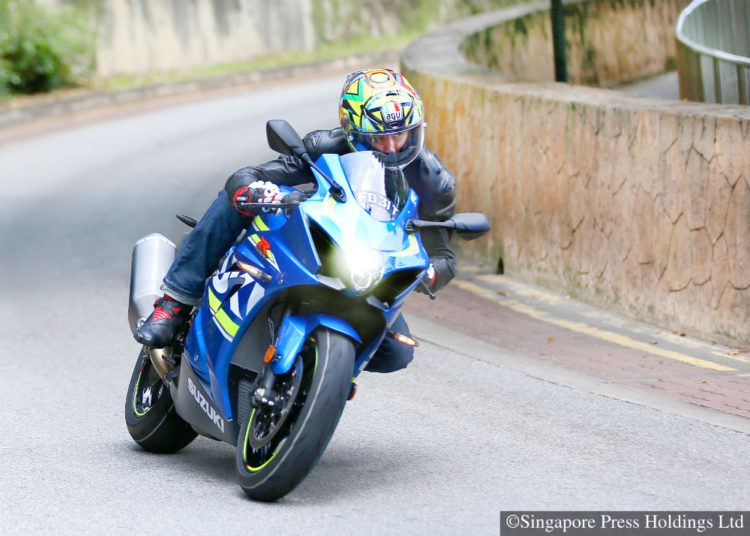 Its headlamp is slightly larger than a man's palm. Its mirrors lack coverage, just like its pillion seat. As for its boxy titanium end can, you will either love it or loathe it.
Given its aggressive riding posture, your lower limbs will ache even if your journey is a short scoot to a nearby cafe.
Despite these flaws, the 2017 Suzuki GSX-R1000 ABS could strike a chord with track-day junkies and riders who yearn to reconnect with their youth.
Typically, before any GSX-R1000, often referred to as a Gixxer, goes on a circuit, its standard-issue pipe would be replaced by a sleeker, free-flowing one.
The mirrors and headlight would be removed before a fibreglass fairing is installed.
Without its number plate holder, the short-tail Grand Prix look is complete.
The new GSX-R1000 retains much of its DNA, having evolved from a long line of superbike inspired machines.
The latest 999.8cc inline-four cylinder Suzuki is more refined with improvements made to its performance, handling and user-friendliness. It also has a new chassis and a new engine that has the most horsepower – about 200bhp – in the Gixxer family.
Worldwide, there are three versions of the six-speed GSX-R1000 – a base model, a circuit-ready version with better suspension and more electronic wizardry (read: more expensive), and a version with anti-lock braking system (ABS), which The Straits Times tested for this review.
The on-the-road price tag for the 203kg GSX-R1000 ABS is about $42,000.
If I have to use one word to describe the Gixxer, it would be smooth. This does not suggest weakness or a lack of excitement.
The fuel-injected GSX-R1000 is powerful. It performs the 0-100km/h dash in about three seconds – quicker than you can say "Is that the Traffic Police I see in the rear view mirror?"
Its smoothness manifests in its predictable and linear power delivery. The bike offers a wide spread of power from low in the rev range to about 14,000rpm, especially in ride Mode A, where throttle response is the most instant compared with its other two modes.
As you accelerate from 4000rpm, there is a strong surge to its 14,500rpm redline. Its speedometer reads 90km/h when cruising in sixth gear at about 4000rpm.
The current model is compact. It has a lower fuel tank height and a smaller and lighter engine with a higher compression ratio.
On our street test, the Suzuki's size made it easy to squeeze past stalled traffic. Like most litre-bikes, the Gixxer gets hot when caught in start-stop traffic.
Without making adjustments to its Showa Big Piston Forks and Showa rear shock, the agile Gixxer takes to bends like an eagle swooping down on its prey. The fluid transition from an upright stance to a lean is also stable.
While braking duties are handled by radial-mounted Brembo monobloc callipers up front, front-end braking is less polished than on some of the Suzuki's rivals. More input is required at the lever to stop instantly.
Its selectable traction control processes data from a three-axis Inertial Measurement Unit. It is a mouthful, but the system works, kicking in when I gave the Gixxer too much throttle during two corner exits.
Luckily, my test bike's rear wheel did not protest by spinning out of control. All I noticed was a blinking "TC" light on the LCD instrument panel.
The bike's large dashboard displays traction control settings, gear and shift indicators, and even an average distance per litre of fuel.
At best, I achieved about 14km to the litre. The Gixxer can theoretically cover around 220km between fuel stops with its 16-litre fuel tank.
---
Suzuki GSX-R1000
ENGINE     999.8cc, 16-valves, inline-4
MAX POWER     199bhp at 13,200rpm
MAX TORQUE     117Nm at 10,800rpm
GEARBOX     6-speed manual
0-100KM/H     3 seconds (estimated)
TOP SPEED     Over 295km/h (estimated)
CONSUMPTION     14.3km/L (combined)
PRICE INCL. COE     $42,000
---
Related story: Triumph Street Triple RS review
Related story: Thailand is the most dangerous country for motorcyclists