If a design is too clever or too busy, it may be a hit initially, but it is also likely to fizzle quickly. The Toyota C-HR turbo is proof of that.
When the car was unveiled 13 months ago at the Singapore Motorshow last year, it stood out as bold, edgy and radical. Today, it comes across as something that might have been penned by a design student who is trying too hard. It looks a tad tired, with styling elements pulling in every direction.
It is still a striking car, though, in that nothing else on the road resembles it in the least.
Besides the test of time, a good design should also withstand the test of repetition. It should still be pleasing when you see it for the hundredth time, the thousandth time. In this respect, the Toyota C-HR, being the runaway success that it has been as a parallel import, does not quite shine either.
But design is a very personal thing. Going by the sustained popularity of the model, it would seem the car is still a hit.
The version offered by authorised Toyota agent Borneo Motors is a 1.2-litre turbo and differs from the 1.8-litre hybrid variant sold by parallel importers.
For a turbo, the Toyota C-HR 1.2T is less zesty than expected. It makes only 114bhp and 185Nm – figures you would associate with a non-turbo. But it suits the local context because the car falls in certificate of entitlement (COE) Category A, which has a 1600cc displacement cap as well as a 130bhp power cap.
While this may give it some commercial competitiveness against the parallel imported version, it makes the C-HR far less enticing to those who yearn for performance.
For instance, it does not have a clear edge over the Honda HR-V, which is powered by a 1.5-litre naturally aspirated engine.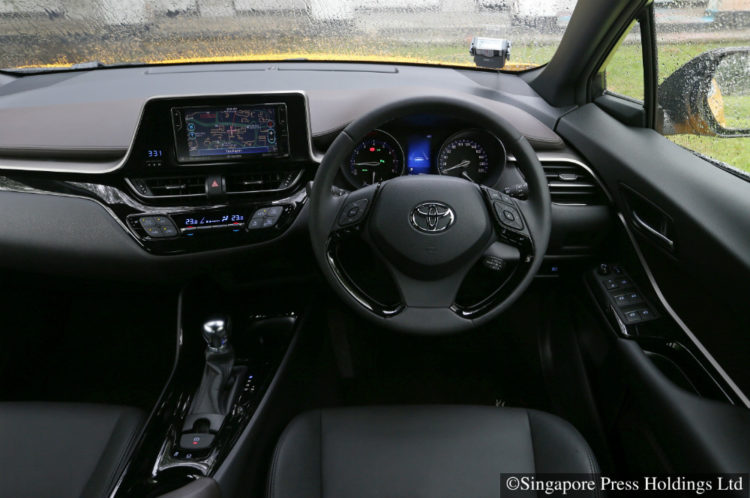 And when compared with Hyundai's newly launched Kona, it pales in comparison. The Kona has a 1.6-litre turbo engine making 174hp and 265Nm. It hits 100km/h in 7.9 seconds and a top speed of 205km/h.
The Toyota C-HR – for "coupe-high rider" – clocks an 11.1-second century sprint and a top velocity of 185km/h. At the wheel, the power deficit is obvious. But the Toyota still manages to come across as fairly zippy, thanks to the car's continuously variable transmission.
It is also agile and nimble, traits attributable to its quick and sharp steering, fine roadholding and compact body.
Having said that, side rear visibility is not great, with the view partially blocked by the car's thick C-pillar. Thankfully, the test-car has blindspot warning.
The test unit, a Luxury variant, is highly equipped. Besides blindspot warning, it has lane departure warning, automatic high beam, adaptive cruise control, electric parking brake with auto hold and release, and seven airbags.
These make the Toyota C-HR the best-equipped Category A car here. It would have been better if that was backed up by a higher level of trim.
Compared with the up-and-coming South Korean cars in the same price segment, the Toyota comes across as plasticky and lacking in refinement.
For instance, the gear lever release – a frequent touch point – has a crusty 1990s feel to it. Also, the car's music system has a poor sound quality .
But visually, the cabin looks great. At least for now.
---
Toyota C-HR Luxury Two-Tone 1.2 (A)
ENGINE     1197cc, 16-valves, inline-4, turbocharged
MAX POWER     114hp at 5200rpm
MAX TORQUE     185Nm at 1500-4000rpm
GEARBOX     CVT
0-100KM/H     11.1 seconds
TOP SPEED     185km/h
CONSUMPTION     15.6km/L (combined)
PRICE INCL. COE     $127,988
---