Although it's highly unlikely that any of us would ever go back to living in caves again, many denizens of this concrete jungle do have a constant yearning to escape to green spaces. This would explain why East Coast Park is crowded on the weekends.
Braver suburbanites might even choose to go hiking. Swopping his laptop bag and black loafers for a backpack and Timberland boots, the weekday desk warrior becomes a weekend trekker exploring the forest trails around MacRitchie Reservoir Park.
Volkswagen must have had these folks in mind when it introduced the CrossPolo – essentially the Polo Sport hatchback after a macho makeover. Both cars are equipped with the same turbocharged powertrains, but where the standard Polo is like little sneakers, the new variant is like a tough pair of hiking boots.
The CrossPolo's quest for adventure starts with a cross-continental sea journey from South Africa (where it's assembled) to Germany, after which it embarks on a trip here. According to Volkswagen, this is because there isn't enough demand to warrant a direct shipment of cars from South Africa to Singapore.
Whether it's on the grassy plains of the Dark Continent or under the streetlights of Dakota Crescent, the CrossPolo's two special paintwork options are bound to attract attention. The shocking "Magma Orange" paintwork of this test car (the other special colour being the more muted "Terra Beige Metallic") would definitely stand out in any carpark. Its 15mm height increase over the Polo Sport, along with the black wheel arches and lower door panels, also make this fella look tougher than its aforementioned stablemate.
Those standard roof rails aren't just for show, either. Used in conjunction with a carrier system, they can hold loads of up to 75kg, which should come in handy if its adventurous owner decides to go camping for the weekend. If more cargo space is needed, the 280-litre boot can be expanded to 952 litres with the rear seats folded. The CrossPolo, however, can lug significantly less than its cousin and rival, the Skoda Yeti, which can carry 416-1,760 litres of stuff in its trunk.
Being a slick hiking "shoe", the CrossPolo is more stylish than the workmanlike Yeti, even on the inside. Besides pedals finished in aluminium, the inner seat patches and door panels can be specified in one of three cool colours, including the delicious "Latte Macchiato".
These interior design cues are snazzy, but they are less useful than the car's brawny appearance, which inspires confidence in the driver. You no longer feel as nervous around heavy vehicles, while the slight increase in overall visibility due to the taller stance helps when merging with expressway traffic.
Those extra 15mm, however, seem to have made the CrossPolo a tad more susceptible to road imperfections compared to its vanilla sibling. Also, don't let the added ground clearance fool you into charging over speed bumps, as doing so makes the rear suspension bottom out. The good news is that the car still feels as chuckable as ever despite its greater height.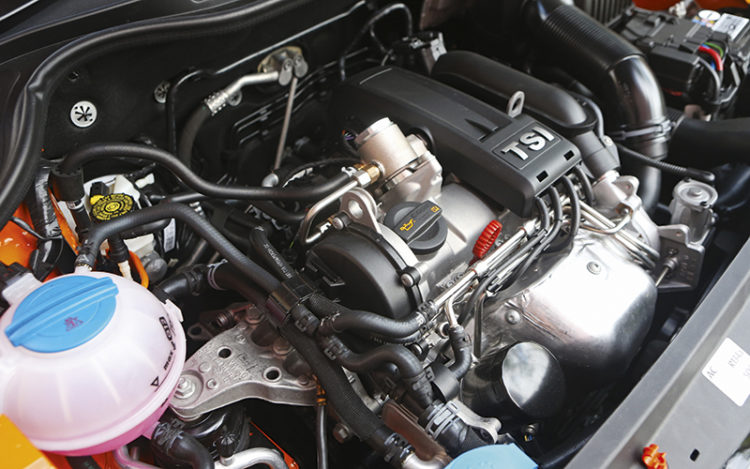 The CrossPolo has its limitations, though. It works well on grassy surfaces, but for serious off-road work, you'll need something with four-wheel drive and a stronger motor, as the turbocharged 1.2-litre engine powering the front wheels is really only adequate for on-road duties.
This, however, should be perfectly fine with the CrossPolo's intended audience – suburbanites who still spend most of their time in the concrete jungle and don light hiking shoes instead of hardcore combat boots.
Volkswagen Polo is a smart and handsome little hatchback
Group Test: Peugeot 208 1.2 vs Ford Fiesta 1.0 vs Renault Clio 1.5 vs Volkswagen Polo 1.2
This story was first published in the October 2012 issue of Torque.
2012 Volkswagen CrossPolo 1.2 (A)
ENGINE     1197cc, 16-valves, inline-4, turbocharged
MAX POWER     105bhp at 5000rpm
MAX TORQUE     175Nm at 1550-4100rpm
GEARBOX     7-speed dual-clutch with manual select
0-100KM/H     9.9 seconds
TOP SPEED     188km/h
CONSUMPTION     18.1km/L (combined)
---