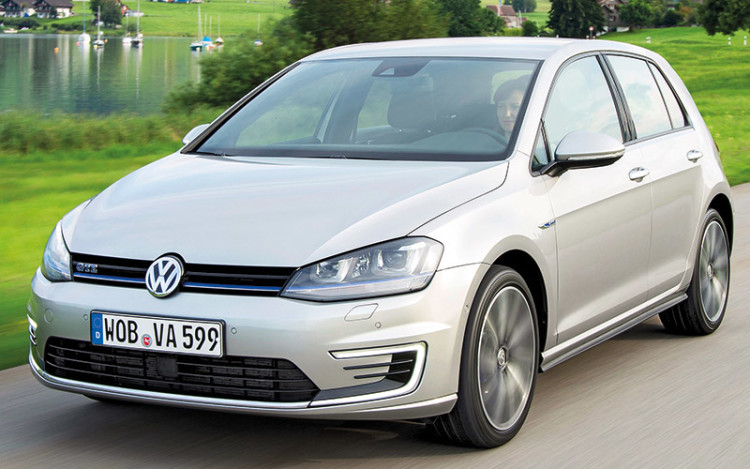 If I wanted a fuel-efficient car, I would look for one that's relatively light and powered by a small but sufficiently punchy engine.
To further reduce my fuel consumption, I would also plan my routes carefully and adopt a gentler driving style. Perhaps I would even increase the air-con's temperature, despite the scorching weather.
But few motorists would put in this much effort just to reduce their running costs. That's why cars like the Volkswagen Golf GTE exist.
GTE stands for Gran Turismo Electric. However, many motorists, especially petrolheads, are more familiar with the GTI (Gran Turismo Injection) badge seen on VW's sporty Golf GTI.
From the outside, the Golf GTE looks like a normal Golf, except for the GTE badges and blue stripe on its grille.
The Golf GTE is a petrol-electric, plug-in hybrid. It is equipped with a turbocharged 1.4-litre petrol engine, electric motor and a lithium-ion battery pack.
The last two components add considerable weight to the car. The Golf GTE's kerb weight of 1524kg is 236kg heftier compared to a 150bhp Golf R-Line. That is about the weight of three average-sized adults and a child.
Apart from adding weight, the electric powertrain also reduces the car's practicality. While non-hybrid Golfs have a boot capacity of 380 litres with the rear seats up, the Golf GTE only offers 272 litres, or 108 litres less.
To its credit, the car is very efficient. Its stated combined fuel economy is 66.7km per litre.
But I only managed 20km per litre while zipping through country roads and blasting down the autobahn.
When started, the car goes into the default E-Mode and uses solely its 105bhp electric motor.
VW says that if the lithium-ion batteries are fully charged, the Golf GTE will have an E-Mode range of 50km and a top speed of 130km/h. In theory, this performance is sufficient for most home-to-office commutes in Singapore.
When the batteries are running low or more power is being demanded by the driver, the car switches to Hybrid Auto mode to recharge the batteries and utilise the electric motor as much as possible to reduce fuel consumption.
The Golf GTE offers three other driving modes – Battery Charge, Battery Hold and GTE.
Battery Charge uses the petrol engine as a generator to recharge the batteries, while Battery Hold is used to maintain a specific charge level.
Naturally, the Golf GTE's batteries are also "topped up" via energy recovered from braking. In addition, you can recharge them by plugging the car into a standard wall socket at home or a public quick-charge station.
The Golf GTE's charging port is behind the "VW" badge on the front grille. It takes nearly four hours to fully charge the batteries using a standard wall socket. A quick-charge station reduces this to just over two hours.
The Golf GTE sounds complicated, but it's actually quite easy to drive. Leave the car alone and it alternates seamlessly between E-Mode and Hybrid Auto.
If you want to have a bit of fun, choose GTE mode to unleash the car's sporty character. In this mode, the petrol-electric powertrain delivers maximum performance.
The throttle becomes more responsive and, if thus equipped, the Dynamic Chassis Control firms up the dampers, too. You also get a rorty soundtrack, which is surprisingly richer than the Golf GTI's.
But the Golf GTE's heftiness means it isn't as agile as a Golf GTI, or any regular Golf for that matter. Its turn-in is not as keen, and the firmer damping results in a bumpier-than-expected ride.
This hybrid hatchback prefers highways, where it can showcase its potent midrange and top-end performance. Here, its extra weight becomes somewhat of an advantage, as it gives the car a more planted feel.
The Golf GTE's suite of technologies makes it very impressive, but I just cannot get past its firmer ride and lower practicality.
So if I wanted a fuel-efficient car, I would still be looking for one that's relatively light and powered by a small but punchy engine.
---
Volkswagen Golf GTE 1.4 (A)
ENGINE     1399cc, 16-valves, inline-4, turbocharged, hybrid
MAX POWER     150bhp at 5000-6000rpm
(total system output 204bhp)
MAX TORQUE     250Nm at 1600-3500rpm
POWER TO WEIGHT    133.9bhp per tonne
GEARBOX     6-speed dual-clutch with manual select
0-100KM/H    7.6 seconds
TOP SPEED    222km/h
CONSUMPTION    66.7km/L (combined)
CO2 EMISSION    35g/km
PRICE INCL. COE    To be announced
---