Car care products are essential to keeping your ride looking pristine.
However, you don't have to spend an arm and a leg just to keep your car shiny.
We took a quick look at popular e-commerce site Lazada and found several key car care products for under $10.
In no particular order, here are the items that fussy owners could consider having in their kit.
1) A FOLDABLE BUCKET
Keeping a regular bucket in your car boot is certainly an option (most taxi drivers do this).
But doing so eats up precious cargo space.
A foldable bucket in your car care products kit lets you stash it in the boot without compromising space.
2) DASHBOARD/RUBBER PROTECTANT
Every car care products kit has to have a dashboard/rubber protectant.
Even if you have tinted windows, the harsh sunlight can still age and crack your dashboard and door panels.
Armor All Protectant is one of the most affordable and popular products you can buy.
However, applying too much to your dash will make it overly shiny, wet and sticky.
Use a microfibre towel and apply sparingly.
You can use this on your tyres, too. However, it is less durable in this application.
3) TYRE SHINE/TYRE FOAM
Dirty tyres are like dirty shoes.
They spoil the look of any ensemble.
This convenient car care product from Turtle Wax lets you just spray it on and walk away.
However, this will not clean your tyres for you.
You still need to use a tyre/wheel cleaner and a brush to clean the tyre's sidewalls.
Applying this to clean sidewalls ensures it bonds to your tyres and lasts longer.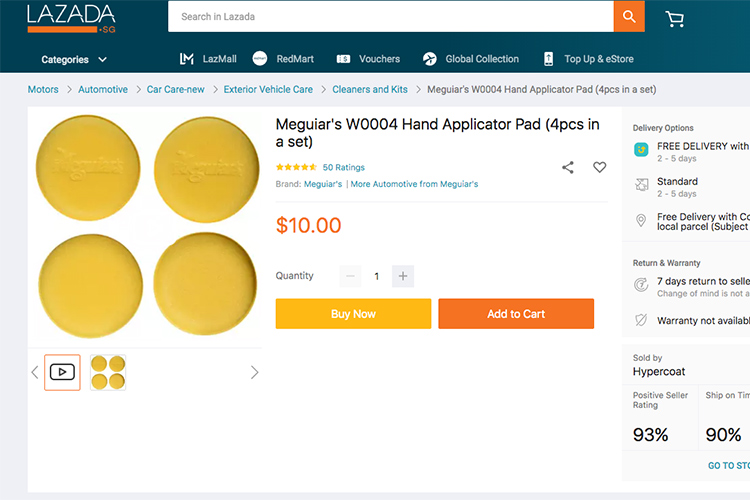 4) FOAM APPLICATORS
Every car detailing enthusiast needs several of these in his or her car care products kit.
They are primarily used for applying wax and polish to a vehicle.
In addition, they can also be used to apply leather cleaners and conditioners, interior detailers and tyre shine products.
You can easily afford several sets of applicators, with each one strictly used for a certain part of the car.
5) A 2-IN-1 CLEAN AND POLISH PRODUCT
Busy car owners will appreciate something that lets them clean and polish their paintwork in one step.
Soft99's Luster promises to do just that, with a single application.
Make sure you wash your car ensure that the surface is free from contaminants before using this.
---