Long before I learnt about the fearsome Nurburgring in Germany, I had already heard about the legendary 24 Hours of Le Mans.
This race, which is part of the FIA's World Endurance Championship (WEC), takes place every June at the Circuit de la Sarthe in France.
To some folks, racing for 24 hours straight is sheer insanity. To fans, it is a brilliant demonstration of what engineering, teamwork, tenacity and perseverance can achieve.
Yes, the Nurburgring circuit is at least 100 times more challenging, and to race there for 24 hours is infinitely more difficult.
But there is something so mythical about Le Mans that it seems like winning this race is more important than winning any other event on the WEC calendar.
Many manufacturers are strongly associated with the ?24 Hours of Le Mans.
Audi, Bentley, Ferrari, Ford, Jaguar, Mazda, Mercedes-Benz, Nissan and Toyota have all taken part in this event.
But one cannot talk about Le Mans without mentioning Porsche. Porsche and Le Mans are so entwined because the German carmaker has notched up the most overall wins at this 24-hour race.
I came across my first Porsche racecar when I was eight years old. It was a white Martini-liveried remote control car. I was too young then to realise what the toy symbolised.
When I arrived at Le Mans airport on the Friday morning of the race weekend, I was gripped by a feeling that I was in a very special place, and that this year's race would be even more exciting than last year's.
From a distance, I could see the grandstands, which flanked the circuit's main straight. There was a palpable tension and an inexplicable sense of excitement in the air.
In 2016, Toyota came agonisingly close to their first overall victory before disaster struck. Three minutes before the race ended, their lead car came to a sputtering halt with just one lap to go. Porsche, which had been running in second position, took home their 18th win.
The pain of losing with victory in sight must have been unimaginable. Even Porsche admitted that Toyota had deserved that win. But such heartache is part and parcel of Le Mans.
That afternoon, as I entered the Circuit de la Sarthe for the first time, I felt like I was on hallowed ground.
I was pleasantly surprised at how friendly the locals were. Everyone from the marshals to the security staff at the track gates greeted everyone with a smile and a hearty "bon jour!"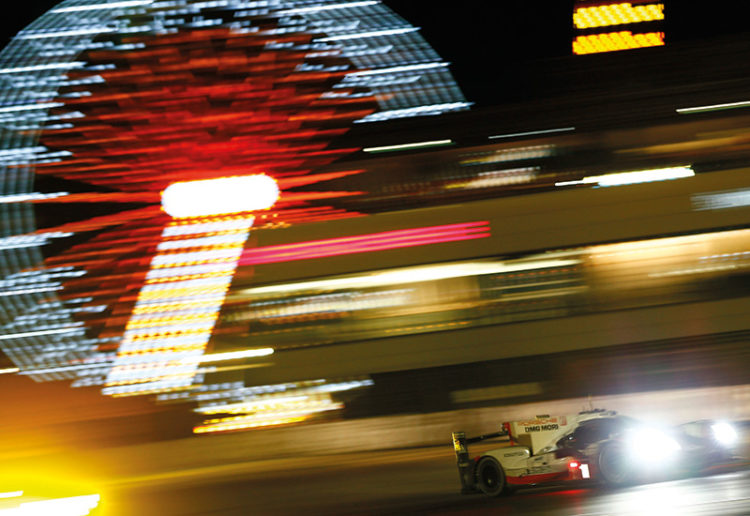 The area surrounding the racetrack had a party-like atmosphere. There were vendors selling ice-cream and souvenirs. Other booths were more carnival-like, offering spectators a chance to win prizes by playing various games.
There were no games at the Porsche Experience Centre, though. Walking through the doors, I found that the mood inside, though still friendly, was more business-like. I got a strong sense of the team's will to win.
In the main lobby, I admired last year's winning 919 Hybrid. The battle-scarred racecar was never washed. Instead, it was immediately taken back to the factory where it received a clear coat to preserve its cosmetic condition.
As I munched on sandwiches, the building grew abuzz with activity. Staff began milling about as more journalists arrived. Then a Panamera pulled up out front and in walked Mark Webber – sunglasses on, cool as a cucumber.
I heard that Mark is a down- to-earth guy, and it certainly showed. He shook hands with the staff and happily chatted with them – no fanfare.
Actor Patrick Dempsey, on the other hand, caused quite a stir when he entered the building. Staff rushed over to greet him, and women blushed if he so much as glanced in their direction. I suppose that's why he needed a good bodyguard – to keep fawning female fans away.