Sometimes, as we keep our heads down and hustle through the Singaporean bustle, it is easy to forget how beautiful our garden city is. What better way to remind yourself than a Sunday morning blast in a MINI Cooper Convertible through the golden sunshine.
The warm early morning glow on one's face rejuvenates the spirit, as the playful, eager devil punches through the air towards Bukit Batok.
It is hard not to laugh out loud. MINI's rascally little convertible is a hoot and a half, and a scurrying drive in it is the spiritual equivalent of being taken for a walk by a yipping, grinning terrier.
A sobering thought flashes through our minds as we pull, happy and consoled, into the foreboding complex of concrete that is Wcega Tower.
A top-down adventure really plugs one into the world around. It is green and golden, yellow and blue, and every colour in between. Teeming, gorgeous, beautiful, our earth is absolutely worth protecting.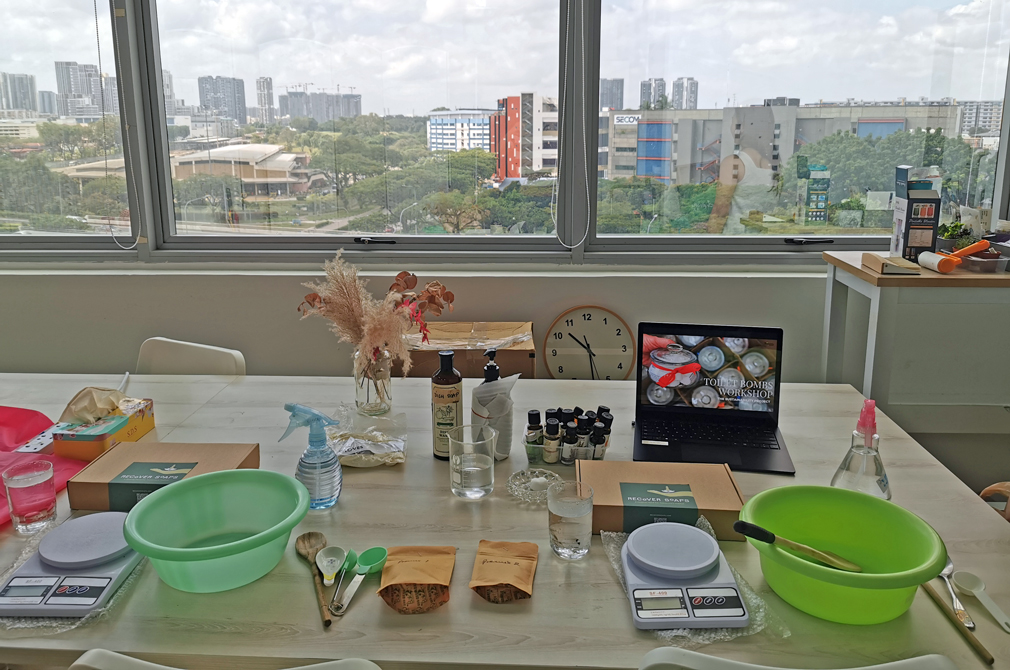 LAB WORK!
Today, we are headed to the offices of The Sustainability Project to enjoy a workshop, organised in partnership with Klook, on how to make eco-friendly "Toilet Bombs". More on what those are in a bit.
The Sustainability Project is the inspiration of Joline Tan, a young, starry-eyed solo entrepreneur. She started her company in 2018, fresh out of university and armed with a dream.
Through a combination of outreach efforts, workshops, and investment in eco-friendly products that embody the virtues of recycling and upcycling, TSP aims to help the world and individuals move towards a zero-waste lifestyle, one little step at a time.
Its premises are nestled within the dystopian setting of an industrial complex. Row upon row of straight-edged, flavourless concrete layered seemingly infinitely meet us as the harsh metallic clang of the goods lift door regurgitates us into the corridor.
As we find the unit and step through its doors, the juxtaposition could not be more stark. The office's pleasantness and its diminutive size represent not just the value of the company's mission, but also the scale of the challenge.
Here is an oasis of coziness and warmth. Pre-loved books line a bookcase, as the walls and cheerfully patterned furniture are decked with eco-friendly, sustainable merchandise.
Greeted by Joline's genial hellos, we take some time to browse through the beeswax food covers, collapsible cups, and all manner of cute little household products before settling down at the table.
Laid out are a weighing scale, some tools, and pre-mixed ingredients for today's concoction: a toilet bomb.
AN "EXPLOSION" OF FRAGRANCE
Now, what is a "toilet bomb"?
Apart from something you do not wish to talk about within earshot of an airport customs officer, a toilet bomb is effectively an effervescent lump you throw into a toilet bowl as a cleaning agent.
Like Redoxon for the loo, except not actually fortified with Vitamin C.
As we carefully weigh up the powdered mixture containing essential oils and bicarbonate, we remark on the challenges of adopting eco-friendly practices in one's daily life. As much as this process we are on now is much like baking, except easier, it is easier still to just buy some chemicals off the shelf at a supermarket.
There will be those who contend that sustainability cannot be achieved if it costs more than the uglier option, nor without an economic and convenience incentive.
Are things like sustainable toilet bombs scalable industrially to provide realistic competition for current home cleaning products? Maybe. But this is not the point of this workshop. After all, a homemade cookie is more satisfying than a store bought one, and we are, if nothing else, having a quite a lot of fun.
Who says a sustainable lifestyle needs to be dour? It is an attitude that can be colourful and undertaken with a cheeky smile.
It is time to test out one of the gritty little creations. Joline tosses a cube into a beaker of water, and it fizzes away merrily. It doesn't go unnoticed that this whole plucky enterprise is the brainchild of a young go-getter who despite all the pressures of a small business in a non-traditional space, seems to have an irrepressible chirpiness of spirit.
We are reminded of our drive here. One might imagine feeling empowered and emboldened from behind the wheel of a MINI Convertible, a muscular little turbocharged scamp that seems to say: "Its okay! Go forth and find your passion, and don't forget to dance on your tippy toes on the way there!".
Neither person nor car is short of guts nor gumption.
So, what is TSP's end goal?
Joline tells us that she intends to keep going until sustainability and a zero-waste lifestyle becomes mainstream. Only then, does the world no longer need TSP anymore.
Over the years, she has seen individual, commercial, and industrial efforts begin the process of evolution towards becoming sustainable, and yet more become aware of their obligations every day.
After a morning with the MINI Cooper Convertible, Joline, her toilet bombs, and her aspirations, we are more inclined than before to agree.
---