The 750Li is effortless to drive. Even without setting the drive mode to Sport or Sport+, this limousine pulls away with ease as I flex my right foot.
This particular unit is equipped with xDrive (BMW's all-wheel-drive system), which makes progress more surefooted.
Indeed, the rain in Munich did nothing to dampen the car's performance. The 750Li xDrive feels light on its feet and is agile enough to take on any corner.
Meanwhile, the 745i goes about its business in an equally refined, but more gentle manner. It has 252bhp and 380Nm, but in 1983, those numbers were pretty darn healthy, especially for a car weighing just under 1.6 tonnes.
The engine responsible for these outputs is a turbocharged 3.2-litre inline-6. It is not as quiet as the 750Li's V8, but what it lacks in refinement, it makes up for in character. BMW's inline-6 motors have a reputation for smoothness and this 3.2-litre unit is no exception. For a 33-year-old power plant, it certainly does not mind being stretched past 4000rpm. In fact, it sounds deliciously throaty.
Cruising on the highway in it feels like sitting in an old cushy armchair. Surprisingly, for such an upright and boxy car, there is very little wind noise, even at 120km/h.
The 745i has only three forward gears. But since the ratios are so tall, it never feels like I need more.
Tackling mountain roads in the 745i is an interesting experience. The car is so softly sprung that it feels like a battleship cutting through waves when I charge into corners.
I constantly remind myself that this was how limousines handled more than 30 years ago. The 745i does not have adaptive dampers or sports suspension. It has been set up to tackle real-world conditions, where comfort, not sportiness, counts.
Besides, having to manoeuvre that wide-diameter steering wheel, which is linked to a helm with plenty of slack, is a challenge in itself. The faster I go, the quicker my arms have to work. The 745i is involving, to say the least.
Both cars are engineered to impress drivers with their performance and cosset passengers with their refinement. As flagship models, they are also equipped with the most advanced features of their era.
These cars are 33 years apart, but either one will bring on a smile on the dreariest of days.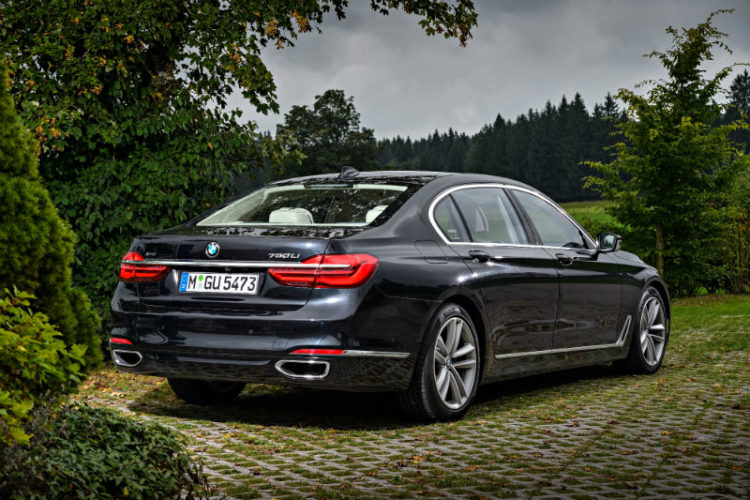 ---
BMW 745i 3.2 (A)
ENGINE     3210cc, 12-valves, inline-6, turbocharged
MAX POWER     252bhp at 5200rpm
MAX TORQUE     380Nm at 2600-4000rpm
GEARBOX     3-speed automatic
0-100KM/H    7.5 seconds
TOP SPEED    221km/h
CONSUMPTION    12.8km/L (at constant 90km/h)
PRICE INCL. COE    Not available
---
BMW 750Li xDrive 4.4 (A)
ENGINE     4395cc, 32-valves, V8, turbocharged
MAX POWER     450bhp at 5500-6000rpm
MAX TORQUE     650Nm at 1800-4500rpm
GEARBOX     8-speed automatic with manual select
0-100KM/H    4.5 seconds
TOP SPEED    250km/h (governed)
CONSUMPTION    12km/L (combined)
PRICE INCL. COE    From $578,800
---