If you're an RS4 or RS5 owner who thinks that these models are still too "sedate", then Audi has a competition package that might just satisfy your performance cravings.
Said package is meant for three models: the RS4 Avant, RS5 Sportback and RS5 Coupe, which are all powered by a bi-turbo 2.9-litre V6 that kicks out 444bhp and 600Nm.
Spec the optional RS Sport suspension pro coilovers and the cars will have their ride heights dropped by another 10mm compared to "regular" RS models. Owners also have the option of lowering their cars' ride height by an additional 10mm if they wish.
The competition package also prescribes higher spring rates, three-way adjustable dampers and even stiffer stabilisers to further enhance the driving experience, and perhaps shorten lap times.
For additional agility and driving fun – especially in Dynamic mode – Audi engineers have also made changes to the RS4 Avant, RS5 Sportback and RS5 Coupe's sport differentials.
Further improvements to the transmission software reduce shift times, while delivering a noticeably increased spread between the cars' driving modes.
With these upgrades, the RS4 Avant equipped with the competition plus package now demolishes the century dash in 3.9 seconds, or 0.2 of a second quicker than the standard car.
Meanwhile, the RS5 Coupe and RS5 Sportback only need 3.8 seconds to finish the same sprint, an improvement of 0.1 of a second.
Hauling these cars down from speed are the RS ceramic brake system, newly tuned ABS software and Pirelli P Zero Corsa tyres. Audi says the cars' now stop two metres shorter than before when braking from 100km/h to a standstill.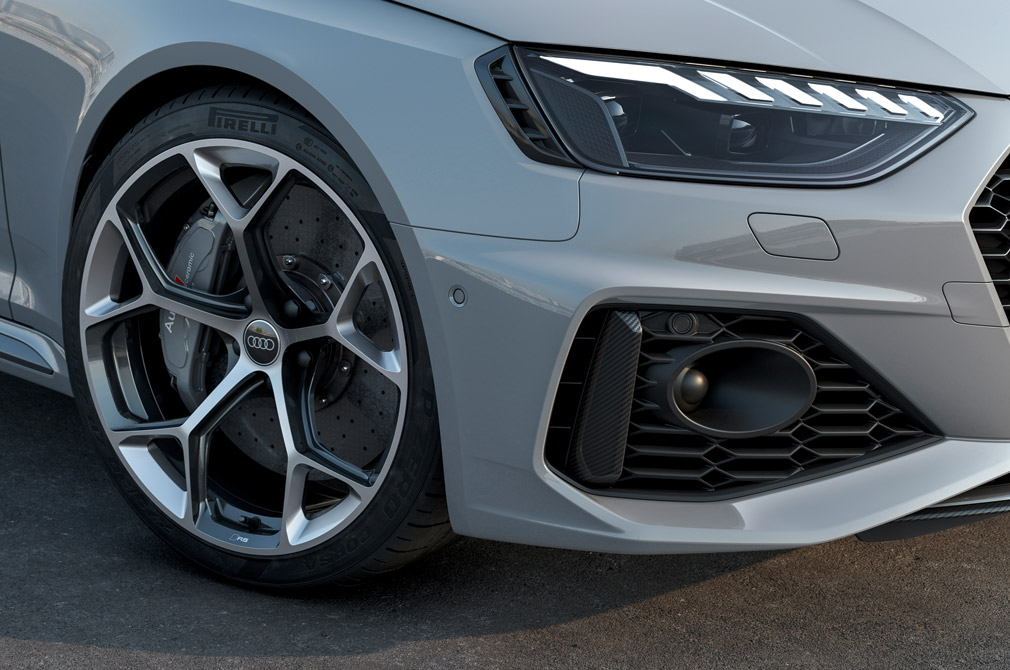 MORE DRAMATIC
The competition package also enhances the models' soundtrack with the new RS sports exhaust system plus.
Audi claims that it delivers a "more intense sound pattern" through the exhaust, as well as through the reduction of sound deadening materials between the cabin and engine compartment. The elimination of sound insulation also results in a weight saving of around eight kilograms.
All competition package models can also be specified with optional Dinamica/Pearl Nappa combination RS sport seats, with the Dinamica material made of 45% recycled PET fibers.
---